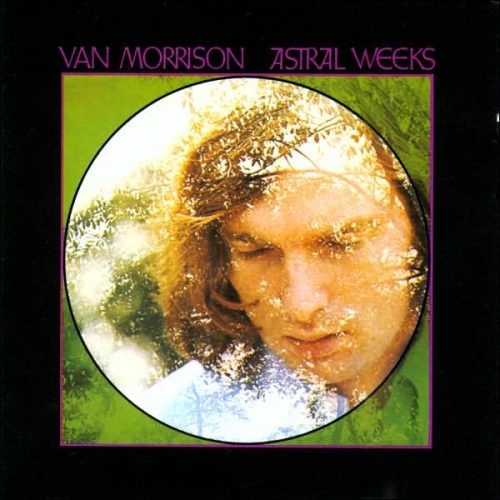 Sitting in Boston's Ace Studios in September 1968, producer Lewis Merenstein and partner Bob Schwaid were on hand to evaluate Van Morrison's first new music since a tumultuous falling out with Bang Records, which had released the Northern Irish troubadour's first solo recordings. Whatever the two scouts' expectations might have been, the first song Morrison played in his audition stunned them as he strummed his acoustic guitar and sang:
"If I ventured in the slipstream
Beneath the viaducts of your dreams
Where immobile steel rims crack
And the ditch in the back roads stop
Could you find me?
Would you kiss-a my eyes?
To lay me down
In silence easy
To be born again…"
Within 30 seconds, "My whole being was vibrating," Merenstein would recall in 2008. "I knew he was being reborn…I knew I wanted to work with him at that moment." The song, "Astral Weeks," projected a striking new sound for the artist, one that would bloom into the song cycle that would take its name from that track.
How Morrison had arrived at that transformation remains partly shrouded by his notoriously mercurial temperament, as detailed in Ryan H. Walsh's Astral Weeks—A Secret History of 1968, a wide-ranging and discursive look at Boston's pop-cultural landscape that chronicles how the artist had fled to Cambridge in the wake of his battle with Bang and producer Bert Berns. Within weeks of Astral Weeks' completion, Van Morrison would distance himself from some of the production choices; after performing the album in its entirety in 1969, he would virtually excise its eight songs from his live shows until 2008, when he ended that boycott to mount note-for-note live performances of the songs and arrangements to mark its 40th anniversary.
Related: We look back at another Van classic, His Band and Street Choir
Sir George Ivan Morrison's shifting assessment can't blunt the album's singular, hypnotic power. From the moment jazz veteran Richard Davis' acoustic double bass tips off the triple-meter rhythms of the title song, Van Morrison embarks on a mission of spiritual discovery "in another time, in another place" against an instrumental backdrop that weaves pop, jazz and folk elements into striking, seductive chamber pop.
Listen to the title track, "Astral Weeks"
Davis' sonorous bass emerges as the album's rhythmic anchor, pushing and pulling against Morrison's acoustic guitar at the center of improvised arrangements embellished with classical guitar figures, flute, gleaming vibes and shimmering strings. Morrison would often claim his lyrics were less composed than channeled from beyond, a true stream of consciousness that indeed propelled "Astral Weeks" and the album's other songs into that truly separate time and place.
That feverish poetic intensity persists throughout the cycle even as the songs shift in pace and tone. The whirling energy of the title track leads into the hushed cityscape of "Beside You," drawn in spare instrumental strokes from Davis' plucked bass notes, Jay Berliner's classical guitar and flute in a free-floating arrangement that literally stops time beneath Morrison's alternately soaring and whispered singing. Where the album liner notes name-check landmarks in and around Boston, the places and characters here and elsewhere on Astral Weeks transport singer and listener back to Morrison's Belfast.
Related: Our obituary of Astral Weeks producer Lewis Merenstein
None is more explicit in evoking his birthplace than the haunting "Cyprus Avenue," where Morrison's fusion of poetic detail and tremulous emotion is palpable. The song proceeds slowly, suggesting the singer's passage along a street rising up from memory, "conquered in a car seat" in trembling contemplation of adolescent passions that render him nearly speechless:
"Yeah, my tongue gets tied
Every, every, every time I try to speak
My tongue gets tied
Every time I try to speak
And my inside shakes just like a leaf on a tree…"
Listen to "Cyprus Avenue"
As he stutters and repeats words, Morrison seems literally entranced. The lyricism of his singing and the gentle beauty of the arrangement, with its patient gait once more anchored in Davis' bass and gracefully shaded by harpsichord figures, is mesmerizing.
The alternation of more rhythmic, uptempo songs with quieter pieces shapes the entire album. Side one's "Beside You" and "Cyprus Avenue" bracket another bright, major key romantic celebration in "Sweet Thing," which shares the set's focus on triple-meter structures, in this case 6/4. And following "Cyprus Avenue," Morrison leads off the second side of the original LP with "The Way Young Lovers Do," a fast waltz that's roiled by Davis' slyly off-center bass line and enlivened by Larry Fallon's horn and string arrangements.
Listen to "The Way Young Lovers Do"
The remaining three songs on Astral Weeks confirm its uncompromised poetic intensity as a template for the Celtic soul sensibility that has dominated Morrison's long and prolific catalog since. With "Madame George," he creates an extraordinary portrait of a Belfast transvestite, laced with tender empathy, rendered with narrative detail, and populated with characters in a cinematic tableau:
"Down on Cyprus Avenue
With a childlike vision leaping into view
Clicking, clacking of the high-heeled shoe
Ford and Fitzroy, Madame George
Marching with the soldier boy behind…"
Listen to "Madame George"
In his quest for spiritual rebirth, Morrison moves from childhood memory through first love, disillusion, old age and, on the album's final track, death itself. "I know you're dying, baby, and I know you know it, too," he sings on "Slim Slow Slider," which recalls the deathbed vignette of "T.B. Sheets," a standout on the otherwise bowdlerized Blowin' Your Mind! album Bang Records had rushed into release in 1967, setting off the dispute that poisoned its ties to Morrison. The version of "Slim Slow Slider" that appears on Astral Weeks ends with death's final defeat, yet the longer take included in the 2015 reissue ends on a very different, arguably redemptive note.
Listen to "Slim Slow Slider" (Long version)
Such music would be impressive had Morrison and Merenstein groomed these performances over months of studio takes. The miracle is that all eight songs were captured in just two days of sessions on September 25 and October 15. (An October 1 session was doomed, scrubbed after three hours of dead-end takes.) Richard Davis, Jay Berliner, percussionist and vibraphonist Warren Smith Jr., and drummer Connie Kay were strangers, respected jazz musicians who barely exchanged words with Morrison, who sang and played guitar from within an isolation booth while the others freely improvised. Larry Fallon's string and horn charts were the only through-composed elements of the project. That something verging on telepathy was afoot is perhaps best illustrated by the title song, the last of four finished basic tracks cut on the first evening and captured on the first take.
Sir Van's discography may list Blowin' Your Mind! as his first album, but Astral Weeks , released on November 29, 1968, can be justly regarded as the first album that showed us his Celtic soul, his true debut as a unique modern bard.
Watch Morrison sing "Astral Weeks"/"I Believe I've Transcended" live
And another from Hollywood Bowl, "Astral Weeks"/"I Believe I've Transcended"

Latest posts by Sam Sutherland
(see all)