If you are a fan of '60s rock—and we're assuming you are since you're visiting Best Classic Bands!—you know the record from its very first bent, distorted, shocking note. Not since the blast of feedback that ushered in the Beatles' "I Feel Fine" had such an alien sound called out in such an alarming manner. It got your attention, this 1966 hit, that's for sure!
Then came the chords, your basic A-D-E progression strummed in a simple but determined manner—garage-rock at its most basic and direct. It wouldn't have even mattered what they sang: seven seconds in, you were already hooked.
But then came the voice and your jaw hit the floor! Immediately, you knew it was a classic, a slab of primal rock that would forever be considered a cornerstone of our music. "Wild thing, you make my heart sing, you make everything groovy, wild thing." He sounded tough, if a little bit tongue-in-cheek, but he meant it—whoever this groovy girl was, you could not for a minute doubt that she made his heart sing.
At just about a half-minute in, there's a brief pause, barely enough time to catch your breath. "Wild thing, I think I love you," the singer intones over a single chord, "but I want to know for sure." As groovy as she is, he's not taking any chances, mind you. He thinks he does, but he needs to be held tight; then he will know.
And so it goes, the saga of the wildest thing in pop music history.
The singer was named Reg Presley, but he was not related to that other guy. (In fact, his original name had been the less distinctive Reginald Maurice Ball, until a publicist suggested he change it.) Presley hailed from Hampshire, England, as did the rest of his band, The Troggs. It was short for troglodytes (cave dwellers) and they'd formed in 1964, with an original lineup of Presley on vocals, Chris Britton on guitar, bass by Pete Staples and Ronnie Bond playing the drums.
Signed in the U.K. by Kinks manager Larry Page, they released a single called "Lost Girl" on his own label in 1965 that went nowhere, then signed with the larger Fontana Records in their homeland and both Atco and Fontana in the U.S., due to some contractual confusion. The song that would make them famous was written by Chip Taylor, an American whose real name was James Wesley Voight (his brother is actor Jon Voight; his niece is Angelina Jolie).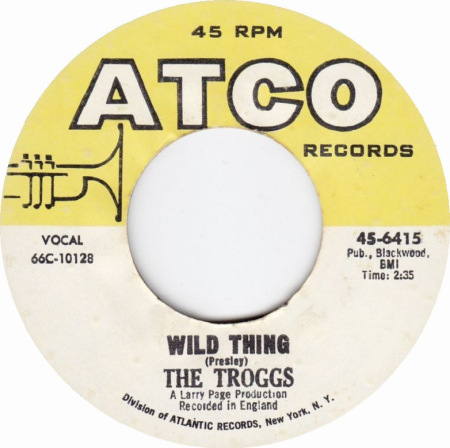 Taylor's composition first found its way to a New York-based combo called the Wild Ones, who served as the house band for a nightclub there called Arthur. Their version of "Wild Thing" stiffed but the tune soon found its way to the new British group, who made it their own in a most fantastic way.
Due to the aforementioned contractual snafu, "Wild Thing" was paired on Fontana with Taylor's "From Home" as the B-side and Presley's "With a Girl Like You" on the flip of the Atco single. (To confuse matters even more, the songwriting credits on the two sides of the Fontana version were mistakenly switched.) It was released on April 22, 1966.
As for that distinctive solo midway through the single, that was not a flute but rather Presley playing an ocarina, a small clay pipe with holes in it. (They later explained that they thought the original demo recording had an ocarina solo, although it turned out to be the engineer blowing through his thumbs.)
It took a while, but once "Wild Thing" charted, it soared, reaching #1 in the U.S. in just five weeks, staying there for two weeks (in the U.K. it reached #2). "With a Girl Like You" proved so popular that it made it to #29 on its own. The Troggs continued to have a few more hits, including "I Can't Control Myself" (#43, also in 1966) and "Love Is All Around," a #7 hit in 1968.
Related: What were the other big radio hits of 1966?
Amazingly, the Troggs have continued on in various configurations almost consistently. Today, original guitarist Britton still leads a version of the band. (Bond died in 1992, Presley in 2013.)
Watch the original "Wild Thing" by the Troggs
As for "Wild Thing," it became a favored cover song immediately upon its release, fodder for every homegrown garage band in existence. At the Monterey Pop Festival in June 1967, a rising American guitar star took it to places unimaginable: You can watch the most infamous part of the Jimi Hendrix Experience's truly memorable performance of "Wild Thing" here…
There was even a novelty version, credited to "Senator Bobby" and sung-talked by comedian Bill Minkin (part of a troupe calling itself the Hardly-Worthit Players) in a voice mimicking that of then-Senator Robert F. Kennedy. It reached #20 in Billboard in early 1967—on the B-side, the same song, this time in the voice of Senator Everett McKinley Dirksen.
Here is a rare live performance of Senator Bobby's "Wild Thing"
Chip Taylor himself has enjoyed a long career. Among his other well-known songs are "Angel of the Morning," a top 10 for Merrilee Rush in 1968, and "Try (Just a Little Bit Harder)," covered definitively by Janis Joplin.
Just how wild is that?
Watch Chip Taylor perform "Wild Thing"
Related: Check out these other "groovy" songs

Latest posts by Jeff Tamarkin
(see all)