When Tom Petty Moved On With 'Mary Jane's Last Dance'
by Greg Brodsky
In 1989, after spending his entire career up until that point recording for MCA Records (and its distributed labels), Tom Petty had made the decision to move on and secretly signed a new deal with Warner Bros. Records, the home for the Traveling Wilburys. A few years later, and with one final album owed to MCA, the collective decision was made to complete the contract with the star's first greatest hits album. The 1993 release included such classic rock favorites as "American Girl," "The Waiting," and "Don't Come Around Here No More" among its 18 tracks.
This is the story of how one of Petty's biggest hits almost didn't happen.
Bruce Tenenbaum, was MCA's senior vice president of promotion at that time. "Tom was 'done' with MCA long before I got there," he recalls. "We revived the careers of several legendary rock acts. We brought back Meat Loaf spectacularly, with his first hit album since the 1970s and his only #1 album and #1 single ever.
"For Elton John, we delivered his first Top 10 album in 16 years. Patty Smyth had her first Top 10 single since the '80s. We also had MCA's first Platinum alternative band, Live, whose Throwing Copper went to #1.
"If Tom had had a chance to see what we were doing with rock albums, maybe he would have had a different thought," he says.
Over the years, MCA had released dozens of singles from Tom Petty and the Heartbreakers, and while many reached the Top 20 of the Hot 100 and despite many top-selling albums, only one song made it into the Top 10, 1979's "Don't Do Me Like That." (Their recording with Stevie Nicks, 1981's "Stop Draggin' My Heart Around," went to #3 but it was released on her label, that was promoted and distributed by Atlantic, where Tenenbaum, incidentally, worked at the time.) It wasn't until 1989 that Petty returned to the Top 10 with "Free Fallin'" from his solo album, Full Moon Fever.
"He had one last commitment album to deliver and the decision was to make it a greatest hits collection with two new tracks," Tenenbaum tells Best Classic Bands. "Tom wanted the lead single to be his remake of 'Something in the Air'."
The original recording by Thunderclap Newman, and produced by Pete Townshend, was released in 1969. Although it was a hit in the U.K., where it reached #1, it stalled at just #37 in the U.S. The Heartbreakers had been performing it on tour several years earlier.
"Tom felt that since it was already familiar at AOR [Album-Oriented Radio], we could get it played easily," says Tenenbaum. "I told his manager, Tony Dimitriades, that I didn't care how easily we could get a song played. I cared what happened after we got it played. And that's why I argued for 'Mary Jane's Last Dance' to be the single. I felt it was the much better choice. The president of the label agreed and joined in the argument."
The song's opening verse sets the scene:
She grew up in an Indiana town
Had a good lookin' mama who never was around
But she grew up tall and she grew up right
With them Indiana boys on an Indiana night
"I also pointed out that the Thunderclap Newman song hadn't been a massive hit here. Tony asked if I thought we could get 'Mary Jane's Last Dance' played. I said it was a great song and I thought we could get it played as easily as their choice.
"Tony then said Tom had a great idea for a video for 'Something in the Air' and wasn't sure he could come up with as good a video for 'Mary Jane's Last Dance.' I told him, 'You don't choose singles based on whether you have a good video idea'."
The lyrics continue:
Well, she moved down here at the age of eighteen
She blew the boys away, it was more than they'd seen
I was introduced and we both started groovin'
She said, "I dig you, baby, but I got to keep movin' on, keep movin' on"
In an interview that Petty did to publicize the Greatest Hits collection, he wrote, "I'm still trying to figure out exactly what this song is about. I think it's kind of at the end of something; it's about someone whose little world is gone and they're trying to make the best of it. I'm not sure what it means and it will be some time before I identify it."
"After a lot of back and forth," says the veteran label executive, "Tom was persuaded and we went with 'Mary Jane's Last Dance'." The song and Greatest Hits album were released in November 1993.
Tenenbaum recalls, proudly: "MCA's great promotion team took it to #1 on the album rock chart and to #14 on the Billboard Hot 100. It was his first Top 20 pop hit of the '90s and the next-to-last of his great career.
"In retrospect, it's hard to imagine but one of Petty's greatest hits almost didn't happen (even though it's ironically on the greatest hits album)," says Tenenbaum. "Because, if we had gone with 'Something In the Air' and it didn't resonate, I can tell you that, most likely, the label would not have even released 'Mary Jane's Last Dance."
1994's "You Don't Know How it Feels" (#13) is the only other subsequent Petty single to reach the top 50.
"The Greatest Hits album has sold 12 million copies to date in the U.S. alone," says Tenenbaum. "None of the albums that followed on other labels outsold it. And to top it all off, in a moment of irony, the video Tom 'couldn't come up with' for 'Mary Jane,' but eventually did, won MTV's Best Male Video award."
"Mary Jane's Last Dance" became one of Petty's many signature tunes and ultimately proved to be one of the Heartbreakers' most popular songs in their concert setlists.
Watch them perform it at the 1994 Bridge School benefit concert
The song's live presentation evolved over the years. Here's a performance from the band's 40th Anniversary tour in 2017
Related: Our review of the Heartbreakers' 40th Anniversary tour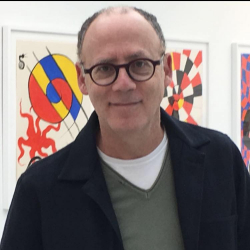 Latest posts by Greg Brodsky
(see all)