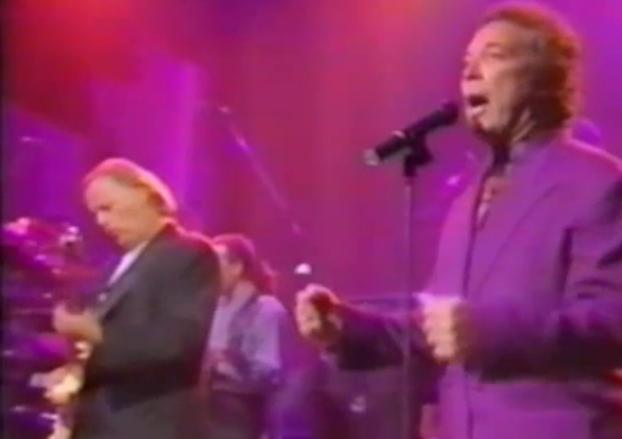 Sometimes when you are looking for one thing on the Internet, something else entirely different randomly pops up to pique your interest.
Such was the case with this stunning clip. Yes, it's not entirely unnatural to find Welsh pop singing sensation Tom Jones linked with the brilliant and enigmatic rocking R&B artist Prince. Jones did a wonderful version of Prince's "Kiss" with the synthpop band Art of Noise in 1988 that was both something of a comeback hit for the '60s pop sensation and signaled to the hip cognoscente who might consider the singer square that the man has natural cool.
And he has some of the finest popular singing pipes on the planet, which is why we are also big Jones fans. So when the Google search results yielded "Tom Jones" and "Purple Rain," we naturally thought, "Oh yeah, bet that's a hot version." And then there was the wild card: "David Gilmour."
As one might expect, the Pink Floyd guitarist delivers a mind-blowing solo in the Oscar-winning title song to the 1984 Prince movie. And that only ices the hearty cake of how Jones delivers the song with authority and passion and… yep… sheer magnificence. Our Classic Video…
The clip comes from a 1992 six-part BBC series hosted by Jones titled The Right Time that also aired in the U.S. on VH1. It explored various musical styles as Jones collaborated with artists like Cyndi Lauper, Daryl Hall, Joe Cocker and Stevie Wonder in what The New York Times called a "whirlwind briefing on the history of pop music."
This song was actually in the gospel music episode of the show. And hell yeah you can hear the heavenly spirit indeed in this once-in-a-lifetime performance.
Jones turns 82 on June 7, 2022, with a new studio album, and still tours regularly. Tickets are available here and here. Gilmour was born March 6, 1946. He was said to be working on a new album in 2017, but there hasn't been news about it since, though he did release a song in 2020.
Related: Our 2016 Tom Jones concert review

Latest posts by Best Classic Bands Staff
(see all)