The Band's 'Stage Fright' Expanded—When '3rd Best' is Still Phenomenal
by Jeff Burger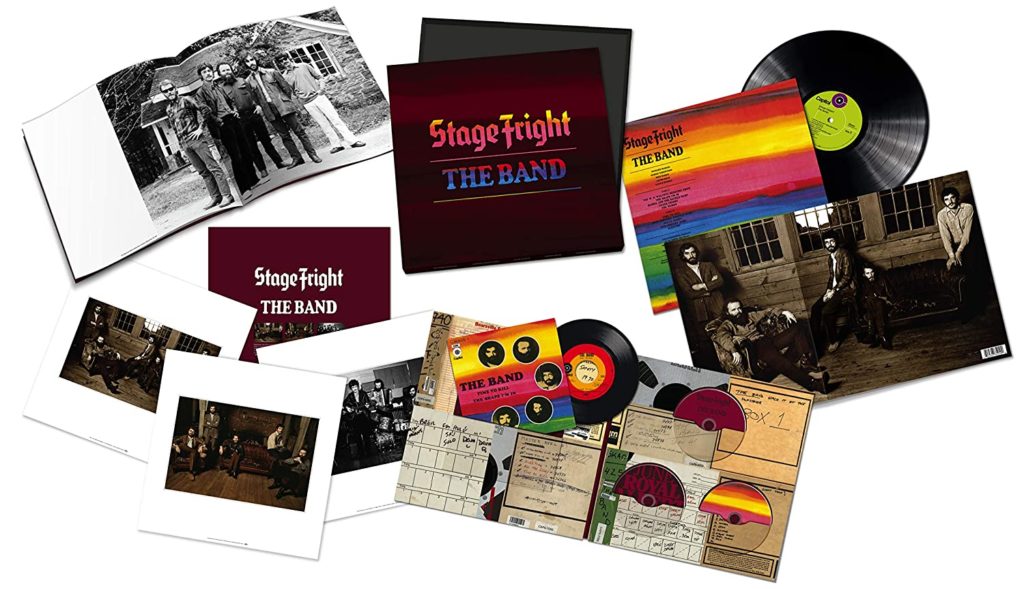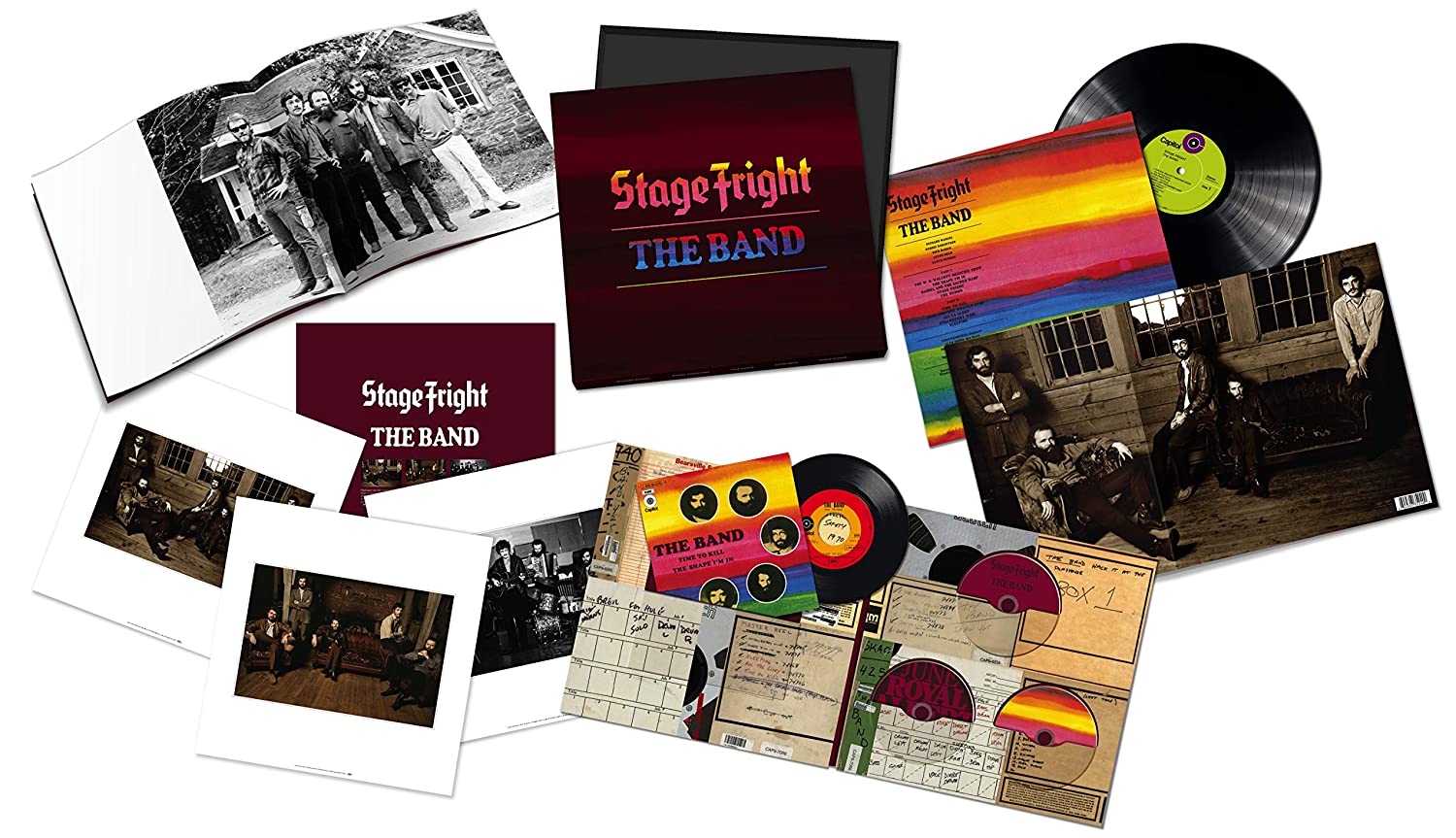 To call an album a group's third best would usually be faint praise, but not where The Band is concerned: 1970's Stage Fright arguably ranks slightly behind its two predecessors in their catalog, but that's only because those earlier records are their classic Music from Big Pink debut and their even better eponymous sophomore LP. In this group's discography, third best is still good enough to put an album on a par with the finest releases of its era. It's worth noting, moreover, that Stage Fright actually did better on the charts than either of the two earlier records.
Like those previous LPs, the self-produced Stage Fright sounds rooted in a mythic version of rural southern America (though all but one of the Band's members were Canadian): if they'd had rock music in the South in the 1800s, it might have sounded a lot like this. There are zero specific references to life in 1970 in the frequently witty lyrics, though some of them could be interpreted as oblique commentary on that time; dozens of lines on this album, meanwhile, harken back to an earlier era.
Related: Our Album Rewind of The Band's groundbreaking debut album, Music From Big Pink
There are mentions of a faith healer, medicine shows, ragtime, a whistle stop, a steamboat, a locomotive and a trolley, as well as talk of sitting down by the fire and talking to "people all across the sea." And the instrumentation can occasionally seem as anachronistic as the lyrics: hearing the accordion at the beginning of "Daniel & the Sacred Harp," for example, it's easy to imagine that you're listening to people making music on a front porch a couple of centuries ago.|
But the performances—which are more rock-oriented than those on Music from Big Pink and The Band—are timeless; these songs, which probably would have found an audience in 1870, sounded great a century later, and still sound great a half century after that. While the lyrics often suggest sadness, disenchantment and unease, the richly textured music is largely bright, upbeat and catchy. Robbie Robertson (guitar, piano), Rick Danko (bass, fiddle), Levon Helm (drums, mandolin), Richard Manuel (keyboards, drums) and Garth Hudson (keyboards, horn) are all in fine form. Plus, the LP features terrific vocal work, particularly by Danko and Manuel.
Listen to the newly remastered 2020 remix of "The Shape I'm In"
The original record contains 10 songs, all but one of them (Manuel's fine "Just Another Whistle Stop") written (or in two cases cowritten) by Robertson. The best-known numbers are the title cut, about grappling with fortune and fame, and "The Shape I'm In," in which lead vocalist Manuel—whose sense of desperation reportedly inspired the lyric—memorably proclaims, "I just spent 60 days in the jailhouse/For the crime of having no dough/Now here I am back out on the street/For the crime of having nowhere to go." Those are far from the album's only highpoints, though; the other numbers—including "The W.S. Walcott Medicine Show," "Daniel & the Sacred Harp," "The Rumor," "Time to Kill," "All La Glory," "Strawberry Wine" and "Sleeping"—have left indelible marks as well.
Now, like its two predecessors, Stage Fright has been given the 50th anniversary boxed set treatment. A "super deluxe" edition features a fine-sounding remixed, remastered copy of the original record that restores the Band's previously unreleased originally intended song sequencing and that has been augmented with nine bonus tracks: alternate mixes of "Strawberry Wine" and "Sleeping," plus seven numbers that the group informally recorded with minimal instrumentation in a Calgary, Canada, hotel room in 1970. These include three Robertson compositions—"Get Up Jake" (two takes), "The W.S. Walcott Medicine Show" and a number called "Calgary Blues"—plus Huey "Piano" Smith's "Rockin' Pneumonia and the Boogie Woogie Flu," Bo Diddley's "Before You Accuse Me" and "Mojo Hannah," a Motown number that Marvin Gaye once recorded.
Listen to two of those classic covers
That's just for starters. A second CD features an excellent 20-song, 80-minute 1971 concert from London's Royal Albert Hall that incorporates half the songs from Stage Fright plus such earlier classics as The Band's "Across the Great Divide," "The Night They Drove Old Dixie Down" and "Rag Mama Rag," and Music from Big Pink's "The Weight" and Bob Dylan's "I Shall Be Released." A Blu-ray audio disc adds a spectacular DTS-HD surround-sound mix of the original album, the bonus tracks and the London show. Also included are an audiophile-quality vinyl copy of Stage Fright, a seven-inch vinyl single, frameable lithographs and a booklet that includes new liner notes by Robertson, period photos, an essay by photographer Norman Seeff on how his shoot for this album changed his life and a 1970 LP review by the Los Angeles Times' Robert Hilburn.
Unfortunately, these goodies do not come cheap: the handsomely packaged set is selling for around $150 (though the price seems likely to drop over time—that's what happened with the Band's two earlier anniversary boxes). The figure seems particularly steep considering that you can buy an edition that includes everything on both CDs—the upgraded album with the nine bonus tracks and the Royal Albert Hall concert—for less than 20 bucks. That said, some listeners might really want the vinyl; and there's no question that this box's Blu-ray adds a whole new—and thoroughly enjoyable—dimension to Stage Fright.
Latest posts by Jeff Burger
(see all)