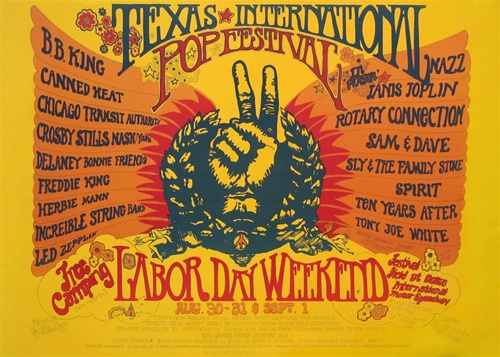 It was the fourth of 1969's big summer rock festivals, following events in Atlanta and Atlantic City and of course Woodstock. On this day, the three-day Texas International Pop Festival near Dallas, was proceeding smoothly.
The festival was co-produced by the promoters of the Atlanta International Pop Festival and Dallas concert promoters Angus Wynne and Jack Calmes of SHOWCO, Inc. It drew around 125,000 to 150,000 people to the recently opened Dallas International Motor Speedway in Lewisville in a peaceful and well-organized gathering. (One person died of heatstroke; hey, it was late summer in sweltering Texas.)
The music began each day with a new and relatively unknown band, Grand Funk Railroad. B.B. King played all three days; James Cotton Blues Band, Sam & Dave, Delaney & Bonnie and Friends, jazz flautist Herbie Mann and Chicago Transit Authority (later simply Chicago) all played two days. Top classic rock acts on the bill included Janis Joplin, Ten Years After, Santana, Spirit and Led Zeppelin, whose incendiary performance at the fest is a highly prized bootleg. (Watch it below).
Listen to a Janis Joplin performance
Other acts on the rather eclectic bill include English folkies The Incredible String Band, swamp rocker Tony Joe White, Todd Rundgren's first band The Nazz and blues rockers Canned Heat.
And, yes, you read that right: Led Zeppelin and Spirit, who battled in court in 2016 over the songwriting credits to "Stairway to Heaven," both performed.
Fascinating fact: Wavy Gravy, the hippie hero of Woodstock, was still known by his beat poet real name Hugh Romney during that fest. He received his new and fitting monicker at Texas Pop from B.B. King.
The fest's site has an official Texas Historical Commission marker near where the stage was. Though overshadowed nationally and in legend by Woodstock, in the Lone Star State the Texas International Pop Festival is still fondly remembered.
Listen to Led Zeppelin's set
If you're a new Best Classic Bands reader, we'd be grateful if you would Like our Facebook page and/or bookmark our Home page.

Latest posts by Best Classic Bands Staff
(see all)