Yusuf / Cat Stevens' 1971 multi-Platinum selling landmark record, Teaser and the Firecat, has been celebrated with a 50th anniversary Super Deluxe Edition box set. The title, which features such classic recordings as "Moonshadow," "Peace Train" and "Morning Has Broken," is supplemented by a wealth of previously unheard studio demos and alternate mixes, as well as live recordings from the period. (Listen to several below.) The collection, in a variety of formats, arrived on November 19, 2021, via A&M/UMe.
It follows last year's 50th Anniversary expansive editions of Stevens' Tea For the Tillerman and Mona Bone Jakon. The new Super Deluxe Edition includes 4-CDs, Blu-ray, 2-LPs and 7" vinyl.
A previously unheard recording of "Moonshadow (Olympic Studio Demo, 1970)" was released on Sept. 23, the day of the announcement. Actually recorded at Olympic before the release of the two 1970 albums, Mona Bone Jakon and Tea For the Tillerman, this version provides a fascinating insight into the origins of one of the most enduring songs of Stevens' canon.
Listen to "Moonshadow (Olympic Studio Demo, 1970)"
Collectively, these albums immortalized his status as a forerunner in the singer-songwriter movement.
Stevens achieved phenomenal success with his early work, but it was with the Oct. 1, 1971 release of Teaser and the Firecat, his third LP with Island Records – A&M in the U.S. – that propelled him into superstardom, spawning some of his most unforgettable hits.
The album reached #2 in both the U.K. and U.S. "Moonshadow" peaked at #22 in the U.K. and #30 in the U.S. "Peace Train" and "Morning Has Broken" then became his first two singles to reach the U.S. Top 10, reaching #7 and #6, respectively.
Half a century later, Teaser and the Firecat has been given an in-depth and definitive version. Presented in a remastering of the playful original artwork, the release will include: 41 previously unreleased audio tracks and 21 live video performances on disc for the first time, amongst an entire CD and LP of studio demos and alternate mixes; a 44-page, 12" soft cover replica of the original Teaser and the Firecat book, hand written and illustrated by Yusuf in 1972, and now featuring text in 10 languages; and a 108-page hard-cover 12" essay book, alongside a host of other rarities.
Watch the official unboxing video
There will also be a slimmed down version of the Super Deluxe Edition, including the 108-page book in a soft cover format, along with the 4-CDs and Blu-ray, housed in a rigid slipcase, without the vinyl. Other 50th Anniversary reissue formats include a 2-CD Deluxe Edition, plus single CD and LP remasters.
Watch the official lyric video for "Morning Has Broken"
"Morning Has Broken" was adapted from a traditional hymn with words by British author Eleanor Farjeon. Stevens arranged the song, giving it his own inimical sense of style and passion and invited Rick Wakeman to record the now legendary piano part.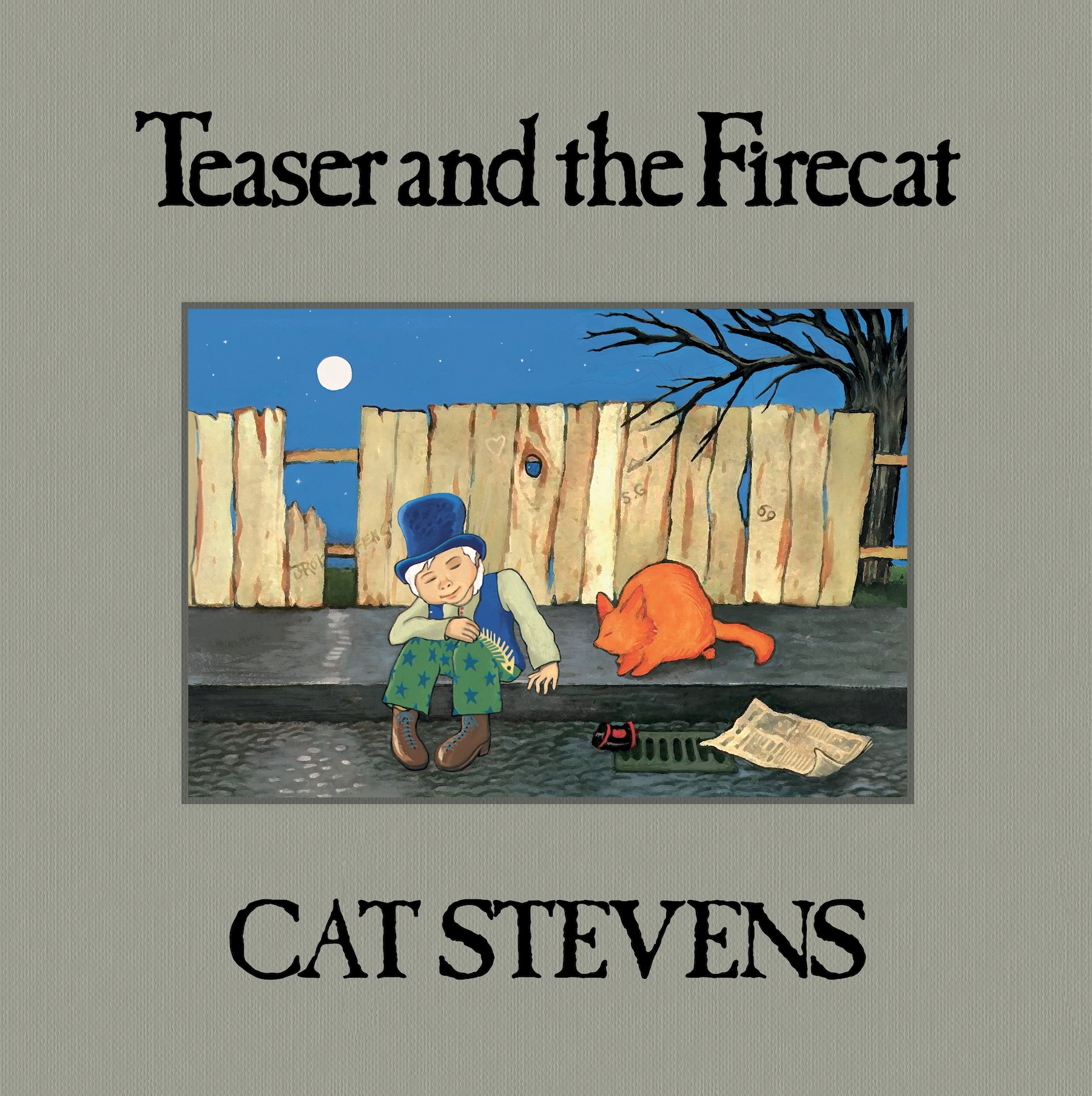 The 50th anniversary remaster of the album was mixed by David Hefti on CD and LP, the Super Deluxe Edition also includes a CD of previously unreleased studio material and bonus tracks, an alternate version of the album on LP, as well as a third and fourth CD featuring 23 live performances from 1971. The 50th anniversary remaster was completed at Abbey Road Studios, and was overseen by original album producer, Paul Samwell-Smith.
The 50th anniversary edition also includes an exclusive vinyl LP, tracklisted with 5 live performances at Montreux in 1971 and six BBC Recordings, as well as a Blu-ray disc featuring a restored version of the 1977 animated video for "Moonshadow," a live performance of "The Wind" from 2020, plus 21 live TV performances.
Also featured in the collection is "Bitterblue²," a newly recorded and never-before-heard version of the classic Teaser album track, now with Yusuf's rich vocal, sung a full octave lower than the original.
Related: Our Album Rewind of Teaser and the Firecat
The complete track listing is below the links.
4-CD/Blu-ray/2-LP/7" Super Deluxe Edition Box Set
CD1: Teaser and the Firecat (50th Anniversary Remaster)
The Wind
Rubylove
If I Laugh
Changes IV
How Can I Tell You
Tuesday's Dead
Morning Has Broken
Bitterblue
Moonshadow
Peace Train
CD2: Demos, Alternate Versions, Bonus Tracks
The Wind (Dubville Sessions 2020)
Rubylove (Studio Demo)
If I Laugh (Studio Demo)
Changes IV (Alternate Mix, 1971)
How Can I Tell You (Studio Demo)
Tuesday's Dead (Studio Demo)
Morning Has Broken (Basing Street Rehearsal)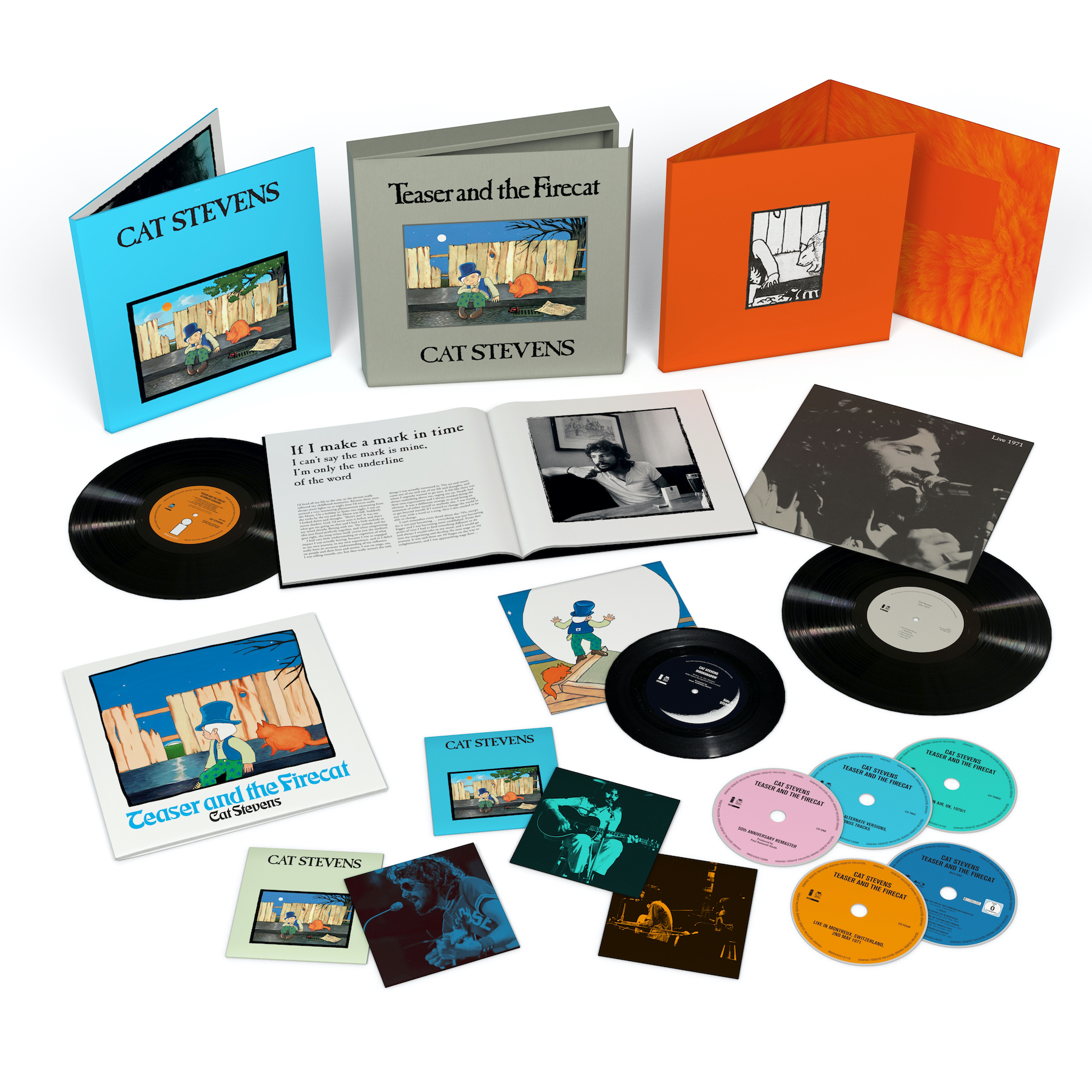 Bitterblue (Basing Street Rehearsal)
Moonshadow (Olympic Studio Demo, 1970)
Peace Train (Extended String Mix, 1971)
The Day They Make Me Tsar (Studio Demo)
I Want To Live In A Wigwam
Fisherman Song (Studio Demo)
Changes IV (Studio Demo)
Tuesday's Dead (Alternate Mix, 1971)
Morning Has Broken (Studio Demo)
Bitterblue² (Reimagined 2021)
Listen to the Extended String Mix of "Peace Train"
CD3: Live On Air, UK, 1971
Moonshadow (BBC Radio Session, 8th November 1970)
Tuesday's Dead (BBC Radio Session, 23rd March 1971)
How Can I Tell You (BBC Radio Session, 23rd March 1971)
Peace Train (BBC Radio Session, 23rd March 1971)
Moonshadow (BBC Radio Session, 23rd March 1971)
Bitterblue (BBC Radio Session, 23rd March 1971)
Moonshadow (Out Front: Cat Stevens And Friends, Yorkshire Television, 7th September 1971)
Where Do The Children Play? (Out Front: Cat Stevens And Friends, Yorkshire Television, 7th September 1971)
Longer Boats (Out Front: Cat Stevens And Friends, Yorkshire Television, 7th September 1971)
Tuesday's Dead (Out Front: Cat Stevens And Friends, Yorkshire Television, 7th September 1971)
Sad Lisa (Out Front: Cat Stevens And Friends, Yorkshire Television, 7th September 1971)
Hard Headed Woman (Out Front: Cat Stevens And Friends, Yorkshire Television, 7th September 1971)
Father and Son (Out Front: Cat Stevens And Friends, Yorkshire Television, 7th September 1971)
If I Laugh (The Old Grey Whistle Test, BBC TV, 5th October 1971)
Changes IV (The Old Grey Whistle Test, BBC TV, 5th October 1971)
Moonshadow (Cat Stevens In Concert, BBC TV, 27th November 1971)
Tuesday's Dead (Cat Stevens In Concert, BBC TV, 27th November 1971)
How Can I Tell You (Cat Stevens In Concert, BBC TV, 27th November 1971)
Bitterblue (Cat Stevens In Concert, BBC TV, 27th November 1971)
Changes IV (Cat Stevens In Concert, BBC TV, 27th November 1971)
CD4: Live In Montreux, 2nd May 1971
Intro (Live In Montreux, 2nd May 1971)
Hard Headed Woman (Live In Montreux, 2nd May 1971)
On The Road To Find Out (Live In Montreux, 2nd May 1971)
Wild World (Live In Montreux, 2nd May 1971)
Longer Boats (Live In Montreux, 2nd May 1971)
Maybe You're Right (Live In Montreux, 2nd May 1971)
Sad Lisa (Live In Montreux, 2nd May 1971)
Miles From Nowhere (Live In Montreux, 2nd May 1971)
Katmandu (Live In Montreux, 2nd May 1971)
Lady D'Arbanville (Live In Montreux, 2nd May 1971)
Father And Son (Live In Montreux, 2nd May 1971)
Where Do The Children Play? (Live In Montreux, 2nd May 1971)
Peace Train (Live In Montreux, 2nd May 1971)
Blu-ray
HD 24bit/48kHz audio
Teaser and the Firecat (50th Anniversary Remaster)
The Wind
Rubylove
If I Laugh
Changes IV
How Can I Tell You
Tuesday's Dead
Morning Has Broken
Bitterblue
Moonshadow
Peace Train
Video
The Wind
Moonshadow
Cat Stevens Live in Montreux, Switzerland (2nd May, 1971)
Longer Boats
Sad Lisa
Wild World
Katmandu
Lady D'Arbanville
Where Do The Children Play?
Peace Train
Out Front: Cat Stevens And Friends (Yorkshire TV) (7th September 1971)
Moonshadow
Where Do The Children Play?
Longer Boats
Tuesday's Dead
Sad Lisa
Hard Headed Woman
Father And Son
The Old Grey Whistle Test (BBC TV) (5th October 1971)
If I Laugh
Changes IV
Cat Stevens In Concert (BBC TV) (27th November 1971)
Moon Shadow
Tuesday's Dead
How Can I Tell You
Bitterblue
Changes IV
LP1: Teaser and the Firecat (Alternative Versions)
Side 1
The Wind (Dubville Sessions 2020)
Rubylove (Studio Demo)
If I Laugh (Studio Demo)
Changes IV (Studio Demo)
How Can I Tell You (Studio Demo)
Side 2
Tuesday's Dead (Studio Demo)
Morning Has Broken (Basing Street Rehearsal)
Bitterblue (Basing Street Rehearsal)
Moonshadow (Olympic Studio Demo, 1970)
Peace Train (Extended String Mix, 1971)
LP2: Live 1971
SIDE 1: Live In Montreux, 2nd May 1971
Hard Headed Woman
Wild World
Lady D'Arbanville
Father And Son
Peace Train
Side 2: Live At The BBC, 1971
Moonshadow (BBC Radio Session, 23rd March 1971)
If I Laugh (The Old Grey Whistle Test, 5th October 1971)
Tuesday's Dead (Cat Stevens In Concert, 27th November 1971)
How Can I Tell You (Cat Stevens In Concert, 27th November 1971)
Bitterblue (Cat Stevens In Concert, 27th November 1971)
Changes IV (Cat Stevens In Concert, 27th November 1971)
7″ Single
Moonshadow
Spike Milligan narration

Latest posts by Best Classic Bands Staff
(see all)