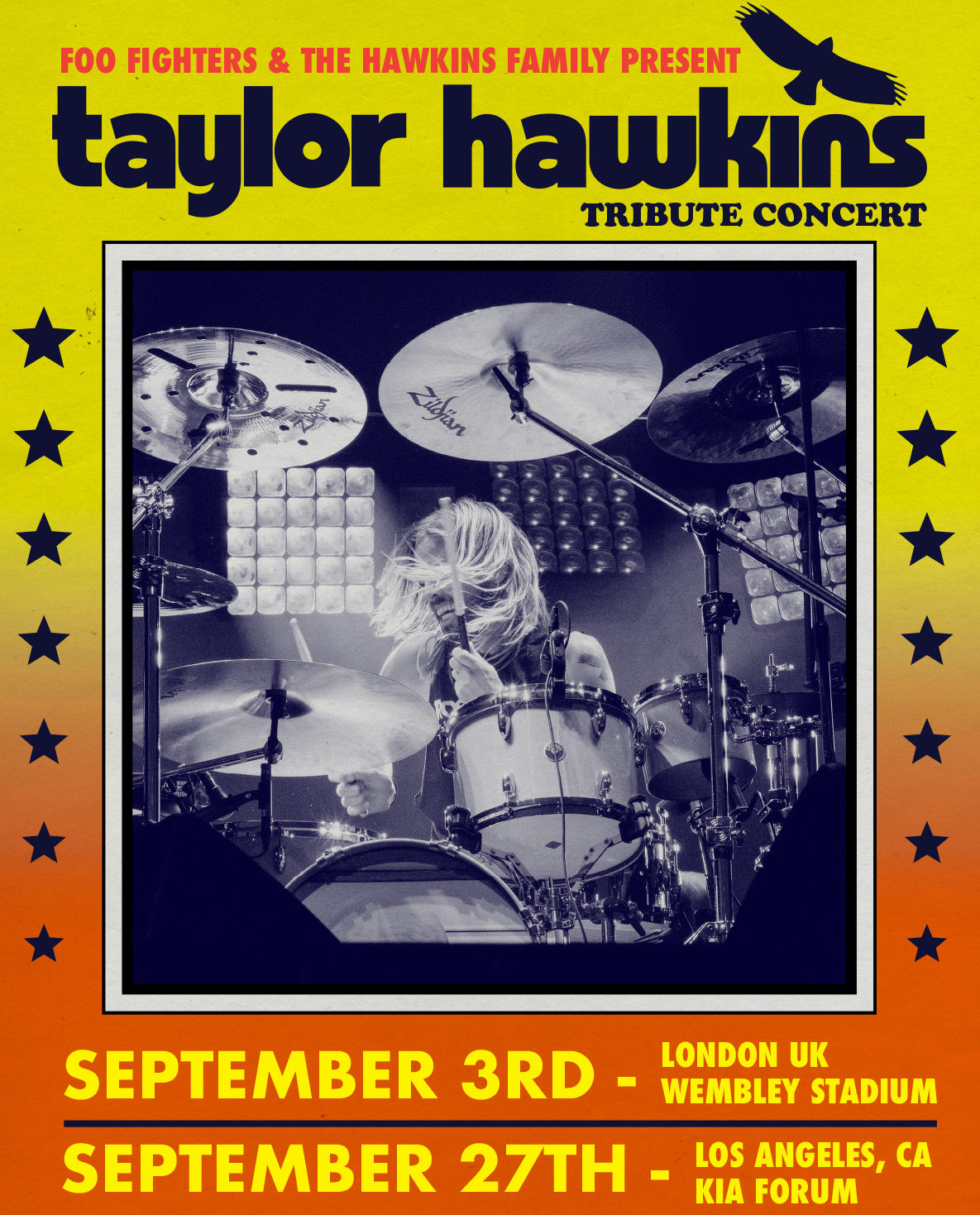 Foo Fighters have revealed the special guests for the two tribute concerts to honor their late drummer, Taylor Hawkins, who died on March 25, 2022. Hawkins died while the band was on tour and in the wake of his passing, the group had cancelled the remaining dates. On June 8, Foo Fighters announced the Taylor Hawkins Tribute Concerts, to take place on Sept. 3 at London's Wembley Stadium and on Sept. 27 at the Kia Forum in Los Angeles. Tickets are available here.
The initial announcement described them as "all-star rock and roll shows" but did not specify the guests. On June 15 and June 17, the first names for the pair of shows were revealed and more than lived up to the billing. Joining Foo Fighters at Wembley: John Paul Jones of Led Zeppelin, Brian May and Roger Taylor of Queen, Chrissie Hynde, Geddy Lee and Alex Lifeson, Stewart Copeland, Liam Gallagher, Wolfgang Van Halen, Nile Rodgers, Mark Ronson, and more.
In Los Angeles, Hawkins' "brothers" Dave Grohl, Nate Mendel, Chris Shiflett, Pat Smear and Rami Jaffee will again be joined by Jones, Lee and Lifeson, May and Taylor, Copeland, and Wolfgang Van Halen. Others announced are Joan Jett, Nancy Wilson, Miley Cyrus, Krist Novoselic, Alanis Morissette, Gene Simmons, Pink, and Nikki Sixx.
The concerts are "in celebration of Taylor's memory and his legacy as a global rock icon—his bandmates and his inspirations playing the songs that he fell in love with, and the ones he brought to life." The Los Angeles lineup will be announced shortly.
Additional names for the London show include Chris Chaney, Omar Hakim, Joshua Homme, Supergrass, Rufus Taylor, Chevy Metal, and a special appearance by Dave Chappelle.
Also performing Los Angeles: Chaney, Hakim, Homme, Ronson, Rufus Taylor, Chad Smith, Jon Theodore, Brad Wilk, Greg Kurstin, and Pat Wilson. More will be announced for both shows.
In a statement also released on June 8, Hawkins' wife, Alison, sent a message to his fans. "Your kindness has been an invaluable comfort my family and me during this time of unimaginable grief. I want to share how much you meant to him and how dedicated he was to 'knocking your socks off' during every performance."
Alison Hawkins' complete message: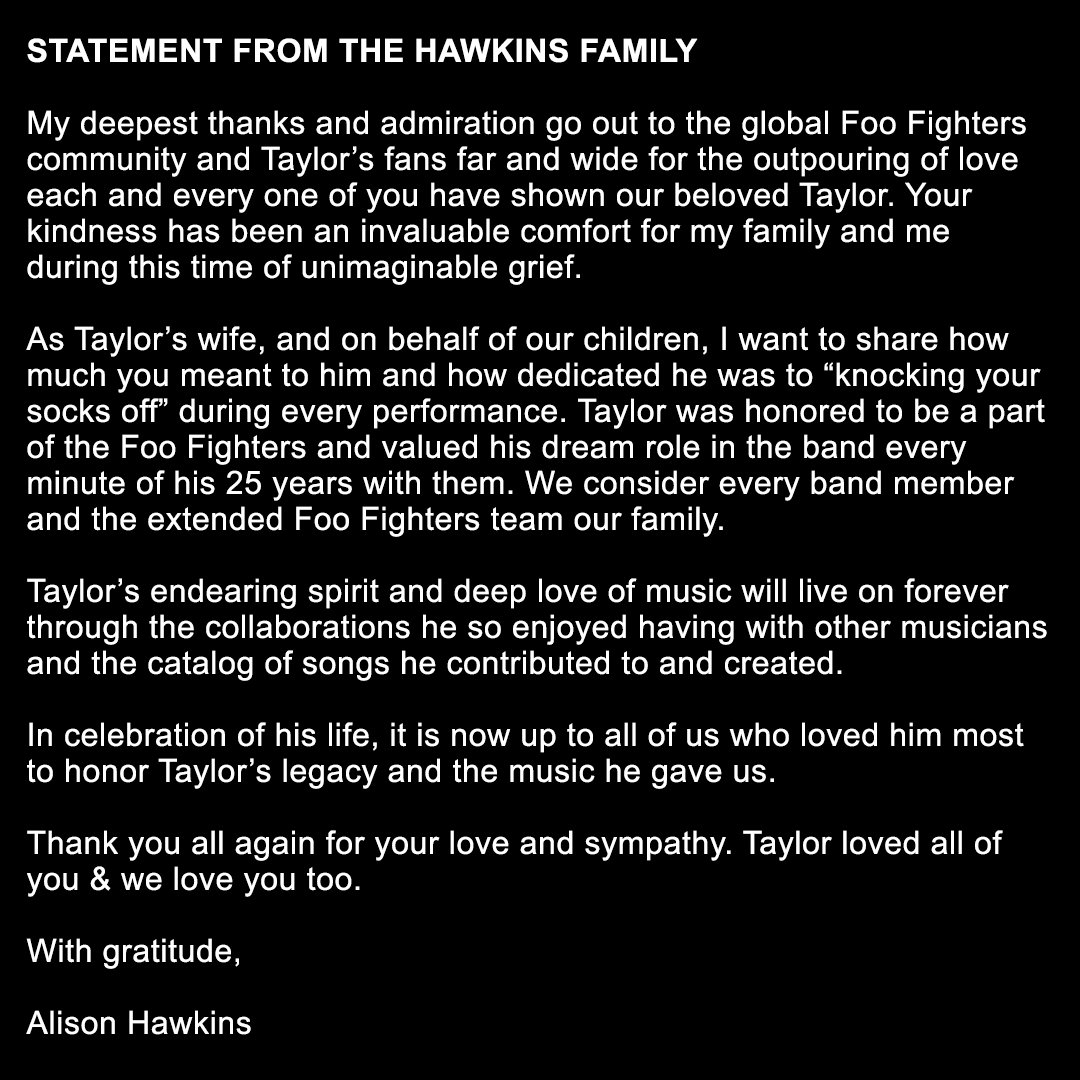 In a brief statement released on March 29, Foo Fighters wrote, "It is with great sadness that Foo Fighters confirm the cancellation of all upcoming tour dates in light of the staggering loss of our brother Taylor Hawkins. We're sorry for and share in the disappointment that we won't be seeing one another as planned. Instead, let's take this time to grieve, to heal, to pull our loved ones close, and to appreciate all the music and memories we've made together.
With Love, Foo Fighters"
Hawkins joined Foo Fighters in 1997, first appearing with the band on the tour supporting sophomore album The Colour & The Shape. He made his recorded debut with Foo Fighters with 1999's There Is Nothing Left To Lose, playing on every subsequent FF album, including One By One, In Your Honor (the first FF album to feature him assuming lead vocal duties on his song "Cold Day In The Sun"), Echoes, Silence, Patience & Grace, Wasting Light, Sonic Highways, Concrete & Gold (also featuring him as lead singer on "Sunday Rain") and Medicine at Midnight. As a member of Foo Fighters, Taylor was a 15-time GRAMMY Award winner and member of the Rock & Roll Hall of Fame.
Music stars have been paying tribute to Hawkins. The band announced his death at age 50 late on March 25. The group was scheduled to perform that evening at the Estereo Picnic Festival in Bogotá, Colombia, when they shared the news of "the tragic and untimely loss" of their beloved drummer.
Candles were placed on the stage that evening.
A fellow drummer of note paid his respects…
God bless Taylor peace and love to all his family and the band peace and love. 😎✌️🌟❤️🎶🌈☮️ pic.twitter.com/wn2izxn4Vd

— #RingoStarr (@ringostarrmusic) March 26, 2022
Ozzy Osbourne was one of the first rock stars to react.
. @TaylorHawkins was truly a great person and an amazing musician. My heart, my love and my condolences go out to his wife, his children, his family, his band and his fans. See you on the other side – Ozzy

— Ozzy Osbourne (@OzzyOsbourne) March 26, 2022
So incredibly sad to hear of the passing of Taylor Hawkins. My thoughts are with his family and the band at this time. pic.twitter.com/wueydCu5gw

— Mick Jagger (@MickJagger) March 26, 2022
From Nancy Wilson of Heart…
I love you Taylor Hawkins 💔😢 pic.twitter.com/zW3RnWNl5b

— Nancy Wilson (@NancyWilson) March 26, 2022
Brian Wilson wrote, "I'm heartbroken to hear about Taylor Hawkins. He was such a nice young man. Love & Mercy to Taylor's family and friends."
I woke up this morning to hear the awful news of Taylor Hawkins death. What a terrible loss to us all. He was such a lovely guy and such a brilliant player. ⁰My deepest condolences go out to his family, his band and his fans. He will be sadly missed Rest In Peace Taylor. -Tony pic.twitter.com/MSYRMzDy8c

— Tony Iommi (@tonyiommi) March 26, 2022
Brian May of Queen wrote, "No. It cannot be. Heartbroken. Taylor, you were family to us. Our friend, our brother, our beloved child. Bless you. We will miss you so bad."
Shocked n' saddened to hear of the passing of Taylor Hawkins.He was a really great guy, drummer n' family man. Was always great to see him!Was looking forward to seeing him n' everyone in Daytona.Truly saddened. My deepest condolences to his family, the Foo Fighters n'their fans.

— Axl Rose (@axlrose) March 26, 2022
Taylor Hawkins was one of those drummers that brought more than just skill to the instrument – he brought heart. You could see joy radiate from him and that, in turn, allowed others to radiate joy back. I felt connected to him in that way. RIP brother.

— Bill Kreutzmann (@BKreutzmann) March 26, 2022
From fellow drummer Bill Bruford, most notably of Yes and King Crimson…
"So saddened to hear of the death of Taylor Hawkins. If you want to play rock drums you're nothing without serious commitment. Taylor brought commitment in spades as he laid into that drum kit with a huge smile, irrepressible energy and stratospheric levels of enthusiasm. These were all aspects of his personality and playing that I admired from afar and that brought so much pleasure to so many. It's a terrible loss of one so young with so much more to give. My sincere condolences to his wife, family and fellow Foo Fighters."
#TaylorHawkins pic.twitter.com/YfnZvRCDg4

— Stevie Nicks (@StevieNicks) March 26, 2022
So tragic. 💔 Rest in peace Taylor. @taylorhawkins pic.twitter.com/1rhGIQHmFZ

— Billy Idol (@BillyIdol) March 26, 2022
From fellow drummer, Lars Ulrich of Metallica…
Thank you Taylor..

Thank you for always having the biggest warmest smile on your face and for lighting up every room with your infectious energy and good vibes.

(1/3) pic.twitter.com/G4SGcvHAqi

— Lars Ulrich (@larsulrich) March 26, 2022
I'm greatly saddened today after hearing the news about TAYLOR HAWKINS. He was one of those absoloutly rare people ya just couldn't help feeling good around him. You see he loved his family and life thru and thru… And he was a ripping drummer… TAYLOR you will be missed!! pic.twitter.com/GYVPlAyEc4

— Joe Perry (@JoePerry) March 26, 2022
From another fellow drummer, Stewart Copeland, of The Police: "Taylor was a force of life, with a forward momentum that seemed unstoppable. He was all energy and cheerful enthusiasm. It's inconceivable that he is gone."
A rock and roll brother has gone home too soon. My deepest condolences to his family, Dave Grohl, and the @FooFighters. Taylor played from the heart with power and joy. May he Rest In Peace. #TaylorHawkins pic.twitter.com/YcDrEfUzpF

— Lenny Kravitz (@LennyKravitz) March 26, 2022
Peace and Love, Taylor Hawkins 💔 pic.twitter.com/X2joE5h6Za

— Susanna Hoffs (@SusannaHoffs) March 26, 2022
Related: Musicians and other celebrities we've lost in 2022

Latest posts by Best Classic Bands Staff
(see all)