A Talking Heads reunion took place for the first time in two decades when the four members participated in a Q&A to promote the newly restored 4K version of their great 1984 concert film, Stop Making Sense, from director Jonathan Demme. The event, with David Byrne, Chris Frantz, Tina Weymouth and Jerry Harrison, took place at the 2023 Toronto International Film Festival on September 11. The interview was moderated by filmmaker Spike Lee, who gushed, "This is the greatest concert film ever." (The TIFF showing represented the movie's IMAX world premiere.)
At the Q-and-A following the screening, Harrison was quoted by The New York Times. "One of the reasons for the lasting power of the film is you see that we are having so much fun onstage," he said, adding that "the audience is brought right into it. We say, you're part of this too. And I think that every time anybody watches it, it brings back that wonderful emotion."
The four members kept it straight. Vulture.com's apt headline was "Talking Heads Burn Down the House, Not One Another, at TIFF." Byrne praised the film's director, Demme, who died in 2017. "You watch how [the band] all interact with one another. And I thought [at the time], I'm in my own world. But he saw that, he saw what was going on there."
Watch a fan video of the Q-and-A
The film's complete 4K restoration will have a full theatrical run, releasing exclusively in IMAX on September 22 and in theaters everywhere on September 29. Tickets are available here. (Watch the official trailer below.) Demme's film documented the band's 1983 tour. Rhino is releasing a deluxe version of the soundtrack on vinyl that will now include the complete concert for the first time. Stop Making Sense (Deluxe Edition) was released on August 18, 2023, as a 2-LP set and digitally along with a Dolby Atmos mix of the complete concert, mixed by Harrison and E.T. Thorngren, who also mixed the original release.
The last Talking Heads reunion was at their March 18, 2002, induction into the Rock and Roll Hall of Fame, when they performed four songs ("Psycho Killer," "Life During Wartime," "Burning Down the House" and "Take Me To the River"). Their last tour took place in 1983-84.
The Stop Making Sense reissue features every song performed in the film, including two that have never been released – "Cities" and "Big Business" / "I Zimbra." The limited edition vinyl version features a 28-page booklet with previously unpublished photos along with new liner notes from all four band members.
On April 7, several weeks after the original announcement, the band shared more exciting news. "After a worldwide search, the original negative of Stop Making Sense has been found! We will make the new 4K version from it and it will look more striking than ever."
Watch the official trailer for the restored edition, released on August 17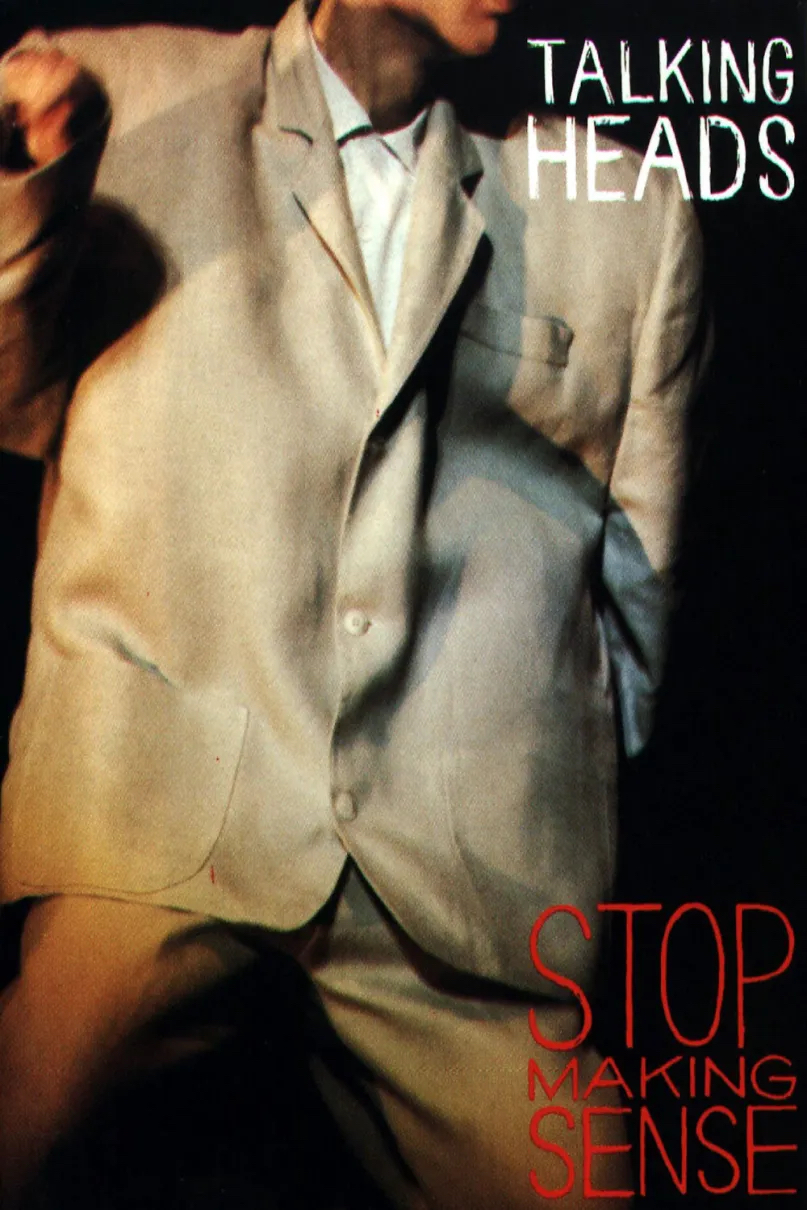 More from the original March 16 announcement: The inspiration for Stop Making Sense came when Demme saw Talking Heads perform during the band's 1983 tour for their studio album, Speaking in Tongues. Afterward, he approached them with the idea of making the show into a concert film. They agreed and worked together over the next few months to finalize the details. Ultimately, Demme filmed three shows at Hollywood's Pantages Theater in December 1983 to create Stop Making Sense.
The newly restored concert film presents a retrospective of the band up to that point, with a performance that weaves together songs from all six of its studio albums. The show progresses methodically, opening with Byrne onstage performing "Psycho Killer" alone with a drum machine. After each song, he's joined by a new band member until Weymouth, Frantz, and Harrison are all on stage with him. The group continues to grow throughout the concert as members of the stellar touring band are added: keyboardist Bernie Worrell, percussionist Steve Scales, guitarist Alex Weir, and back-up singers Lynn Mabry and Ednah Holt.
The band performs 18 songs in Stop Making Sense, including its single at the time, "Burning Down the House." That summer, the song was in heavy rotation on radio and MTV, helping the song become the band's first top 10 hit in America. It was, however, a different song from Speaking in Tongues that was destined to deliver one of the film's signature moments. Byrne would perform "Girlfriend Is Better" wearing his now iconic, oversized business suit inspired by costumes worn in traditional Japanese theater. For good measure, a picture of him in the suit also graces the album cover.
Stop Making Sense focuses mainly on music by Talking Heads but does include a few songs recorded outside the band: "Genius Of Love" by Tom Tom Club, Weymouth and Frantz's side-project, and "What A Day That Was" and "Big Business" from Byrne's 1981 album, The Catherine Wheel.
Stop Making Sense was an artistic and commercial triumph when it arrived in September 1984. The film had people dancing in theatre aisles while the soundtrack sold over two million copies. In 2022, the Library of Congress added Stop Making Sense to the National Film Registry in recognition of its cultural, historical, and aesthetic significance.
In the Stop Making Sense (Deluxe Edition) liner notes, the four band members share their thoughts and memories of the project.
Weymouth praises Demme as a collaborator: "…Jonathan was a very enthusiastic, highly adaptive, and imaginative guy who was just as good a listener as he was a talker and collaborator. From the get-go you just got the impression he was as flexible as he was disciplined. Being team players, that boded well for a great relationship and a great film!"
Byrne says it's interesting that this album was – for many people – an introduction to Talking Heads. "We had done a live album before this, but coupled with the film, and with the improved mixes and sound quality, this record reached a whole new audience. As often happens, the songs got an added energy when we performed them live and were inspired by having an audience. In many ways, these versions are more exciting than the studio recordings, so maybe that's why a lot of folks discovered us via this record."
The complete track listing appears below the Amazon links.
Related: Our review of "one of the best-sounding live albums ever"
Stop Making Sense (Deluxe Edition) Limited Edition 2-LP Track Listing
Side One
1. "Psycho Killer"
2. "Heaven"
3. "Thank You For Sending Me An Angel'
4. "Found A Job"
5. "Slippery People"
6. "Cities" *
Side Two
1. "Burning Down The House"
2. "Life During Wartime"
3. "Making Flippy Floppy"
4. "Swamp"
Side Three
1. "What a Day That Was"
2. "This Must Be The Place (Naive Melody)"
3. "Once In A Lifetime"
4. "Big Business / I Zimbra" *
Side Four
1. "Genius Of Love"
2. "Girlfriend Is Better"
3. "Take Me To The River"
4. "Crosseyed And Painless"
* Previously Unreleased
Related: Our Album Rewind of the Heads' Fear of Music

Latest posts by Best Classic Bands Staff
(see all)