The independent record store owners that Best Classic Bands spoke with recently could barely contain themselves when talking about the third Saturday of April. For the uninitiated, that's the date that marks Record Store Day, the annual event that has encouraged music lovers since 2007 to shop at their local indie store with hundreds of exclusive, limited-edition releases from acts representing all musical genres.
As we outlined for you when this year's list was announced on March 8, classic rock fans are savoring titles from such acts as The Doors, Cheap Trick, David Bowie, Fleetwood Mac, Metallica, Tom Petty, Creedence Clearwater Revival and Jimi Hendrix.
Read our preview of this year's great classic rock titles.
Bryan Burkert, owner of The Sound Garden, with locations in Baltimore and Syracuse, looked at the list of releases and easily rattled off several dozen that he knew his classic rock clientele would be excited about. Among them: "Big Star [a 2LP complete set of their legendary performance at the University of Missouri] is a good piece. Anything by Big Star does great for us. Bowie picture discs always do well. Etta James [her 1960 at last! debut album with four bonus tracks on colored vinyl] will do great. It's a 'forever' piece. The Patti Smith piece [a live 2015 recording of her landmark Horses debut] is really cool; one of the best items this year."
Princeton (NJ) Record Exchange owner Jon Lambert has seen his customer demographic changing in recent years. "Prex," as it's referred to, is half a block from the Ivy League college's campus and Lambert has been seeing "lots of teenagers and 20-somethings shopping for vinyl." He's noticed a pullback in the number of titles being released for this year's RSD. "We're used to 400; this year is more like 300." While the quantity may have shrunk, the quality sure hasn't. Lambert was excited about the Bob Dylan seven-inch with four songs from his forthcoming Fallen Angels album of standards. He also noted John Coltrane's The Roulette Sides 10-inch ("looks interesting"), a Tom Petty & the Heartbreakers live album – Kiss My Amps II – of deep tracks and covers like "I'm Not (Your Steppin' Stone)" and "So You Want to Be a Rock N Roll Star," and the Patti Smith title.
Twist & Shout, a Denver, CO fixture, will open at eight (instead of 10) "to make the crush less insane," says owner Paul Epstein. Last year, "we had close to 1000 people waiting when we opened. We want to keep customers happy." He was very enthusiastic about this year's releases and was most excited about the Grateful Dead's Capitol Theatre, Passaic NJ 4/25/77 set on 4 LPs. The Dead "are always the most important act for our store. We will sell the shit out of it." Epstein was also eager about The Doors' Live at the Aquarius: The First Performance from July 1969 with 3 LPs on blue vinyl: "It was a particularly excellent show at a small theater." Of the Creedence Clearwater Revival 1969 Archive Box, which features the three albums CCR released in one pivotal year, Epstein calls Bayou Country and Green River "two of the best rock albums ever made."
Although Hollywood, CA's Record Parlour almost exclusively sells used vintage vinyl (along with classic audio gear), they are still official Record Store Day participants. "We don't really carry anything new," says Chadwick Hemus, the store's curator (read: head buyer). "We're going to carry a few things for Record Store Day that suit our model. But we're focused mainly on vintage records."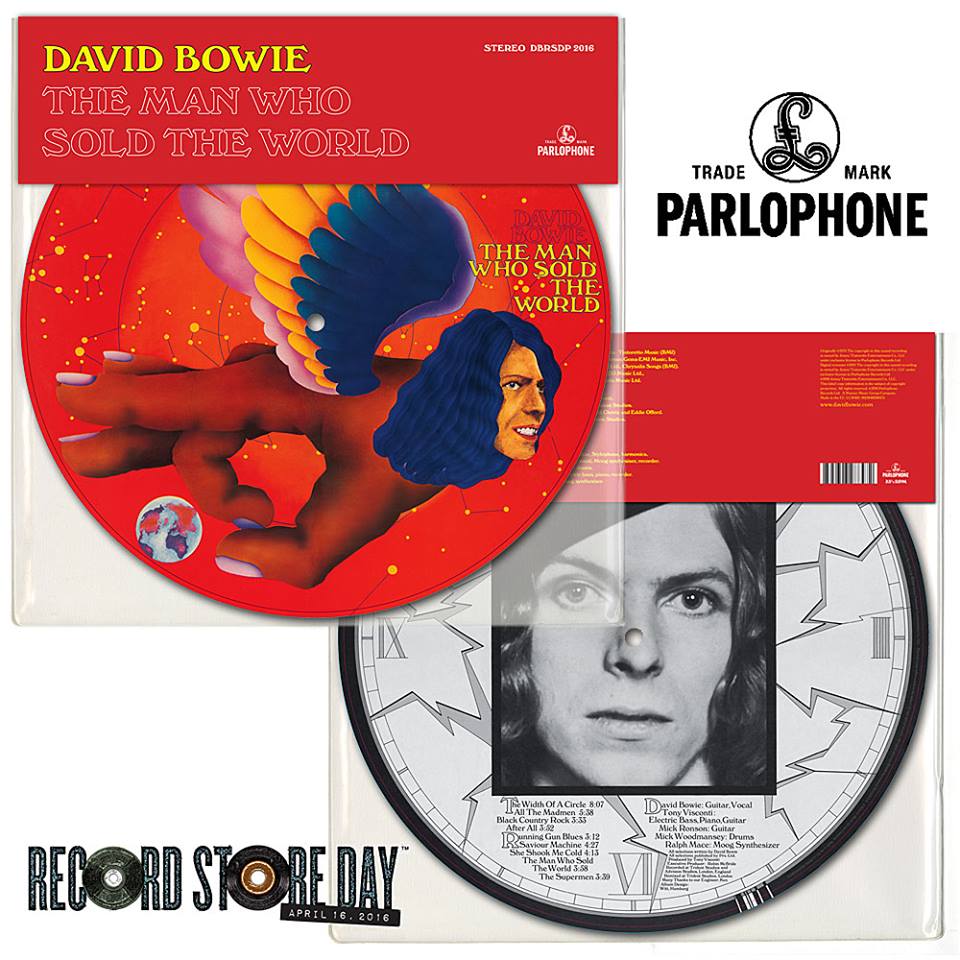 There are 2016 RSD releases he knows his customers want. "I've got some of the Bowie The Man Who Sold the World picture discs coming in and the "TVC15″ seven-inch," he says. Plus reissues like the expanded vinyl version of the above-mentioned Etta James album help him satisfy customer demand. "That's the kind of record that comes in once or twice a year and it's always completely destroyed. It's impossible to find a clean copy of at last! That's the kind of record we get asked for a lot. People come in and they kind of think it's as easy to find as a Rolling Stones record. So it's nice when stuff like that gets reissued because there are a lot of people who want it on vinyl."
Record Parlour will make the day a celebration, hosting in-store performances by bands like the Crow Nuts, the jazz-fusion project led by Jeff Babko, keyboard player for Cleto and the Cletones, the house band for ABC-TV's Jimmy Kimmel Live!. "It's definitely a busy busy day for us," Hemus says. "We get people who don't come in regularly. It's very helpful."
Some advice: all titles are being released in limited editions, generally from 2000 to 7500 copies. Not every store will get every release and the demand for certain titles will far outstrip the supply. For a list of participating retailers, click here. Have fun!

Latest posts by Best Classic Bands Staff
(see all)