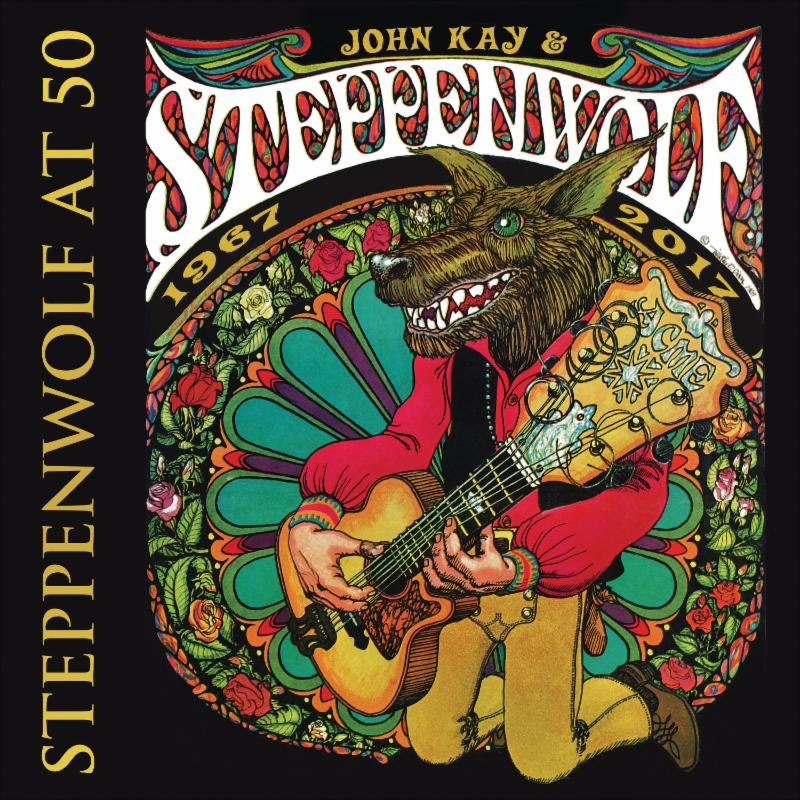 Rainman Records released Steppenwolf at 50, a 3-CD career retrospective featuring 41-tracks, on March 16. The collection, which includes five rare or never-heard-before tracks, covers the band's career, from their 1968 debut through 13 studio albums, billed both as Steppenwolf and John Kay & Steppenwolf, as well as their Top 10 hits "Born to Be Wild," "Magic Carpet Ride" and "Rock Me."
Order the set here.
In his liner notes, singer John Kay thanks band members, both past and present, as well as their loyal "Wolfpack" fan base. "That was 50 years ago as of this writing and much transpired during that time of course," says Kay in the notes. "In between seemingly endless tours at home and abroad, we somehow managed to write, rehearse and record numerous subsequent albums, but the hectic pace sometimes took its toll; not only on the band but also on our home lives and families…it is particularly dedicated to those who never stopped being there when we needed their support the most. Every band member past and present, who is heard on these recordings, played an important role as musician, fellow singer or songwriter in the Wolf's recording history and is accordingly acknowledged in the credits."
Listen to their cover of Argent's "Hold Your Head Up"
Related: Looking back at Steppenwolf's debut album
Kay, who was born during World War II in Germany and settled in Canada in the late 1950s, started playing guitar in his early teens. In 1965 he joined Canadian band the Sparrows, which evolved into Steppenwolf.
Listen to a live version of "Rock Me"
In 2004, John and his wife of 50 years, Jutta, formed the Maue-Kay Foundation, which is dedicated to wildlife, the environment and human rights. Kay donates the net proceeds from all Steppenwolf shows to various NGOs that support their mission. For more info, visit MaueKay.org.
Listen to a live version of "Magic Carpet Ride"
Related: Remembering Steppenwolf's Goldy McJohn
After taking a few months off, Steppenwolf resume their 2018 concert schedule on May 05. Scroll down for tour dates.
Steppenwolf at 50 Track Listing
Disc #1:
Screaming Night Hog
From Here To There Eventually (alternate version)*
Angel Drawers*
For Ladies Only
You Win Again
My Sportin' Life
Drift Away
Straight Shootin' Woman
Caroline (Are You Ready For The Outlaw World)
Skullduggery
Hold Your Head Up
Hot Night In A Cold Town
Give Me News I Can Use
Ain't Nothin' Like It Used To Be
Magic Carpet Ride (Performed With Grand Master Flash and The Furious Five)
Disc #2:
Hold On (Never Give Up Never Give In)
Rock & Roll Rebels
Give Me Life
Rise & Shine
The Wall
Rock & Roll War
Feed The Fire
Rock Steady
Down In New Orleans
Business Is Business
Compared To What*
Labor Of Love*
For The Women In My Life
Listen to a live version of "Born to Be Wild"
Disc # 3:
(All Tracks Recorded Live: 1992-1995)
Move Over
Rock Me
I'm Movin' On
Sookie Sookie
I'm Your Hootchie Cootchie Man
Hey Lawdy Mama
Desperation
Ride With Me
Snowblind Friend
Monster/Suicide/America
Magic Carpet Ride
Born to Be Wild
The Pusher
* indicates previously unreleased
Steppenwolf Tour Dates (Tickets are available here and here)
May 05 – Middletown, OH
May 12 – Coconut Creek, FL
May 24 – Worley, ID
Jun 09 – Dubuque, IA
Jul 27 – Detroit, MI
Aug 10 – Sturgis, SD
Aug 31 – Salem, OR
Sep 15 – Frederick, MD
Oct 14 – Baxter Springs, KS
Listen to "The Pusher" as heard in Easy Rider (P.S.–Did you know that the fellow in the cap at the beginning of the scene doing the drugs is Phil Spector?)

Latest posts by Best Classic Bands Staff
(see all)