Goldy McJohn, the original keyboardist of Steppenwolf, the Canadian band best known for its iconic hit "Born to Be Wild," died on Aug. 1. The cause was a heart attack.
McJohn's Facebook page issued the following statement:
"Our hearts weep as we announce the passing of Goldy McJohn, Founding Father of Steppenwolf. Goldy suffered a sudden and fatal heart attack the morning of August 1st, 2017. The family thanks all of those who have protected their privacy leading up to this announcement while they dealt with this unexpected loss."
Born John Raymond Goadsby on May 2, 1945, in Toronto, Ontario, McJohn first performed with Little John and the Friars in 1964. That same year he joined the Mynah Birds, a band that would, at various times, include Rick James, Neil Young and Buffalo Springfield's Bruce Palmer.
In 1965, he joined the local group the Sparrow, now calling himself Goldy McJohn at the suggestion of singer John Kay. In 1967 that band moved to the West Coast and then split up. Kay, McJohn and drummer Jerry Edmonton formed Steppenwolf, the name taken from the Herman Hesse book.
Related: The story of Steppenwolf, "Born to be Wild" and Easy Rider
McJohn was present with his trademark swirling organ on all of Steppenwolf's major singles and albums, including not only the #2 "Born to Be Wild" but "Magic Carpet Ride" (#3), "Rock Me" (#10), "Monster" (#39), "Hey Lawdy Mama" (#35) and album tracks such as "The Pusher," "Sookie Sookie," and others. He was fired from the band by Kay in 1975.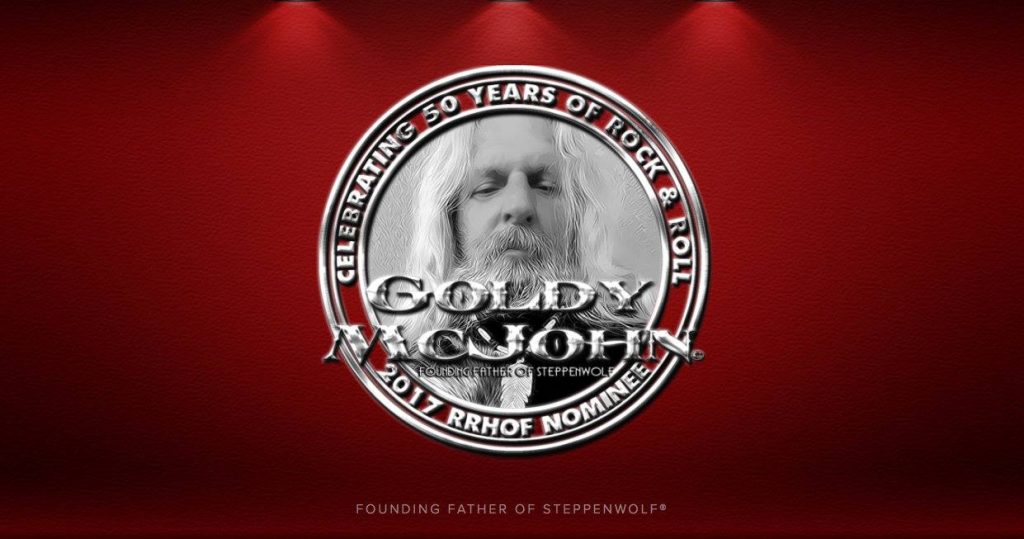 McJohn and Edmonton formed a band called Manbeast in the 1970s. McJohn later worked in a new iteration of Steppenwolf that did not include Kay and worked with Steve Marriott in a latter-day lineup of Humble Pie.
McJohn released the solo albums New Visions, Fugue in D, Goldy McJohn & Friendz, Rat City in Blue, Set the World on Fire and Osmosis. He also worked with various Steppenwolf-themed bands.
McJohn served as an active mentor for Stand Up for the Music, working closely with HungryGenius managing partner Anthony Spadaro, who said, "Goldy was an amazing soul and an incredible artist, and just plain fun. May his legacy live on forever."
Steppenwolf was nominated for the Rock and Roll Hall of Fame last year but did not make the final cut.
Watch Steppenwolf play "Born to Be Wild" in 1969

Latest posts by Best Classic Bands Staff
(see all)