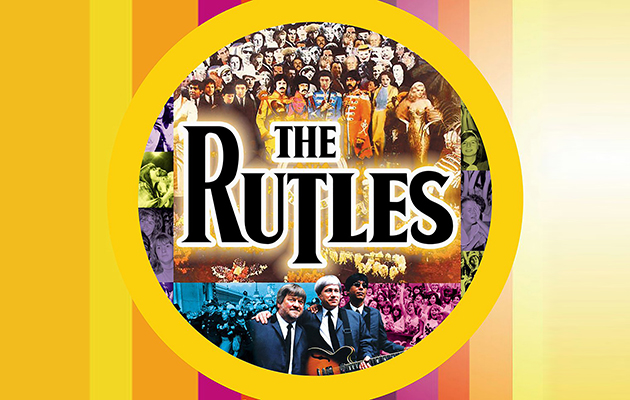 Two of the four original members of The Rutles, the Beatles parody band that created and starred in the much-loved 1978 television film All You Need is Cash, are reuniting for a U.K. tour. Neil Innes (originally of the Bonzo Dog Band) and John Halsey, who, respectively, played Ron Nasty and Barry Wom in the film—which also produced a soundtrack album that also turns 40 soon—are involved in the May and June concerts.
Ken Thornton, Phil Jackson and Jay Goodrich will round out the touring group. Eric Idle (Dirk McQuickly) and Ricky Fataar (Stig O'Hara), the other prime-era Rutles, are not involved.
Related: 10 times the Beatles used pseudonyms on record
According to a press release announcing the tour, "They will be bringing their own unique brand of musical 'Pork Pies' to the beleaguered and bewildered British Isles. No other 'Tribute' band distributes joy or writes their own songs or tops the charts of 'Make Believe' quite like these jolly foot-tapping Economists of Truth. By 'Popular Demand', these Grandees of Delusion will be Taking Back Control of Bare-Faced Fibbing, saluting the Sovereignty of Silliness and ceremoniously reinstating the Obvious."
Watch the Rutles' video for "I Must Be in Love"
The Rutles concept first surfaced on Rutland Weekend Television on BBC TV in 1975 and expanded as the idea was explored via further appearances, including two appearances on Saturday Night Live. SNL producer Lorne Michaels suggested developing a one-hour special on the history of the Rutles, done in a "mockumentary" style. The ratings upon the program's 1978 airing in the U.S. were dismal, and just somewhat better in the U.K., but over time the Rutles developed their own fan base, due to the ingenious parodying of the Beatles' own tale and the songs created for the program, all of which closely resembled original Beatles songs.
George Harrison made a cameo appearance in the film, as did other stars including John Belushi, Mick Jagger, Bill Murray, Ron Wood and Paul Simon. Other Rutles projects followed on occasion.
The Rutles 2018 Tour Dates
May
Tue 08- Royal Tunbridge Wells, Assembly Hall
Wed 09- London, The Garage
Thur 10- Brighton, Komedia
Sat 12- Margate Rock & Blues 2018 at Margate Winter Gardens
Sun 13- Bristol, Fleece
Mon 14- Abergavenny, Borough Theatre
Thur 17- Evesham, The Iron Road
Fri 18- Leeds, Brudenell Social Club
Sat 19- Godalming, Wilfrid Noyce Centre
Mon 21- Bilston (Wolverhampton), Robin 2
Tue 22- Cambridge, Junction
Wed 23- Hull, Fruit
Fri 25- Newcastle, Cluny
Sat 26- Glasgow, Oran Mor
Sun 27- Aberdeen, Lemon Tree
Wed 30- Morecambe, Platform
Thu 31- Carlisle, Old Fire Station
June
Fri 01- Liverpool, Music Room at Philharmonic
Sat 02- Hertford Corn Exchange
Sat 16- Caernarfon, Galeri Caernarfon
Sun 17- Foxton Locks Festival
Watch the video for "Cheese and Onions" by the Rutles

Latest posts by Best Classic Bands Staff
(see all)