Rennie Davis, One of the 'Chicago Seven,' Dies at 79
by Greg Brodsky
Rennie Davis, one of the so-called "Chicago Seven" who stood trial in 1969-70 for their roles in sparking anti-Vietnam War riots at the 1968 Democratic National Convention, died yesterday (February 2, 2021). His death at his home in Berthoud, Colo., at 79, just two weeks after he was diagnosed with lymphoma, was announced by his wife, Kirsten Liegmann, in a post on his Facebook page, entitled, "The Passing of a Legend."
In 1968, during a year of significant social upheaval, Davis was one of the principal organizers of the National Mobilization Committee to End the War in Vietnam, known as "the Mobe." At Chicago's Grant Park, during the DNC, he was among many protesters beaten and arrested by the Chicago police. Davis stood trial with other high profile organizers as Abbie Hoffman, Jerry Rubin, Tom Hayden, and Bobby Seale. Davis and Hoffman were the only defendants to testify.
Their trial lasted for months and the jury ultimately acquitted all the defendants of conspiracy, though five, including Davis, were found guilty of inciting a riot. In 1972, all of the convictions were reversed by the United States Court of Appeals for the Seventh Circuit.
Watch a press conference held on Jan. 8, 1970, while the trial was being held (Note: the sound doesn't begin until the one-minute mark)
In Sept. 2020, Davis wrote, "I once told the Chicago defendants that when the movie is made about our trial, no producer will capture the courage and elegance of the actual defendants. It was my honor to know them. They were born for the Sixties and they were an inspiration in courage I deeply respect and appreciate."
The story of the Chicago Seven has been re-told numerous times in books, theater and film. A 2020 film, The Trial of the Chicago 7, written and directed by Aaron Sorkin, premiered on Netflix last October. The cast included Sacha Baron Cohen as Hoffman, Jeremy Strong as Jerry Rubin, and Eddie Redmayne as Tom Hayden. Davis was portrayed by Alex Sharp.
[On Feb. 3, the film earned four Golden Globe nominations, including Best Motion Picture, Drama; Best Director, Motion Picture and Best Screenplay, both for Sorkin; and Best Actor in a Motion Picture, Musical or Comedy for Cohen.]
In her Facebook post, Liegmann wrote, "I know many of you feel very connected to and inspired by Rennie. He has touched lives in ways that no one can truly comprehend, from his 60s leadership in the antiwar movement to today's trail-blazing of a new humanity.
"This morning, Feb. 2, around 2 am, Rennie took his last breath peacefully at home in my arms. His body succumbed to a large lymphoma tumor of which we only learned 2 weeks ago.
"He will be missed beyond words, but I know he has other grand things to do. His beingness will always be a trail-blazer and visionary forging the path for humanity's evolution to fully wake up and enter a new paradigm of existence.
"Go fly my beloved one and leave your beautiful mark once again!"
Davis' biography notes he "was the coordinator of the largest anti-war and civil rights coalition in the Sixties. I coordinated the demonstrations in 1968 in Chicago watched on television by more people than watched the first man landing on the moon. I organized the largest civil disobedience arrest in American history and partnered with John Lennon to bring a million people to the Republican convention."
Born Rennard Davis on May 23, 1941, in Lansing, Mich., he grew up in Virginia, where his father served as chief of staff to Council of Economic Advisers to Pres. Harry Truman.
In recent years, Davis was a founder of Foundation For a New Humanity, a technology development and venture capital company.
Watch the trailer for the 2020 film, The Trial of the Chicago 7
Related: 1968, the year in rock music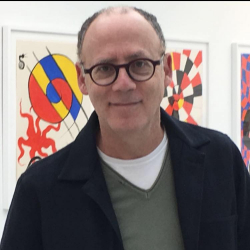 Latest posts by Greg Brodsky
(see all)