It's been several years since the guitarist, singer and songwriter Gary Richrath died on September 13, 2015. He was best known as lead guitarist for REO Speedwagon from 1970 to 1987 and the writer of its 1981 #5 hit "Take It on the Run."
The news of Richrath's death was revealed by his longtime REO bandmate Kevin Cronin who posted it on the band's Facebook page, "My longtime friend and collaborator Gary Richrath passed away earlier today. I feel so sad. Gary was both a unique guitarist and songwriter, and the embodiment of the tough guy with a heart of gold. I learned most of what I know about being in a rock band from Gary Richrath. The entire REO Family mourns his death and shares in the grief of his family, friends, and fans. These words do not come close to expressing the depth of emotions I am feeling at this time.kc"
Soon thereafter, REO founder and keyboardist Neal Doughty wrote: "My bandmates and others have been telling their favorite stories about Gary and here is mine: The last time I saw him, he was happy. When we reunited for a benefit concert in 2013, the bad feelings which had surrounded his departure from REO had finally evaporated. We joked around like no time had passed. We were friends again."
And the band's bass player, Bruce Hall, noted: "It's hard to find the right words to say when you lose a loved one, I guess that's because you don't believe at first that it's real.
"He was my friend and my musical big brother, and if it weren't for Gary, I doubt that I would have been asked to join REO Speedwagon way back in 1977. It was Gary that called me and asked me if I was ready to join REO, and it wasn't so much that he asked me, he said 'It's time for you to pack up your stuff, you're movin' to California. We've only got 2 weeks of rehearsals and then a gig in Globe/Miami, Arizona.' I was on a plane within 24 hours headed for Los Angeles. In 1968 Gary and I played together in a band called Feather Train before he joined REO, and we became close friends at that time. He was so good on the guitar even then, but he was still working on that signature sound and style that he became known for. He told me when he left Feather Train that someday we would play together again, and he kept his word on that. With that one phone call he changed my life forever and I will always be indebted to him for that."
If you're a new Best Classic Bands reader, we'd be grateful if you would Like our Facebook page and/or bookmark our Home page.
Tom Werman, the Epic Records Artists and Repertoire executive who signed REO Speedwagon, told Best Classic Bands about what initially drew him to the band and his memories of Richrath. His signings for the label also include such all time classic rock acts as Cheap Trick, Molly Hatchet and Ted Nugent – all of whom he also produced – as well as Boston. His other high-profile production work includes Twisted Sister, Blue Öyster Cult, Mötley Crüe, Stryper, Kix and Poison.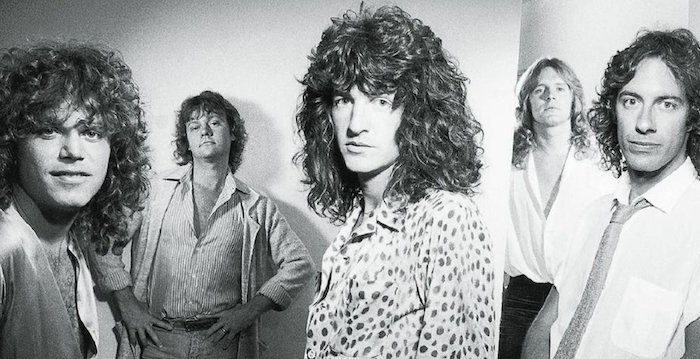 "I knew Gary from the early days of REO when they were the first band I signed after joining Epic Records," said Werman. "I flew out to Champaign, Illinois and was met by Irving (Azoff, the veteran artist manager and music industry execustive who managed the band early in his career), who took me to the Red Lion Inn that night, where the band blew the roof off. They rocked hard back then and used to do a wonderful version of 'Sympathy For the Devil.'
"I heard the finished Paul Leka-produced album and was immediately drawn to 'Sophisticated Lady' and '157 Riverside Avenue.' Since I never produced them, my exposure to the individual members was limited. Gary was a shredder in the early days, when he would play barefoot. He always smiled when he played. I wish I could have spent more time with the band, since they were funny and intelligent."
"As the years went by, the band drifted a little toward the middle-of-the-road, especially when Kevin (Cronin) became the chief songwriter," Werman notes.
He summed up: "Forty-five years on the road isn't too bad."
[Werman is publishing a book, Turn It Up! My Time Making Hit Records in the Glory Days of Rock Music, coming Nov. 21, 2023.]

Latest posts by Best Classic Bands Staff
(see all)