Ray Sawyer, whose lead vocal on Dr. Hook and the Medicine Show's 1972-73 top 10 single "The Cover of Rolling Stone" landed the band on the cover of Rolling Stone, has died. Although he generally sang backup vocals with the group, his lead turn on that song, written by Shel Silverstein, gave the band one of its biggest hits. Sawyer died Dec. 31, 2018, in Daytona Beach, Fla., of an unspecified cause. He was 81.
Sawyer was born in Chickasaw, Ala., on Feb. 1, 1937, and lost his right eye in an automobile accident in 1967. Dr. Hook and the Medicine Show's roots stretched back to a southern band formed that same year, called the Chocolate Papers, which had some success touring but not on disc. After that act fizzled, two of its members, George Cummings and Sawyer, relocated to Union City, N.J., just 15 minutes outside of Manhattan, and recruited a local bassist, Dennis Locorriere. Billy Francis, another ex-Chocolate Paper, rejoined his old pals, a couple of other musicians were added and they were soon on their way.

Not much happened with the band—which took on the Dr. Hook and the Medicine Show moniker due to Sawyer's eye patch—until 1970, when it was tapped to cut the soundtrack music for a new Dustin Hoffman flick called Who Is Harry Kellerman and Why Is He Saying Those Terrible Things About Me?, which featured songs written by poet/cartoonist Silverstein. The film, which included Dr. Hook performing the song "Bunky and Lucille" onscreen, was a bust but it brought Dr. Hook to the attention of Columbia Records, which signed them to a contract.
Related: What were the top radio hits of 1973?
They hit pay dirt pretty quickly with "Sylvia's Mother," a song penned by Silverstein, who wrote all of the songs on the group's self-titled 1971 debut album. "Sylvia's Mother" reached #5 on the Billboard singles chart but the album stalled at #45. The band knew that if it had any hope of continuing its run, and being taken seriously in the post-AM radio rock world, it had to do something to get the attention of record buyers. As Dr. Hook prepared its second album—also written entirely by Silverstein—it became obvious which song was the standout: "The Cover of Rolling Stone."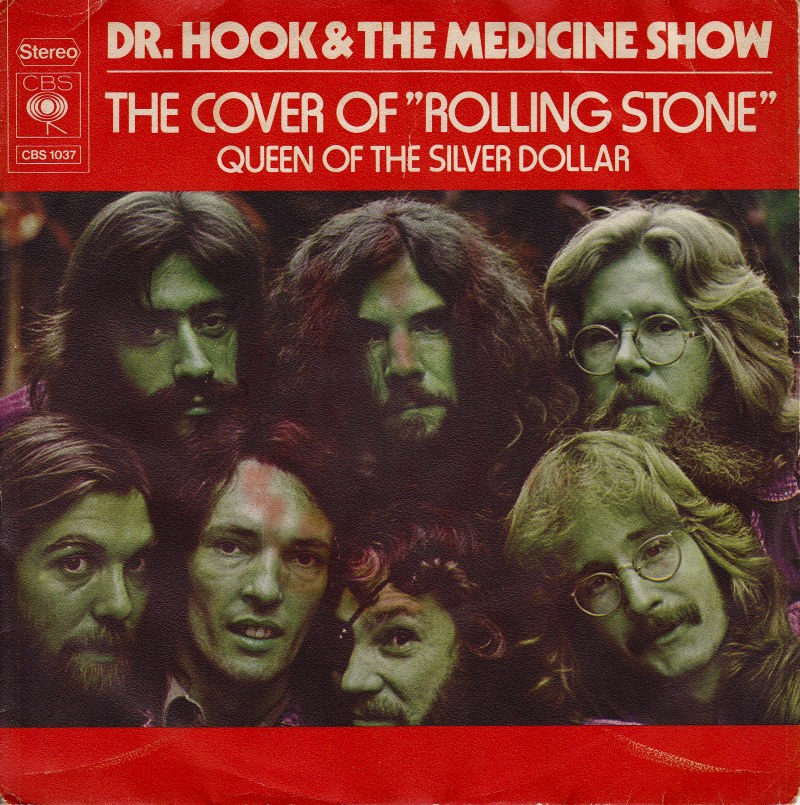 Rolling Stone magazine was only five years old in 1972, but it had already become important to the counterculture. Coverage by the magazine could boost a band's career while being ignored or shunned would paint a rock band as too unhip for consideration. "The Cover of Rolling Stone" wasn't quite serious but neither was it parody. Regardless of how popular a band might become, the lyrics went, they were still nothing until they experienced "the thrill we've never known…the thrill that'll gitcha when you get your picture on the cover of the Rollin' Stone."
Columbia Records had argued with the band about some of the lyrical content—"We take all kinds of pills that give us all kind of thrills" and "I got a freaky ole lady name a cocaine Katy"—but the song was released as a single nonetheless, and by the end of 1972 it had begun its climb, peaking at #6 in Billboard the week of March 17, 1973. The gamble had paid off: Dr. Hook had staying power.
While the song was ascending the singles chart, the group's manager, Ron Haffkine, met with Rolling Stone's editor and publisher, Jann Wenner, convincing him that the band was basically providing a radio commercial for his magazine. Wenner was persuaded, and sent young reporter Cameron Crowe to interview Dr. Hook and the Medicine Show.
Issue #131 of Rolling Stone, published in March 1973, featured the "The Cover of Rolling Stone" band on the cover of Rolling Stone.
If you're a new Best Classic Bands reader, we'd be grateful if you would Like our Facebook page and/or bookmark our Home page.
Dr. Hook (they shortened the name) continued to find success—there were four further top 10 singles and a string of charting albums—into the early '80s.

From 1988 to 2015, Sawyer toured under the name Dr. Hook featuring Ray Sawyer, licensing the name from Locorriere.

Latest posts by Best Classic Bands Staff
(see all)