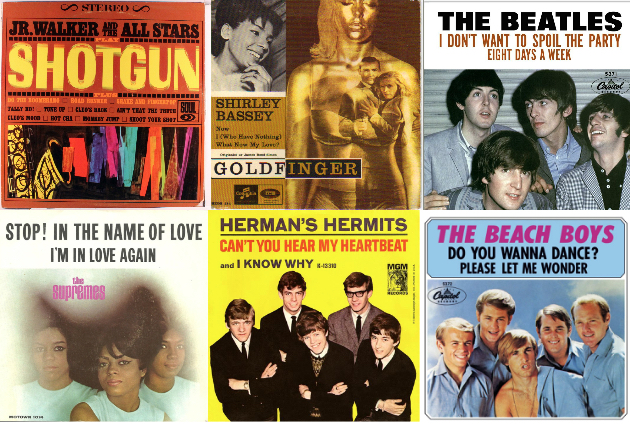 As we've noted in our weekly look back at the charts, from 1964 until 1982, Record World was, along with Billboard and Cashbox, one of the music industry's three main trade publications. The record labels, retailers, rack jobbers (the distributors that served as the middlemen to place music onto the shelves of department stores), and so on, eagerly awaited the charts. We take a look back at the 100 Top Pops singles chart for March 27, 1965.
The British Invasion was in full swing and hits from many of these acts shared the spotlight with U.S. pop and soul singers.
The Beach Boys were represented with "Do You Wanna Dance" at #19. It would peak at #13 two weeks later. Listen to their great harmonies on the chorus!
Related: The song's songwriter, Bobby Freeman, who had a hit with it in 1958, died in 2017
Elvis Presley was in the midst of his lengthy Hollywood period. If you haven't seen the production number for the week's #15 song, "Do the Clam," from Elvis' movie Girl Happy, you're in for a treat…
"My Girl" was the Temptations first monster hit (though it peaked on Record World at #3, it was the singing group's first of four #1 singles on the Billboard chart).
Freddie & the Dreamers, one of many British Invasion groups from Manchester, had only a handful of hits, none bigger than "I'm Telling You Now." The song was originally released in 1963 but it failed to connect with audiences. Two years later, here it was at #10 (up from #50 the previous week). In another two weeks, it would top the singles charts.
Related: 12 "lost" British Invasion hits
At #9 a burst of energy from Jr. Walker & the All Stars with their big hit, "Shotgun." The Motown soul group would return to the Top 10 once more in 1969 with "What Does It Take (To Win Your Love)."
Was there a better James Bond than Sean Connery? Or a cooler car than the one he had in Goldfinger? Or a scarier nemesis than Odd Job? We vote "No" on all three. And Shirley Bassey absolutely killed it on the movie's theme song. Watch the movie's trailer and listen to how she enunciates the title with her first lyric.
Bassey's "Goldfinger" peaked at just #21 in the U.K. In the U.S., it only reached #8 on Billboard; #6 on Record World.
There's cool and then there's Roger Miller's "King of the Road" vocals cool. "I'm a maaaaan of means by no means…"
Also from Manchester, England were Herman's Hermits led by their vocalist Peter Noone. In just over a year, the British Invasion group had no less than nine Top 10 U.S. hits, including two #1s. At #3 this week was "Can't You Hear My Heartbeat."
The Supremes barely cracked the Hot 100 with their first six singles. And then they had five #1 pop hits in a row, including "Stop in the Name of Love."
At #1 this week? The leaders of the British Invasion, naturally: The Beatles with "Eight Days a Week." Listen to them in the recording studio working on the song…
Related: The #1 singles of 1965
20. "If I Loved You" – Chad & Jeremy (World Artists)
19. "Do You Wanna Dance" – Beach Boys (Capitol)
18. "Come Home" – Dave Clark Five (Epic)
17. "People Get Ready" – Impressions (ABC-Paramount)
16. "Jolly Green Giant" – Kingsmen (Wand)
15. "Do the Clam" – Elvis Presley (RCA Victor)
14. "My Girl" – Temptations (Gordy)
13. "Yeh Yeh" – Georgie Fame (Imperial)
12. "This Diamond Ring" – Gary Lewis & the Playboys (Liberty)
11. "Little Things" – Bobby Goldsboro (United Artists)
10. "I'm Telling You Know" – Freddie & the Dreamers (Tower)
9. "Shotgun" – Jr. Walker (Soul)
8. "Red Roses For a Blue Lady" – Bert Kaempfert (Decca)
7. "Ferry Across the Mersey" – Gerry & the Pacemakers (Laurie)
6. "Goldfinger" – Shirley Bassey (United Artists)
5. "King of the Road" – Roger Miller (Smash)
4. "The Birds and the Bees" – Jewel Akens (Era)
3. "Can't You Hear My Heartbeat" – Herman's Hermits (MGM)
2. "Stop in the Name of Love" – The Supremes (Motown)
1. "Eight Days a Week" – The Beatles (Capitol)

Latest posts by Best Classic Bands Staff
(see all)