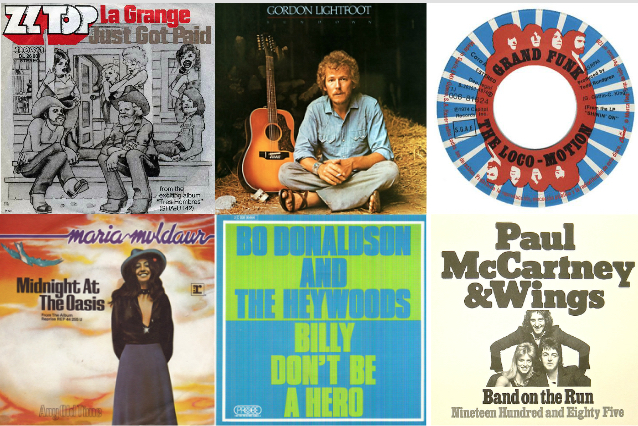 We take them for granted now but this month in 1974, the Universal Product Code, or UPC, made its debut. The first item scanned? A pack of Wrigley's Juicy Fruit gum at a supermarket in Ohio. Also happening this week? The 1974 FIFA World Cup, er, kicked off in West Germany. Back then the tournament had just 16 teams competing. The hosts would go on to defeat the Netherlands in the final.
Here were the hits that were in heavy rotation on Chicago's Top 40 powerhouse WLS.
Bubbling under at #16 was the first pop radio hit from ZZ Top, "La Grange." Although the song would peak at #41 nationally, the "Little Ol' Band From Texas" were on their way to stardom.
At #11: Though Stevie Wonder's "Don't You Worry 'bout a Thing" was the third (and least successful) single from his Innervisions album, it continued his mid-'70s chart dominance.
Grand Funk (or Grand Funk Railroad, if you prefer) hadn't been known much as a singles band for their first several years. That all changed with "We're an American Band," which shot to the top of the charts in 1973. One year later, their surprising cover of "The Loco-Motion" became their second #1 pop hit.
Joni Mitchell wasn't having much pop success either. The Canadian singer-songwriter was becoming a top seller, though not getting the love from U.S. Top 40 radio programmers. Until, that is, she put out her brilliant Court and Spark album. Three singles were released: "Raised on Robbery" (#65), "Free Man in Paris" (#22) and "Help Me." The latter, at #9 this week became the highest charting single of her career at #7.
Related: Our Album Rewind of Court and Spark
Folk and blues performer Maria Muldaur scored a big hit with "Midnight at the Oasis," which has been described as a "desert love affair" with lyrics like "you won't need to camel when I take you for a ride." The quirky song obviously pleased programmers who took it to #6.
Related: Surprising radio hits of the '70s
Country-pop singer Ray Stevens enjoyed several chart hits including 1970's Grammy-winning "Everything is Beautiful" but he also had several novelty hits. One was the #1 smash "The Streak," which captured the fad that was popular at the time on college campuses whereby students would run, usually in large groups, sans clothing.
Another Canadian, Gordon Lightfoot, had four Top 10 singles in the early '70s including "Sundown," at #3 this week, on its way to become the singer-songwriter's sole #1 U.S. pop hit.
Bo Donaldson and the Heywoods were discovered when they toured with the Osmonds. They had a #1 hit with "Billy Don't Be a Hero" about a guy in combat during an unnamed war.
At #1 this week? Paul McCartney and Wings' magnificent title track from Band on the Run.
16. "La Grange" – ZZ Top
11. "Don't You Worry 'bout a Thing" – Stevie Wonder
10. "The Loco-Motion" – Grand Funk
9. "Help Me" – Joni Mitchell
8. "My Girl Bill" – Jim Stafford
7. "Midnight at the Oasis" – Maria Muldaur
6. "Star Baby" – Guess Who
5. "The Streak" – Ray Stevens
4. "Dancing Machine" – Jackson 5
3. "Sundown" – Gordon Lightfoot
2. "Billy Don't Be a Hero" – Bo Donaldson & the Heywoods
1. "Band on the Run" – Paul McCartney and Wings

Latest posts by Best Classic Bands Staff
(see all)