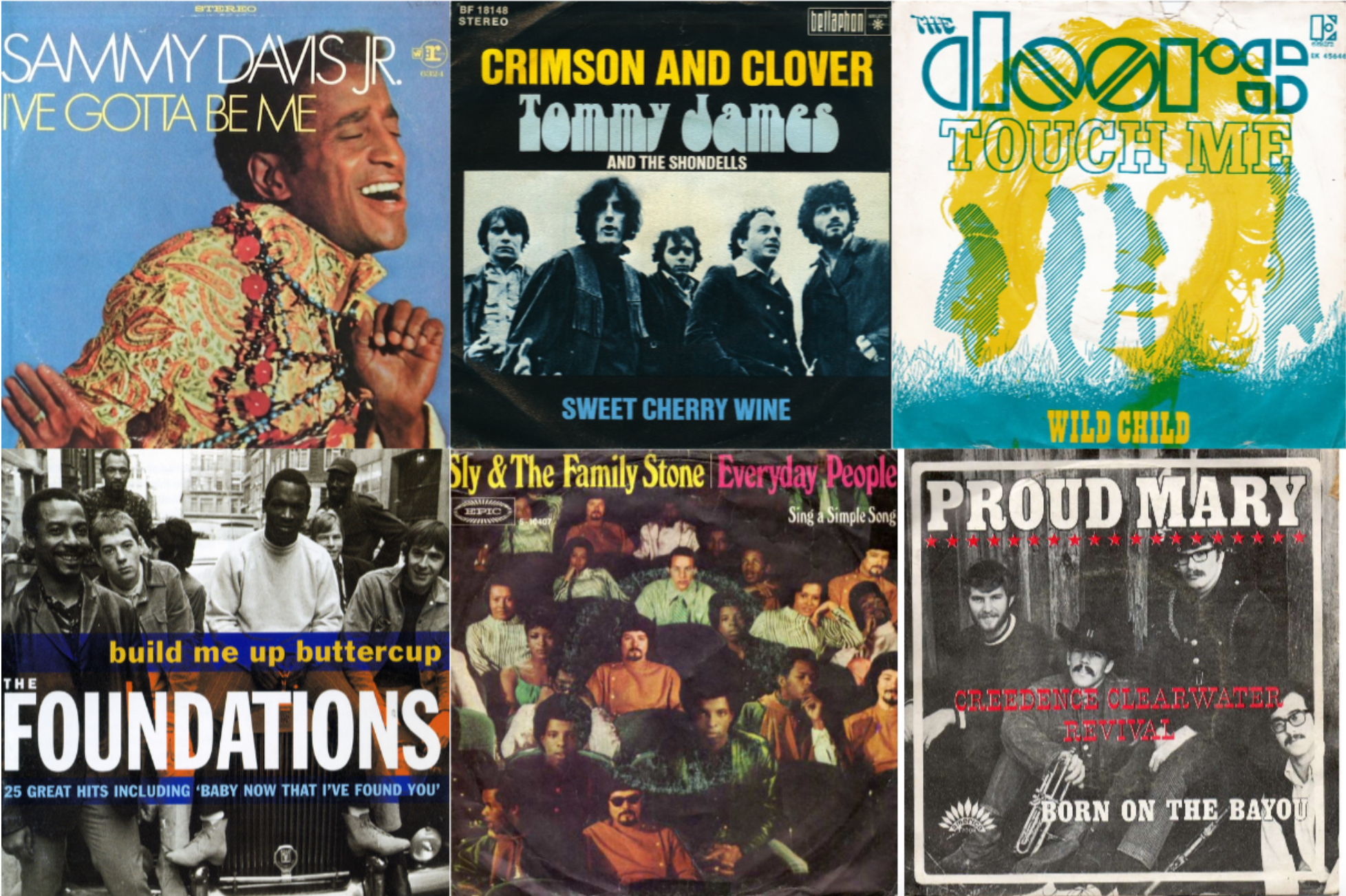 In January 1969, the New York Jets, led by their brash quarterback, Joe Namath, defeated the favored Baltimore Colts to win Super Bowl III. Richard Nixon was sworn in as the 37th President of the United States. And Led Zeppelin released their debut album.
Who knew that the Woodstock festival was just seven months' away?
And on San Francisco's Top 40 powerhouse KFRC, future classic rock hits were being played alongside an assortment of soul, pop and instrumental favorites.
Bubbling under the Top 10, and jumping from #30 to #26 was Jay & the Americans with their cover of the Doc Pomus-Mort Shuman song, "This Magic Moment." It would ultimately reach #6, becoming their fourth and final Top 10 single.
Related: Our obituary for singer Jay Black, who died in 2021
Debuting at #21 was "Proud Mary" from Creedence Clearwater Revival. The song became the first of CCR's seven Top 5 singles in less than two years.
One of Sammy Davis, Jr.'s signature songs, "I've Gotta Be Me," jumped from #25 to #16, on its way to #11 nationally.
Booker T & the M.G.'s were enjoying a big instrumental smash with "Hang Em High," which moved from #28 to #12. The Stax Records house band earned two other Top 10 pop hits: "Green Onions" and "Time is Tight."
And just outside the Top 10 were the Foundations with "Build Me Up Buttercup," jumping from #19 to #11 (on its way to #3 nationally).
Traffic's "Feeling Alright" was at #9 (up from #13). The song never reached the Hot 100 nationally.
Related: Traffic is on our list of 10 big rock acts without a Top 10 U.S. single
After Elvis Presley dominated the singles chart for years, "If I Can Dream" became the King's biggest hit since 1965. It leaped from #15 to #8 this week on KFRC. What a great vocal!
Related: More on Presley's recording of the inspiring song
The Tex Mex group The Sir Douglas Quintet enjoyed a handful of national singles including "Mendocino," up from #9 to #6.
In 1968, the Bee Gees released their first U.S. Top 10 singles: "I've Gotta Get a Message to You" and "I Started a Joke." They would ultimately achieve 15 Top 10 U.S. hits, nine of which–get this–went to #1. "I Started a Joke" was at #5 on KFRC this week.
Tommy James and the Shondells earned seven Top 10 singles. The psychedelic "Crimson and Clover" was one of two to hit #1. (1966's "Hanky Panky" was the other.)
The Doors earned three Top 10 singles in the U.S. One of them, "Touch Me," jumped to #3 this week (up from #6), and is known for its orchestration and great sax solo.
Sly and the Family Stone were at #2 with "Everyday People," the soul-funk-rock group's first of three #1 pop hits. In August, they would shine at Woodstock.
And at #1 on KFRC? Another big instrumental hit: former members of the Ramsey Lewis Trio, Young-Holt Unlimited with "Soulful Strut."
26. "This Magic Moment" – Jay & the Americans
21. "Proud Mary" – Creedence Clearwater Revival
16. "I've Gotta Be Me" – Sammy Davis Jr.
12. "Hang Em High" – Booker T & the M.G.'s
11. "Build Me Up Buttercup" – The Foundations
10. "I'm Gonna Make You Love Me" – The Supremes and the Temptations
9. "Feeling Alright" – Traffic
8. "If I Can Dream" – Elvis Presley
7. "This Is My Country" – The Impressions
6. "Mendocino" – Sir Douglas Quintet
5. "I Started a Joke" – The Bee Gees
4. "Crimson and Clover" – Tommy James and the Shondells
3. "Touch Me" – The Doors
2. "Everyday People" – Sly and the Family Stone
1. "Soulful Strut" – Young-Holt Unlimited

Latest posts by Best Classic Bands Staff
(see all)