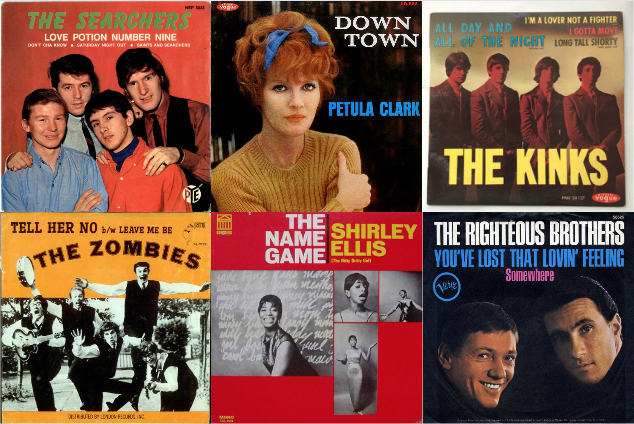 As we've noted in our weekly review of the charts, from 1964 until 1982, Record World was, along with Billboard and Cashbox, one of the music industry's three main trade publications. The record labels, retailers, and so on, eagerly awaited the news to see what the top sellers were. Here, we take a look back at the 100 Top Pops singles chart for February 6, 1965.
British Invasion bands were prominent with what would become classic rock staples. Let's dive in…
For The Zombies, it was either hit big or miss. They enjoyed only five singles that charted, yet three of them were in the Top 10. One of them was "Tell Her No," climbing up this week at #20. On its way down (from #1 earlier in the year) was The Beatles' "I Feel Fine," one of a handful of #1's they enjoyed in 1965.
Oddly, The Rolling Stones' "Heart of Stone" wasn't released in the U.K. until nine months after its December 1964 U.S. release, where it would eventually reach #15 on Record World.
Related: 12 "Lost" British Invasion hits
In the category of "How did this possibly happen," the Kingsmen, who had a 1963 smash with "Louie Louie," released a song called "The Jolly Green Giant," about the frozen foods character. You can't make this stuff up. It jumped this week from #36 to #15, eventually reaching #6 on RW.
If you wanted to sing lead vocals for NYC-based Jay & the Americans, well, your name had to be "Jay." The group replaced singer John "Jay" Traynor with David Black, once the latter agreed to change his name to "Jay." The new Jay helped the group to a number of Top 20 hits including "Let's Lock the Door and Throw Away the Key," which rose to #11 this week.
Related: Our obituary of Jay Black, who died in 2021
It's easy to forget just how big The Kinks were during the early stage of the British Invasion. But in a five month period, they had three huge chart hits: "You Really Got Me" (#1 U.K., #7 U.S.), "All Day and All of the Night" (#2 U.K., #7 U.S.) and "Tired of Waiting For You" (#1 U.K., #6 U.S.). Listen to how much greatness is in just 2:22…
At around the same time, the Liverpool-based Searchers were perfecting the Merseybeat sound with several #1 U.K. hits including "Needles and Pins." In 1965, they enjoyed a hit with a cover of the Lieber-Stoller song "Love Potion #9." It was #6 this week, after reaching #1 on Record World earlier in the year.
A novelty song that lives on today was written and sung by Shirley Ellis, who reached #3 with "The Name Game." She was born in The Bronx of West Indian descent and the song was one of three Top 10 hits in her brief career. "A little trick with Nick…"
Wow, talk about persistence! British singer Petula Clark had released dozens of singles overseas since 1949 with occasional chart success, finally scoring a U.K. #1 in 1960. Then, seemingly out of nowhere, she released "Downtown" in November 1964 and it became a huge international hit including #1 in the U.S. and earning a Grammy Award for Best Rock and Roll Recording. She would enjoy many more hits including "I Know A Place," "A Sign of the Times" and 1967's "Don't Sleep in the Subway." Born on November 15, 1932 and we reviewed her December 2017 concert in New York City.
At #1 this week? The duo of Bill Medley and Bobby Hatfield, better known as the Righteous Brothers with "You've Lost That Lovin' Feelin'." The song was written by Phil Spector, Barry Mann and Cynthia Weil and recorded with the Los Angeles-based musicians known as The Wrecking Crew. As a duo, the Righteous Brothers had a handful of other hits including "Unchained Melody" and "(You're My) Soul and Inspiration" and Medley would later score another huge hit with his duet "(I've Had) The Time of My Life" with Jennifer Warnes.
20. "Tell Her No" – The Zombies (Parrott)
19. "I Feel Fine" – The Beatles (Capitol)
18. "I Go To Pieces" – Peter and Gordon (Capitol)
17. "Heart of Stone" – The Rolling Stones (London)
16. "Twine Time" – Alvin Cash & Crawlers (Mav-V-Lus)
15. "The Jolly Green Giant" – Kingsmen (Wand)
14. ""Give Him a Great Big Kiss" – Shangri-Las (Red Bird)
13. "Come See About Me" – Supremes (Motown)
12. "Keep Searchin'" – Del Shannon (Amy)
11. "Let's Lock the Door and Throw Away the Key" – Jay & the Americans (United Artists)
10. "My Girl" – The Temptations (Gordy)
9. "All Day and All of the Night" – The Kinks (Reprise)
8. "How Sweet It Is" – Marvin Gaye (Tamla)
7. "Shake" – Sam Cooke (RCA Victor)
6. "Love Potion #9" – Searchers (Kapp)
5. "Hold What You Got" – Joe Tex (Dial)
4. "This Diamond Ring" – Gary Lewis & the Playboys (Liberty)
3. "The Name Game" – Shirley Ellis (Congress)
2. "Downtown" – Petula Clark (Warner Bros.)
1. "You've Lost That Lovin' Feelin'" – Righteous Bros. (Philles)

Latest posts by Best Classic Bands Staff
(see all)