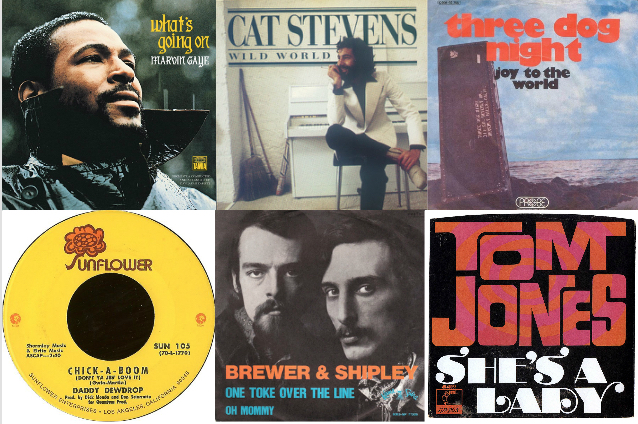 We're constantly researching radio charts from the era when Top 40 played rock songs alongside pop, R&B, instrumentals and the occasional novelty record. While looking for one from mid-April, we found this weekly survey from Miami's WQAM and knew that our search had ended. It's got just the right balance of classics that hold up great today as well as goofy ones that surprisingly also made it to the top.
Taking a big leap from #37 to #22 was the only hit single from the Canadian gospel rock band, Ocean. "Put Your Hand in the Hand" would ultimately reach #2 nationally.
Neil Diamond jumped from #21 to #10 this week with "I Am… I Said," which was on its way to its peak of #4 and one of the 37 Top 40 singles he earned in his career.
Cat Stevens was enjoying his breakthrough hit with "Wild World." The song moved from #16 to #9. Though it would peak nationally at #11, it was the singer-songwriter's first hit, followed later that year by "Moonshadow" and "Peace Train."
If you knew "She's a Lady" is Tom Jones' highest-charting U.S. hit, raise your hand! The song peaked at #2, edging out 1965's "What's New Pussycat?" (#3).
Related: 1971 book makes case for best rock year
"Chick-A-Boom (Don't Ya Jes' Love It)" is from Daddy Dewdrop, whose real name was Richard Monda. The song–probably not on the list of reader favorites from 1971–hit #9 nationally. Have a listen and it'll be in your head for days…
Related: "Chick-a-Boom" is in our story of surprising radio hits of the '70s
Jumping from #10 to #5 is Marvin Gaye's "What's Going On," one of the biggest hits of the Motown star's career. The artist earned 14 #1 R&B hits including this one (though it peaked at #2 on the Hot 100).
Though the Grass Roots only earned one Top 5 pop single ("Midnight Confessions"), they were a staple on Top 40 playlists from 1966 through 1972. "Temptation Eyes," at #4 in Miami this week, peaked at #15 nationally. The band from Los Angeles had ten songs reach the Top 30. What a great chorus!
Related: Our feature on the Grass Roots, and all those hits
Folk-rock duo Brewer & Shipley were essentially one-hit-wonders. Their "One Toke Over the Line," at #2 this week, actually reached a, ahem, high of #10 on the national charts.
Related: 1971's top-selling albums
Not enough praise can be heaped upon Three Dog Night, a pop band that enjoyed three #1 singles and 21 Billboard Top 40 hits between 1969 and 1975. One of those #1's was "Joy to the World," which would go on to become the #1 pop single of 1971.
Related: Our feature on Three Dog Night, the ultimate "cover" band
22. "Put Your Hand in the Hand" – Ocean
10. "I Am… I Said" – Neil Diamond
9. "Wild World" – Cat Stevens
8. "She's a Lady" – Tom Jones
7. "For All We Know" – Carpenters
6. "Chick-A-Boom" – Daddy Dewdrop
5. "What's Going On" – Marvin Gaye
4. "Temptation Eyes" – Grass Roots
3. "Just My Imagination" – Temptations
2. "One Toke Over the Line" – Brewer & Shipley
1. "Joy to the World" – Three Dog Night
Survey courtesy of the WQAM Sixties Tribute Site

Latest posts by Best Classic Bands Staff
(see all)