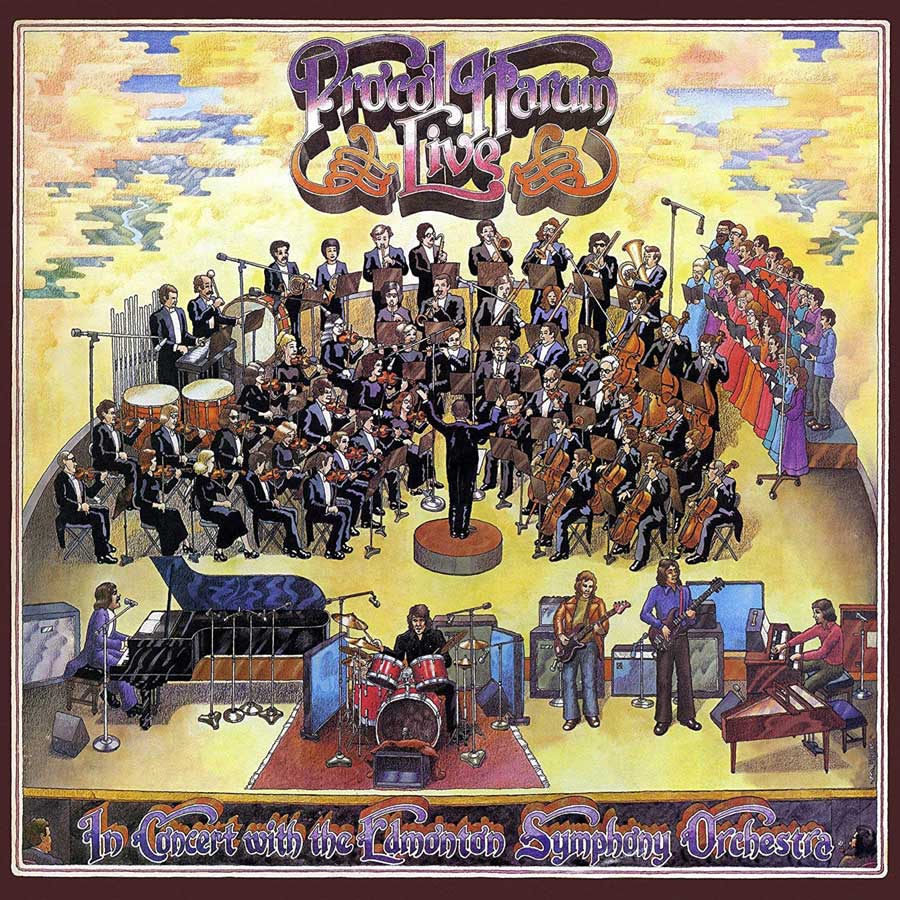 Esoteric Recordings has announced the Nov. 2 release of a remastered and expanded edition of the Live in Concert with the Edmonton Symphony Orchestra album by Procol Harum.
Recorded on Nov. 18, 1971, at the Northern Alberta Jubilee Auditorium in Edmonton, Canada, the album captured a performance by Gary Brooker (vocals, piano), B.J. Wilson (drums), Chris Copping (organ and harpsichord), Alan Cartwright (bass) and Dave Ball (guitar), the Edmonton Symphony Orchestra and the Da Camera Singers. Classic Procol Harum material such as "Conquistador," "Whaling Stories," "A Salty Dog" and "In Held 'Twas in I" were arranged by Brooker.
The resulting album was one of Procol's most successful, reaching #5 on the U.S. Billboard album chart (their highest placement) and spawned a hit single in "Conquistador," which reached #16 in the U.S. Only "A Whiter Shade of Pale," the group's debut single, fared better in the States.
This new expanded edition of Live in Concert with the Edmonton Symphony Orchestra has been newly remastered and includes five bonus tracks (two previously unreleased), drawn from the B- side of a single and the rehearsal sessions for the concert.
Related: A look back at "A Whiter Shade of Pale"
The release also includes an illustrated booklet featuring material from Brooker's personal archive and an essay by Procol Harum authority Roland Clare.
The album will be available on CD and 180-gram vinyl.
The current lineup of Procol Harum (which still features Brooker, the only remaining member of the 1971 edition) is scheduled to perform the entire album live at the London Palladium on Oct. 9 with a full orchestra and choir.
Track Listing
1. Conquistador
2. Whaling Stories
3. A Salty Dog
4. All This And More
5. In Held 'Twas In I
Bonus Tracks
6. Luskus Delph (B-Side Of 1972 Single)
7. Simple Sister (Rehearsal Version)
8. Shine On Brightly (Rehearsal Version)
9. A Salty Dog (Rehearsal Version – Previously Unreleased)
10. Luskus Delph (Rehearsal Version – Previously Unreleased)
Listen to "Conquistador" from the album

Latest posts by Best Classic Bands Staff
(see all)