Paul McCartney's post-Beatles output is so vast that it's easy to forget how successful and prolific he was, particularly in the '70s. From his April 1970 solo debut, McCartney, through December 1973's Band on the Run, he released five studio LPs, several of which were with Wings. Three of the albums reached #1 in the U.S.; two topped the U.K chart.
On June 2, 1973, McCartney had the #1 album and #1 single in the U.S.
1973's Red Rose Speedway was one of those albums and it has a curious story. The April 30 U.S. release included the #1 single, "My Love." Despite that success, the album yielded no other singles.
Here's why: "Live and Let Die" was recorded (with producer George Martin) during the album sessions and released in June as the theme song from that summer's James Bond film. The song was better than anything on Red Rose Speedway and ultimately became a #1 single on Aug. 25, and an enormous worldwide hit. But the decision was made to make it exclusive to the movie soundtrack and thus omit it from the Wings album.
Listen to a "group-only" take of "Live and Let Die"
Other songs recorded during the album sessions but also left off the release were "Hi, Hi, Hi" and "Mary Had a Little Lamb," both of which became modest hit singles. (An expanded 2018 reissue corrected the mistake; more on that below).
Despite that, "My Love" reached #1 on June 2, besting the previous week's #1, the Edgar Winter Group's "Frankenstein." (Other songs in the Top 10 that week were Elton John's "Daniel," Steely Dan's "Reeling in the Years" and "Hocus Pocus" by Focus.)
Red Rose Speedway bumped the Beatles' 1967-1970 from the top spot on the album chart that same week.
In 2018, as part of the Paul McCartney Archives collection, Red Rose Speedway got a six-disc (3-CD, 2-DVD + Blu-ray) numbered limited deluxe edition.
The Red Rose Speedway limited deluxe edition features three discs of audio including the original album remastered at Abbey Road, 35 bonus audio tracks, including a reconstruction of the originally conceived double album version of Red Rose Speedway, singles, B-sides, alternate mixes and previously unreleased tracks.
The 2-DVD + Blu-ray portions of the deluxe are packed with rare and previously unseen footage, including the James Paul McCartney TV Special, interviews and music videos, as well as the never-before-seen film The Bruce McMouse Show, fully restored and remixed in stereo and 5.1 surround sound. [U.K. order here.]
Related: We look back at another Wings classic, Band on the Run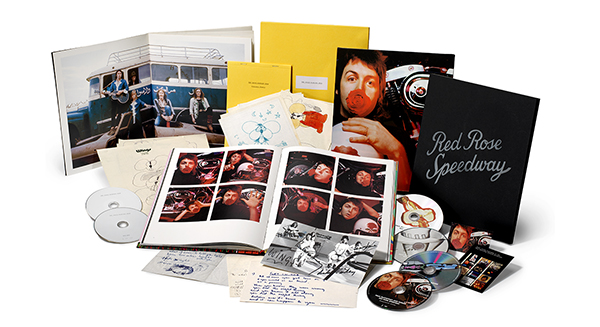 The package includes a folio containing 14 replica hand-drawn original character sketches by Paul and facsimile dialogue sheets for the film, a 128-page book containing many previously unpublished images by Linda McCartney, expanded album and single artwork from the archives and story behind the album, including new interviews with Paul McCartney, and key album personnel, and track-by-track information, written by Amanda Petrusich, five replica handwritten lyric sheets and photo print, a 64-page "Wings In Morocco" photo book, all housed in a numbered outer slipcase. The Red Rose Speedway download redemption card provides access to all audio in HD 24/96kHz unlimited high-resolution versions.
Listen to a previously unreleased live track from 1972
Listen to the previously unreleased live version of "The Mess" from 1972

Latest posts by Best Classic Bands Staff
(see all)