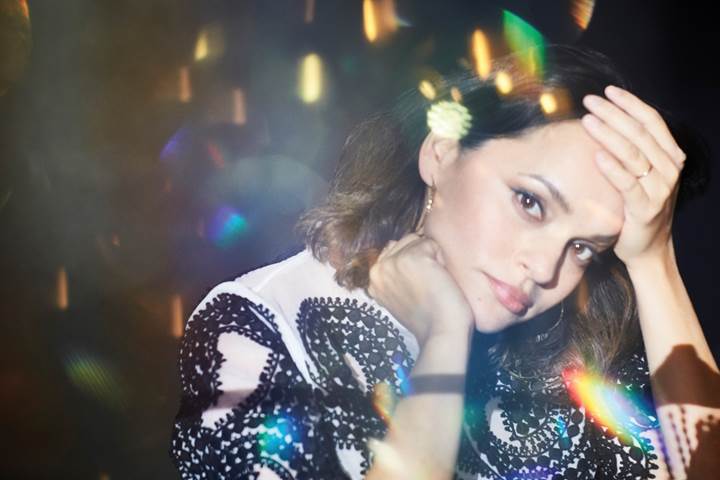 Norah Jones will release a new album, Day Breaks, on Blue Note Records October 7. Jones' sixth solo album is being described in a label press release as a return to the jazz-influenced approach of her multi-platinum debut Come Away With Me, which netted Jones eight Grammys, including Album of the Year. The album features Jones on piano and vocals accompanied by jazz luminaries Wayne Shorter (saxophone), Dr. Lonnie Smith (organ), and Brian Blade (drums). The 12-song set includes nine new originals alongside covers of songs by Horace Silver, Duke Ellington and Neil Young.
"This new album feels full circle because I'm going back to my early influences," said Norah in the announcement. "After the first record, I drifted away from the piano a little bit. I still played it, but was more inspired to write on guitar. I really loved playing piano on this record."
Watch the video for "Carry On," the album's terrific first single…
Fans who pre-order the download of Day Breaks on the Norah Jones Store, iTunes or Amazon will receive "Carry On" instantly, and the single is also on all streaming services including Apple Music and Spotify.
And here's the lyric video for a second song, "Flipside"…
Day Breaks is available for pre-order in all formats via the below Amazon links. A special 180-gram orange vinyl version of the album will also be available from Barnes & Noble, as well as a deluxe CD version featuring 4 live bonus tracks that will be available at Target.
Come Away With Me has sold an astonishing 26 million copies since its 2002 release. It's single, "Don't Know Why," peaked at only #30 on the pop singles chart yet won Grammys for Record of the Year and Song of the Year.
Jones has also announced fall tour dates in North America and Europe. Click here for tickets. Alternatively, you can try our partners at TicketNetwork.
Fall 2016 Tour Dates
Sept 13 – Petty Fest – Los Angeles, CA
Sept 14 – Petty Fest – Los Angeles, CA
Sept 22 – Oaktopia – Denton, TX
Sept 23 – Oaktopia – Denton, TX
Oct 18 – Queen Elizabeth Theatre – Vancouver, BC **
Oct 19 – Benaroya Hall – Seattle, WA **
Oct 20 – Keller Auditorium – Portland, OR **
Oct 22 – Shoreline Amphitheatre – Mountain View, CA
Oct 23 – Shoreline Amphitheatre – Mountain View, CA
Oct 25 – Greek Theatre – Los Angeles, CA **
Oct 27 – Santa Barbara Bowl – Santa Barbara, CA **
Oct 28 – Paramount Theatre – Oakland, CA
Nov 08 – Teatro degli Arcimboldi – Milan, Italy
Nov 09 – Granteatro Geox – Padova, Italy
Nov 11 – Ampitheatre Cite des Congres – Lyon, France
Nov 12 – Theatre Sebastapol – Lille, France
Nov 14 – Palladium – London, UK
Nov 15 – Salle Pleyel – Paris, France
Nov 16 – Teatre Femina – Bordeaux, France
Nov 18 – Madrid, Spain – Palacio Municipal de Congresos Campo
Nov 21 – Olympia (Blue Note Festival) – Paris, France
Nov 28 – Ulster PAC – Kingston, NY
Nov 29 – Beacon Theatre – New York, NY
Dec 02 – Academy of Music – Philadelphia, PA
Dec 03 – Lincoln Theatre – Washington, DC
Dec 04 – Lincoln Theatre – Washington, DC
Dec 08 – The Vets – Providence, RI
Dec 09 – State Theatre – Portland, ME
Dec 10 – Orpheum Theatre – Boston, MA
**Valerie June supports
Day Breaks Track Listing
1. Burn
2. Tragedy
3. Flipside
4. It's A Wonderful Time For Love
5. And Then There Was You
6. Don't Be Denied
7. Day Breaks
8. Peace
9. Once I Had A Laugh
10. Sleeping Wild
11. Carry On
12. Fleurette Africaine (African Flower)

Latest posts by Best Classic Bands Staff
(see all)