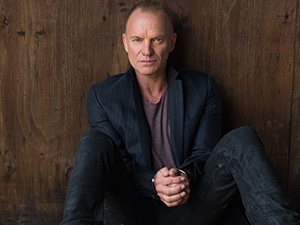 After he fused punk energy and reggae rhythms in The Police to the tune of some 75 albums sold worldwide, Sting turned his attention to jazz fusion, classical lute music (on Songs from the Labrynth in 2008) and even musical theater (his 2014 Broadway musical The Last Ship). Now, he says, he's returning to rock music on his next album, titled 57th & 9th, as yet unscheduled for release but in details quite tantalizing.
"It's rockier than anything I've done in a while," he says. "This record is a sort of omnibus of everything that I do, but the flagship seems to be this energetic thing. I'm very happy to put up the mast and see how it goes."
Sting recorded the album in New York City – the title refers to an intersection on his daily walk to the studio – with his touring drummer Vinnie Colaiuta, guitarist Dominic Miller, and Jerry Fuentes and Diego Navaira of the Last Bandoleros, a San Antonio, TX Tex-Mex group. The song subjects also suggest he's plugged in to a different sort of energy of late.
Emigration is one theme that the Englishman in New York explores, most notably on "Inshallah," which is about the current refugee crisis in Europe. On "One Fine Day" he addresses climate change skeptics. Sting sees both matters as intertwined. "The biggest engine for migration will be climate," he tells Rolling Stone. "Millions of people will be looking for somewhere safe. I'm still in a bit of a depression about Britain exiting the EU for no good reason."
He also takes a look at aging and death on "50,000," written the week Prince died. "Mortality does sort of rear its head, particularly at my age – I'm 64," he says. "It's really a comment on how shocked we all are when one of our cultural icons dies: Prince, David [Bowie], Glenn Frey, Lemmy. They are our gods, in a way. So when they die, we have to question our own immortality. Even I, as a rock star, have to question my own. And the sort of bittersweet realization that hubris doesn't mean anything in the end," Sting observes.
Listen to Sting on his current tour with Peter Gabriel.
The musical approach on 57th & 9th was suggested by his new manager, Martin Kierszenbaum, who was previously his A&R man and produced the album. "I don't think he's rocked like this since Synchronicity," Kierszenbaum says. "Most of it was done in an impulsive way. One or two takes."
Although rock music catapulted Sting to superstardom, he is well aware that today, "The record industry is in a state of chaos and flux. I have no idea what expectations are. It's not like the old days. Rock'n'roll is a traditional form now," he says. "It's not socially cohesive like it used to be.
"For me, the most important element in all music is surprise," Sting concludes. "I'll keep throwing curveballs. It's my journey; people are welcome to share it with me." But in the end, "I really do what the fuck I want."

Latest posts by Best Classic Bands Staff
(see all)