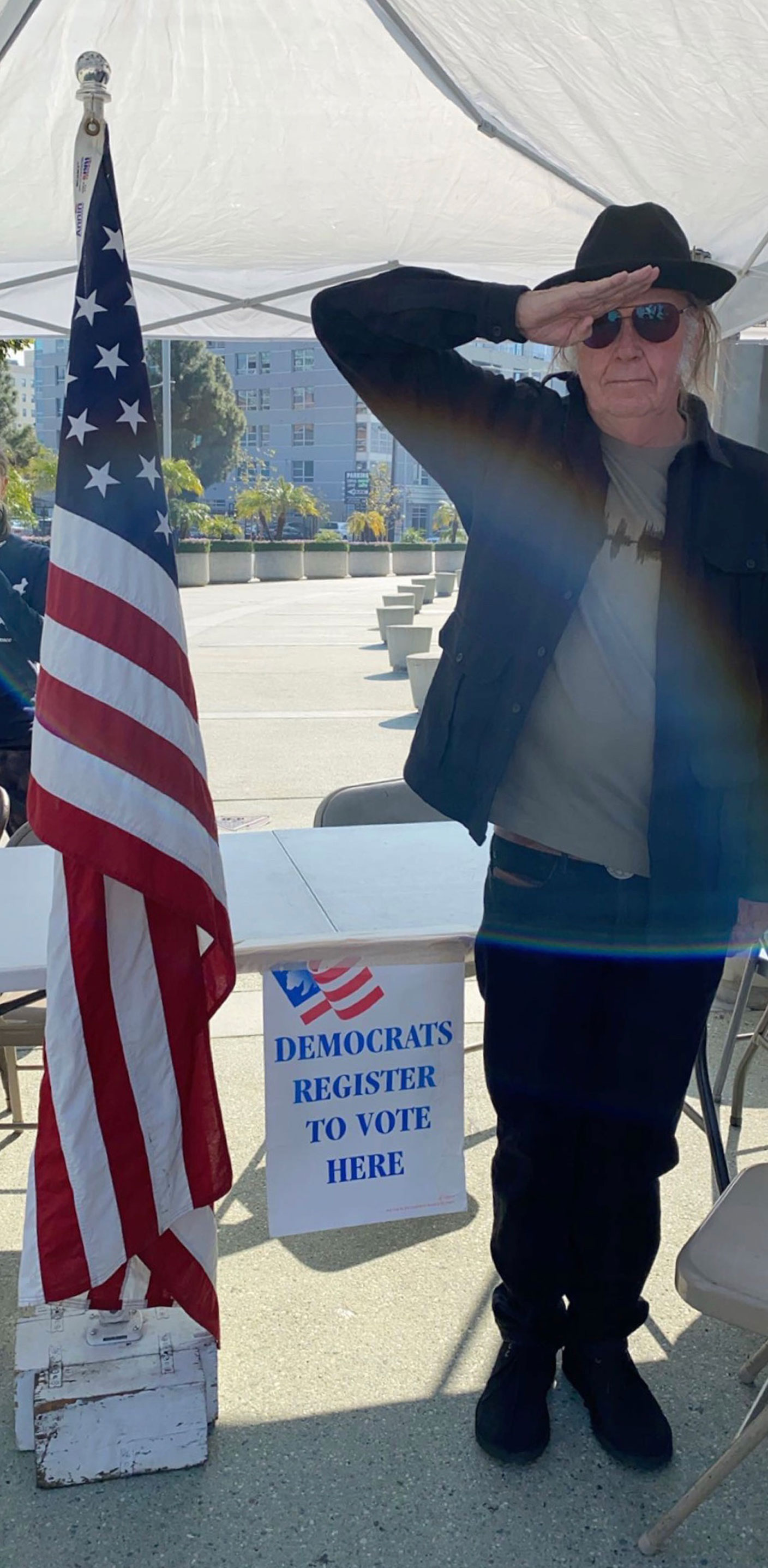 Neil Young has shared news that he is now a U.S. citizen. In a Jan. 22 post on his website, Neil Young Archives, the musician shared a photograph of him saluting, under the headline, "I'm Happy to Report I'm In!!". (The Canadian-born musician had been seeking dual citizenship.) Last fall, his application had been delayed due to his use of marijuana.
In a Nov. 8, 2019, post, Young indicated that he had passed the required test. However, as he noted at the time, a policy alert added earlier last year within U.S. Citizenship and Immigration Services, under then-Attorney General Jeff Sessions, stated, "An applicant who is involved in certain marijuana related activities may lack GMC (Good Moral Character) if found to have violated federal law, even if such activity is not unlawful under applicable state or foreign laws."
Of the initial test, Young wrote in a post headlined I Have Been Very Successful in My Life, "It was a conversation where I was asked many questions. I answered them truthfully and passed." He added, "Recently however, I have been told that I must do another test, due to my use of marijuana and how some people who smoke it have exhibited a problem."
On Nov. 10, Young's Crazy Horse bandmate, Nils Lofgren tweeted a profanity-laced comment to an article posted in the Thrasher's Wheat website.
This is outright, utter bullshit. @ThrashersWheat @NeilYoungNYA Fucking outrageous. #AAL https://t.co/2ksCFjGF7I

— Nils Lofgren (@nilslofgren) November 10, 2019
A fan also came to Young's defense, citing the classic rock legend's numerous good works, including The Bridge School, Farm Aid, Protector of the environment, and so on.
The "Rockin' in the Free World" singer ended his Nov. 8 post by writing, "I sincerely hope I have exhibited good moral character and will be able to vote my conscience on Donald J. Trump and his fellow American candidates, (as yet un-named).
"I will keep you posted, but I don't think I will be able to remain parked here during the proceedings."
Related: Our Album Rewind of Neil Young and Crazy Horse's debut LP
Related: Listings for 100s of classic rock tours

Latest posts by Best Classic Bands Staff
(see all)