Genesis founder continues to enjoy writing and playing music with his newest line-up of Mechanics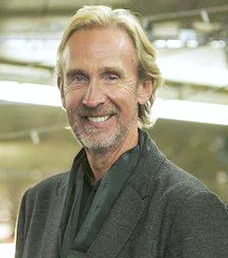 [This 2015 interview was the first one ever granted to Best Classic Bands. Since then, the group released Let Me Fly, their first studio album since 2011. We'll be forever grateful to Mike Rutherford and his management for the interview.]
"What we're doing in the States is putting our toe back in the water," says Mike Rutherford. "We're just saying: 'Here we are, I think this is a great band.' There's no short cuts, really; we've just got to go out and do it and prove ourselves, like in the old days."
The even-keeled Englishman is referring to his 2015 North American tour with the present-day edition of Mike + The Mechanics, the hitmaking outfit that he originally launched in 1985 as a sideline to his main career as a charter member of Genesis.
While Genesis' three decades of worldwide classic rock success would presumably afford the veteran bassist/guitarist/songwriter/producer the option of resting on his laurels, he's currently in the midst of a flurry of activity, much of it involving the new-look Mechanics. The reactivated band hadn't played in America until 2015.
2015 also saw the U.S. publication of Rutherford's warm, self-effacing memoir The Living Years (Thomas Dunne/St. Martins).
The challenge of launching a new band, albeit one with a familiar brand name, has proved inspiring for the seasoned arena-rocker. "I had stopped for a few years, but I had some songs in my head that sounded like Mechanics songs," Rutherford tells Best Classic Bands, adding, "It's challenging and it's tiring, but at my age it's something to keep me going. If it wasn't a great band, and if I didn't feel inspired every night, I wouldn't be doing it.
"I must admit that the first few years, as we were touring around the U.K. and Europe, a couple of times I did think, 'Am I too old to be doing this?,'" he continues. "But I realized that I was back doing what Genesis had done in 1969 and 1970 – touring around and building a live following – and that really motivated me. You've got to go and show people that you're good."
The resurgent Mechanics include Andrew Roachford and Tim Howar on vocals, keyboardist Luke Juby, guitarist/bassist Anthony Drennan and drummer Gary Wallis. Although Rutherford is the lone holdover from the original lineup, he sees key connections between both incarnations.
"There's a Mechanics sound that people recognize, and I think that the current band maintains that," he notes. "And the Mechanics have always had two singers, an R&B voice and a rock voice. Andrew and Tim are both great singers and great live performers, and the other guys are great players. The whole band's got a great energy on stage, so it's a real buzz every night."
Rutherford's embrace of his role in Mike and the Mechanics as instrumentalist, co-songwriter and co-producer reflects his preference for collaboration over hogging the spotlight. He formed the Mechanics after finding himself creatively unfulfilled by his two solo efforts, 1980's Smallcreep's Day and 1982's Acting Very Strange. On the latter, he adopted the role of lead vocalist – something he hasn't done since and has no plans to do again.
"I'm primarily a songwriter, and I'd gotten used to having the songs that I wrote or co-wrote sung by Peter Gabriel and Phil Collins," he observes. "So I want to hear my songs sung by the very best voices, and that isn't mine. In that sense, the Mechanics was a natural progression."
The song that provides the title for Rutherford's book and the Mechanics' most popular album was a massive international hit, reaching the top slot on the U.S. singles chart in March 1989. Written by Rutherford and frequent songwriting partner B.A. Robertson and sung in its original version by original Mechanic Paul Carrack, "The Living Years" was partially inspired by Rutherford's loving but strained relationship with his father, Captain William Rutherford, a World War II naval officer in whose military footsteps Mike had been expected to follow. It struck an emotional chord with listeners upon its original release and, according to Rutherford, continues to do so.
"I've had quite a few songs that were enjoyed by people, but to have a song that affects people so emotionally is amazing," he reflects. "It seems to have become a timeless piece. People still come up to me all the time at shows or in the street and tell me that that song helped them in some way – that it influenced them to rekindle their relationship with a parent, or that it gave some comfort after they'd lost a parent."
Although Rutherford's book focuses mainly on his experiences with Genesis, it also examines his conflicted relationship with his father –an element that's all the more poignant through the book's use of excerpts from the elder Rutherford's unpublished memoir – and the gap between the generation of Brits who lived through World War II and their children amidst the cultural upheavals of the 1960s.
If you're a new Best Classic Bands reader, we'd be grateful if you would Like our Facebook page and/or bookmark our Home page.
"The book is really about Genesis," Rutherford asserts. "But the setting is England in the '60s after two world wars. My parents' generation was kind of shot to pieces, and then my generation appeared with pop music, long hair and drugs. England took a big left turn, musically and culturally, so the book takes place against that background of turmoil and change. I think that the background, and the contrast between those two generations makes the story a bit more interesting.
"I normally don't look back very much, so it was interesting and informative to look back at the early days," he continues. "They were pretty interesting, fun times, and I think that the rest of the guys enjoyed the book when they read it. Tony Banks had a rant for about half an hour, because I kind of teased him in the book, but it was all done with love and it didn't take long for him to get over it."
Recent fan and speculation about the possibility of a Genesis reunion – which has been ongoing since the group disbanded in 1998 – accelerated substantially last year when the five members of the band's classic '70s lineup (Rutherford, Banks, Collins, Gabriel and guitarist Steve Hackett) reconvened to be interviewed for the career-spanning BBC documentary Genesis: Together and Apart. Although Banks, Collins and Rutherford reunited for tours of Europe and North America in 2007, Rutherford dismisses rumors of further reformations.
"At this point, there are no plans," he states, gently but firmly. "As Peter says, we're all alive, we're all friends, and that's a good start. But nothing's planned."
Related: Rutherford and Collins did, indeed, perform a Genesis favorite in 2019 prior to their 2021-2022 reunion
More likely, he suggests, is a new Mike + the Mechanics album. "Right now I've got these six new Mechanics songs, and I'm gonna break them in, see how they feel, and maybe work them out with the band during soundchecks. And if they feel good, we'll finish them up and record them.
"But I'm very conscious these days that maybe artists like myself have done enough albums," Rutherford concludes. "There's seven Mechanics albums, and about 15 Genesis albums, so maybe people have already got enough of me in their life. And record sales have dropped hugely, so maybe what sales there are ought to go to younger artists rather than people like me. But it's still fun writing and recording new stuff and trying to get it on the radio, so we'll see."
[Mike + the Mechanics tour regularly. When they do, tickets are available here.]

Latest posts by Scott Schinder
(see all)