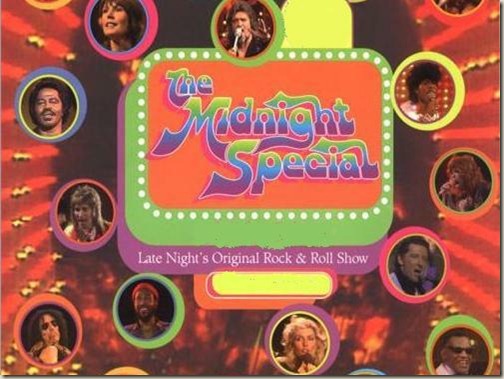 Music fans of a certain age recall the 1970s-era late night TV series, The Midnight Special, with a good deal of reverence, and well they should! The series ran on NBC for 450 episodes from February 2, 1973, until May 1, 1981.
As noted in our original story about the program, the series began when TV producer Burt Sugarman pitched the network on a Friday night musical variety show that would follow the high-rated The Tonight Show at 1 a.m. and retain some of its audience. When the network didn't bite, Sugarman bought the airtime, found a sponsor (Chevrolet) and on August 19, 1972, premiered the 90-minute program, on which the acts played live, as a special. Its solid ratings led NBC to greenlight the series.
No surprise: with Wolfman Jack as the host, that jam-packed pilot episode featured Argent, War, the Everly Brothers, the Isley Brothers, Linda Ronstadt, Helen Reddy, John Denver, David Clayton-Thomas, Cass Elliot and Harry Chapin.
Long before MTV, The Midnight Special was where many music fans first heard and saw what would become their favorite recording artists.
The series may not have had a wardrobe manager. Watch Rod Stewart in a unique stage get-up perform "You Wear it Well" in 1975. Hey look, it's Ronnie Wood…
Watch host Helen Reddy introduce a performance from Peter Frampton, who was riding high with Frampton Comes Alive.
When the Dutch rock band Focus had a smash in 1973 with a song that was largely an instrumental save for some yodeling, audiences could now see them perform it. Watch guest host Gladys Knight introduce "Hocus Pocus."
Watch Lowell George of Little Feat introduce guest singers Emmylou Harris, 27-year-old Bonnie Raitt and Jesse Winchester in 1977 for a rousing performance of "Dixie Chicken."
Months after the Doobie Brothers' first hit, "Listen to the Music," had peaked on the Hot 100, they appeared on The Midnight Special to perform it on March 16, 1973. The single, written and sung by Tom Johnston, had reached #11 and they had just released their next album, The Captain and Me.
Some acts apparently treated an appearance on the series like they were guests of honor at a celebrity roast. That probably explains why Burton Cummings of the Guess Who felt obliged to get dressed in a white suit while his bandmates were a bit less formal.
Remember the group Stories featuring vocalist Ian Lloyd? They had a #1 hit, "Brother Louie" in 1973. Tell 'em Jose…
"Roll Over Beethoven" was the first of dozens of U.S. chart hits by the Electric Light Orchestra. They made their first appearance on The Midnight Special on June 29, 1973, to perform the Chuck Berry cover. At 25, Jeff Lynne was already wearing his trademark sunglasses in public.
Watch one TV legend interview another

Latest posts by Best Classic Bands Staff
(see all)