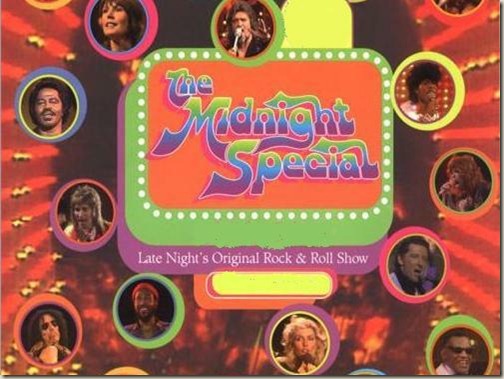 Music fans of a certain age recall the 1970s-era late night TV series, The Midnight Special, with a good deal of reverence, and well they should! The series ran on NBC for 450 episodes from February 2, 1973, until May 1, 1981.
The series began when TV producer Burt Sugarman pitched the network on a Friday night musical variety show that would follow the high-rated The Tonight Show at 1 a.m. and retain some of its audience. When the network didn't bite, Sugarman bought the airtime, found a sponsor (Chevrolet) and on August 19, 1972, premiered the 90-minute program, on which the acts played live, as a special. Its solid ratings led NBC to greenlight the series.
The program often featured former border radio DJ Wolfman Jack as its announcer. Born Robert Weston Smith on January 21, 1938, the "Wolfman" had come to national prominence in George Lucas' 1973 film American Graffiti.
Our first story on The Midnight Special focuses on pop and rock favorites of the era, including appearances by Fleetwood Mac, Blondie, Argent, and even Wild Cherry.
In a second story, we wrote about the classic rock bands that enjoyed exposure on the TV showcase, like Tom Petty and the Heartbreakers, Little Feat and Golden Earring.
It's time to give solo artists and singer-songwriters that came to prominence in the '70s their due.
Linda Ronstadt starts us off. That's Andrew Gold, who served as her musical director, on keyboards and backup vocals.
Watch Gordon Lightfoot perform his 1974 "Sundown," when he was 35 years old
Eddie Money released his self-titled solo debut on Columbia Records at the end of 1977. In February 1978, the first single was released to pop radio. "Baby Hold On" was a huge success, reaching #11 on U.S. Top 40. At 29, the Money Man was on top of the world.
In 1977, a 28-year-old named Bonnie Raitt scored her first pop hit with a cover of "Runaway"
The 1972 film, Deliverance, may not have boosted tourism for the Georgia backwoods that it depicted, but the film's song, "Dueling Banjos," performed by Steve Mandell and Eric Weissberg, became a big instrumental hit, with four weeks at #2. (And, yes, we realize they're a duo…)
Jim Croce's "Bad, Bad Leroy Brown" was released as a single on March 20, 1973. The catchy song enjoyed a steady ascent up the charts and on July 21 it hit #1.
Related: Jim Croce – What might have been
She was about to bust wide open in the U.S. with two consecutive #1 singles. And just before that, 25-year-old Olivia Newton-John reached #5 with "If You Love Me (Let Me Know)" in 1974.
Ray Charles had a #1 hit in 1960 with "Georgia on My Mind." In 1976, Brother Ray performed the song on The Midnight Special.
David Bowie's "Space Oddity" was originally released in 1969, though it didn't connect with U.S. audiences. The song was re-released in 1973 and became his first U.S. hit. Hey… it's Mick Ronson!
"Maybelline" was Chuck Berry's first hit single in 1955. Years later, in the midst of a career renaissance, he performed the song for the series in 1973.
Helen Reddy was among the program's frequent hosts and she also performed many of her big singles. She scored a #1 hit with her cover of "Delta Dawn."

Latest posts by Best Classic Bands Staff
(see all)