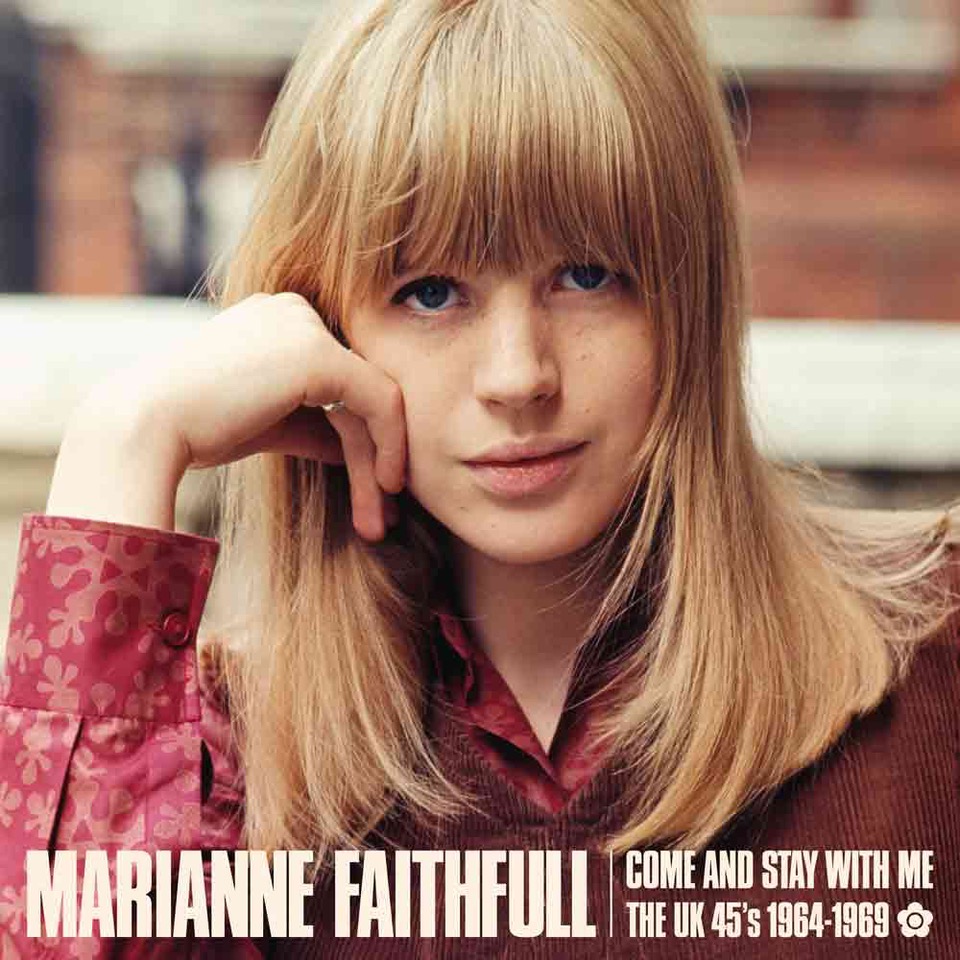 Marianne Faithfull first came to our attention in late 1964 with her bittersweet interpretation of "As Tears Go By," a Mick Jagger/Keith Richards composition (co-written with their manager Andrew Loog Oldham who changed the title from "As Time Goes By"). Her single became a #9 U.K. hit (and #22 in the U.S.).
The song is featured on a collection of all of Faithfull's U.K. singles, which was released in 2018, by ABKCO Records.
Come and Stay With Me: The UK 45s 1964-1969 is a 22-track set compiled in chronological order that includes all of the legend's singles from this unique era. In addition to the A- and B-sides of each 45 recorded for the Decca label in the 1960s, the album includes the entirety of her Go Away From My World EP.
Faithfull's Decca singles are string-laden U.K. '60s pop and offer insight into both her roots and artistic development. Come and Stay With Me closes with her original chilling 1969 rendition of the dark song she co-wrote with Jagger and Richards, "Sister Morphine."
It was later remodeled by the Rolling Stones on their classic 1971 album Sticky Fingers. In between are such U.K. and U.S. hits as "Come and Stay With Me," "This Little Bird," "Summer Nights" and "Yesterday."
Born in Hampstead, U.K. on December 29, 1946, to a former British Army spy and a ballerina, Faithfull moved to Reading where, by her early teens, she could be found in coffee bars singing folk songs. Her repertoire included "House of the Rising Sun" and Bob Dylan's "Blowin' in the Wind," both of which she would eventually record for Decca.
After immersing herself in London's party scene, she befriended Andrew Loog Oldham, who upon realizing that she could sing, quickly signed her. Her subsequent romance with Jagger from the mid-1960s until the end of the decade would become a national obsession. The couple was viewed as emblematic figures of the era, the media fixation obscuring and ultimately hurting her own career.
Watch the lyric video for "As Tears Go By"
Related: Our interview with Faithfull
Listen to Faithfull's version of "This Little Bird"
Faithfull was one of the artists who performed before a live audience in London in December 1968 for the Rolling Stones Rock and Roll Circus.
During the '70s, Faithfull became engulfed in personal struggles. Although she kept recording, most fans lost track of her. When she re-emerged in 1979 with a new album called Broken English, few recognized her as the same woman who'd recorded "As Tears Ago By" nearly 15 years earlier. Her voice was now scratchy, deeper and raw, and her songs were often brutal in content.
Faithfull grabbed headlines in April 2020 as one of the earliest celebrities to test positive for the Covid-19 virus. On May 20, she wrote, "I want to thank the doctors and nurses who were so good and basically saved my life!"

Latest posts by Best Classic Bands Staff
(see all)