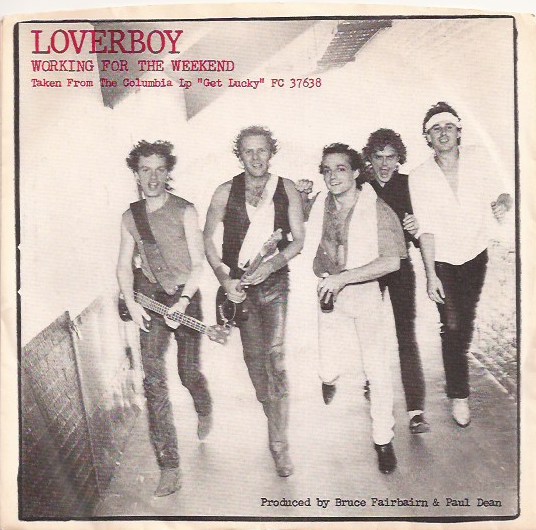 It's Friday afternoon. You get in your car (or truck) to drive home from work. The radio is already on from this morning, tuned to your favorite classic rock station. A commercial ends and the DJ points out that the weekend has started. But you know that already.
Then the music starts. It's Loverboy's "Working For the Weekend," a bona fide rock anthem since it came out in 1981. When you hear the lyric:
Everyone's trying to get it right, get it right
You instinctively turn both ways to see if anyone is watching you. Great… The coast is clear! And at the top of your lungs, you belt:
Everybody's working for the weekend
Everybody wants a new romance
Everybody's going off the deep end
Everybody needs a second chance, oh
You want a piece of my heart?
You better start from the start
You want to be in the show?
C'mon baby, let's go
Yeah, we know. You didn't think anyone could see you. But we saw you.
The real fun starts at the 2:24 mark of our Classic Video…
"Working For the Weekend" was a huge rock hit but peaked at just #29 on the pop chart. Weep not for Loverboy. The band's releases include the four-million-selling Get Lucky. (And that was just in the U.S.) The October 7, 1981, album release was their second of four consecutive LPs with sales of over two million copies in the U.S.
Loverboy ultimately scored four singles that reached the Top 15 on the U.S. pop charts, including 1983's "Hot Girls in Love" and the 1986 power ballad "Heaven in Your Eyes."
Their guitarist Paul Dean issued a new single, "Be With You," on March 21, 2018, his first solo release in more than 20 years. The video is a "celebration" of Loverboy and its fans, featuring Dean, playing over footage shot more than three decades ago with the band.
Watch "Be With You"
Loverboy's four-decade-long career began in Calgary, Canada when vocalist Reno was introduced to guitarist Dean. The two eventually were joined by keyboardist Doug Johnson, drummer Frenette and bassist Sinnaeve, who replaced the late Scott Smith in 2000.
When Loverboy tours, tickets are available here and here.

Latest posts by Best Classic Bands Staff
(see all)