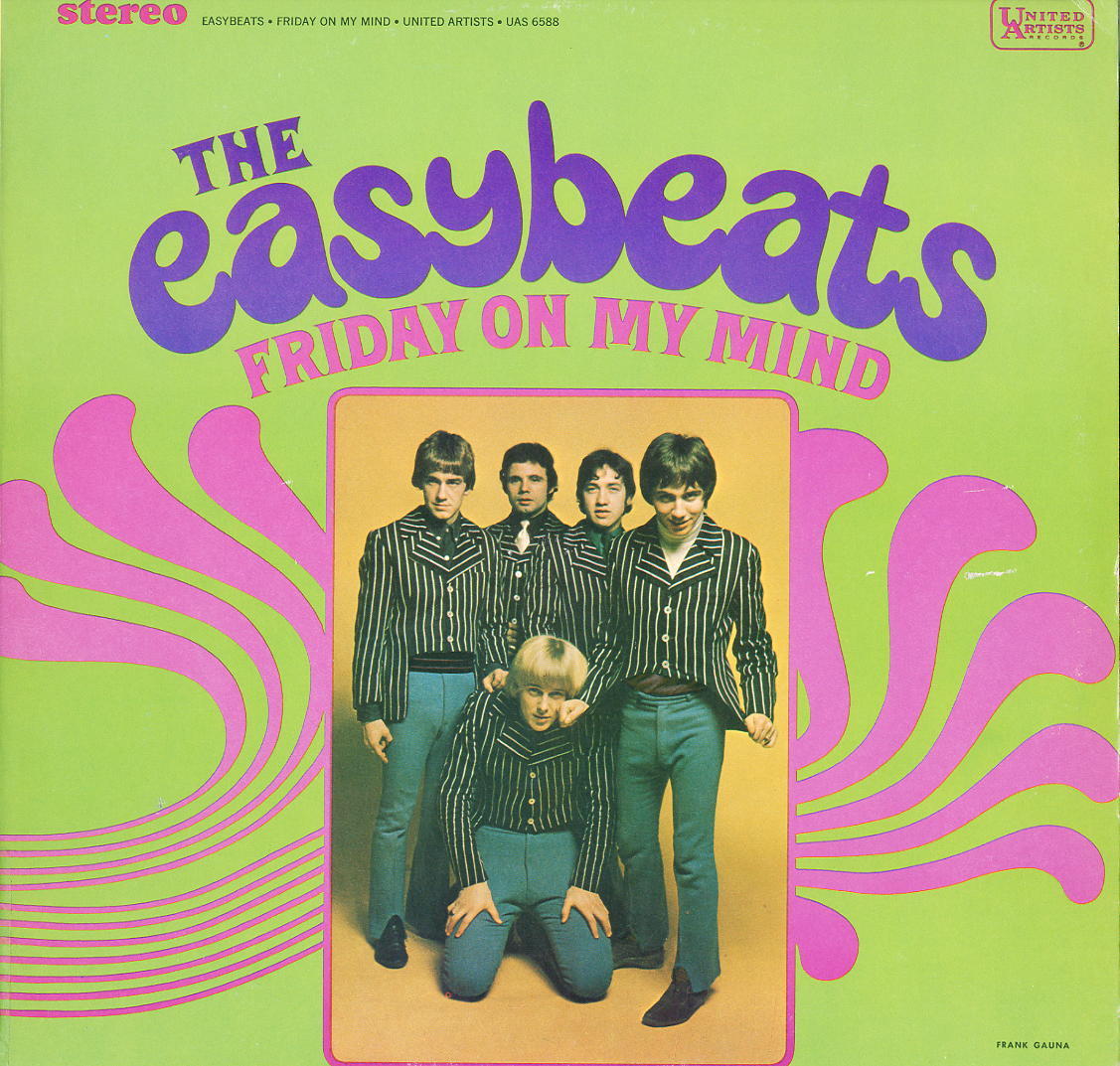 If you are among those that think the Easybeats, who scored a big hit in 1966, were among the British Invasion acts that enjoyed huge success in America in the mid-Sixties, you're not alone. Any list of popular British Invasion acts usually includes bands like the Beatles, Herman's Hermits, Dave Clark Five, Manfred Mann, the Rolling Stones, and Gerry and the Pacemakers. The Easybeats? It's a bit trickier. Though they formed in Sydney, Australia, two of their five members were from England and one was from Scotland.
They did record their biggest worldwide hit in London, so perhaps they qualify. But we're getting ahead of ourselves.
The Easybeats formed in 1964 with lead singer Stevie Wright and drummer Gordon Fleet (both from England), rhythm guitarist George Young (born in Scotland and the older brother of AC/DC's Malcolm Young and Angus Young), and lead guitarist Harry Vanda (born Johannes Hendrikus van den Berg on March 22, 1946) and bassist Dick Diamonde (both from the Netherlands).
By 1965, they had immediate success Down Under, with songs written by Wright and Young. Their breakthrough hit, "She's So Fine," reached #3 there, and in 1966 they earned their first #1 single, "Sorry."
With that early domestic success, the decision was made to relocate to London. For their new label, United Artists, they were paired with Shel Talmy who had a string of huge producer credits for the Kinks ("You Really Got Me") and The Who ("My Generation"), among others. By this time, Vanda had replaced Wright as co-songwriter with Young. (More on them later.) Together they wrote a song called "Friday on My Mind," about the anticipation of the start of the weekend–TGIF, anyone?–and presented it to Talmy.
Monday mornin' feels so bad
Ev'rybody seems to nag me
Comin' Tuesday I feel better
Even my old man looks good
Wed'sday just don't go
Thursday goes too slow
I've got Friday on my mind
They recorded it in September and on November, 17, 1966, it was released as a single. The toe-tapping song earned the Easybeats their second #1 in Australia, reached #6 in the U.K. and became their only U.S. hit, though it peaked at just #16 on the Hot 100.
Listen to the studio recording
Related: What were the biggest U.S. radio hits of 1966?
Despite its success and sales of over a million copies worldwide, it was ironically the beginning of the end for the band. Their drummer quit the next year and follow-up recordings failed to generate any interest outside of Australia.
So, a British Invasion hit? Sure!
Watch the Easybeats perform their classic rock hit "Friday on My Mind," our Classic Video
Vanda and Young? They went on to produce many AC/DC albums including Dirty Deeds Done Dirt Cheap, Powerage and Let There Be Rock. Lead singer Wright encountered drug problems and passed on December 27, 2015.
Related: Young died on October 22, 2017

Latest posts by Best Classic Bands Staff
(see all)