Just Another Band From East L.A., the title of both the 1978 traditional music album and 1993 compilation by Los Lobos, carries a highly compound irony more than four decades into the band's existence as one of the finest American rock music groups of all time. Yet it also expresses the inherent (and all too rare) modesty of a band who, as biographer Chris Morris points out, are as important to American rock music as groups like Creedence Clearwater Revival, The Band, The Grateful Dead and ZZ Top.
Few musical acts have been as well served by their chronicler as Lobos are with Dream In Blue by Morris, a veteran Los Angeles music journalist who has seen the Wolves perform and followed their music since their first gig before an Anglo audience opening for Public Image Ltd. in 1980 – a show at which they were gobbed and pummeled by all matter of objects by the punks in the crowd as they played traditional Mexican music. Their friends and family in the crowd were horrified. But the band was psyched by the experience. That's a sign of how devoted Los Lobos are to getting their music heard and overcoming any challenges that may entail.
Morris wisely starts his tome by describing the sort of magical Los Lobos shows where the setting, crowd and the band cast a spell – their annual Cinco de Mayo concerts at L.A.'s Greek Theatre. I've enjoyed a number of quite special Lobos performances among the at least dozen or so I've seen over the years, and one – soon after the release of their 1992 masterpiece, Kiko – where savvy Austin, TX Anglos and cool San Antonio Chicanos packed into the historic old Gruene Hall about halfway between our cities and became an instant congenial community united in sheer bliss by a mind-blowingly soulful and musical set.
That's the kind of adoration that Los Lobos and their music can inspire. Morris obviously loves the band; they even played his wedding reception in the early '80s. Yet that never gets in the way of his mission: "a critical history of Los Lobos' musical journey." He begs off calling it a biography, yet he manages to pack into a little over 150 pages all you need to know about the sounds of East L.A. that preceded the Wolves and their neighborhood culture, and the members' initial origins as rock, soul and blues fans who played in garage and cover bands. And then their discovery of their Mexican folk roots and norteno, Tejano and conjunto border styles to become the combo to call for any and all special occasions in the community. The group began shifting back to rock at the end of the 1970s to create a hybrid music that represents what America is both truly about now and even more so in the future. (Demographics indicate that the U.S. will become a majority Hispanic nation within the next two decades – try to build a wall against that, Donald Trump!)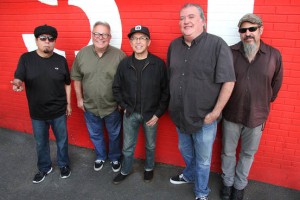 As Morris sets full-color context and then assesses each album with a keen ear for the quality of the group's work, he neither pulls punches nor engages in hyperbolic praise, simply acting as the fairest of critics within a highly credible journalistic approach. His taut prose makes for concise yet engaging storytelling that doesn't miss a single beat of the band's musical story. Yes, he only makes very brief passing mention of the 2000 kidnapping and murder of guitarist Cesar Rosas' wife by her half brother, which resulted in headlines in L.A. and nationally. But as the Lobos have always made the music and its culture what their career is all about, it's really no oversight, as their story is what they create and how they do so, and who the group's five members are as musical talents. (It's also an admirable nod of respect for the band and the notion of privacy in these sensationalist media times.)
By the final pages we know – as a song on and title of their first national album in 1984 asked – how the Wolves have survived: by staying true to themselves and their music, being unafraid to take chances (such as releasing an LP of Mexican folk music after enjoying a #1 single with "La Bamba" from the Richie Valens biopic of the same name), never falling prey to the allure and trappings of fame and rock star hubris, maintaining an almost working class pride in what they create alongside personal modesty, and maintaining a sense of community doubtless instilled by their East L.A. barrio origins and simply extending it to the larger world of popular music. It's nothing Morris says outright; rather it's implied between the lines and by the sum of the story. Musical acts interested in longevity and credibility would be well served by reading this book.
Dream In Blue may be short and quick read, but in its tight, fact-based richness, Morris gives Los Lobos the smart and insightful book this distinctive and distinguished musical act merits.
♦ ♦ ♦
Addenda: Dream In Blue is also something of an ameliorative for the University of Texas Press, which five years ago published the absolute worst music biography I've ever read about an important artist whose stylistic orientation both presaged and parallels Los Lobos: Texas Tornado: The Times and Music of Doug Sahm, by Jan Reid. Sloppily written, ridden with errors, lacking any perspective on much less an understanding of its subject, which it seems the author had little interest in or liking for, it was, simply put, an embarrassing amateurish mess of a book that read like it hadn't been edited, proofread or fact checked. It did a considerable disservice to the late Doug Sahm's music and memory, and is so irredeemably bad that it ought to be de-published and every remaining copy pulped.
But with longtime music journalists Peter Blackstock and David Menconi since installed as editors of the UT Press American Music Series – they are, respectively, daily newspaper critics in Austin, TX and Raleigh, NC; the former co-founded No Depression magazine – and with a gem like Dream In Blue now on the market, the publishing division of the largest public university in the nation has shown it can now be trusted to cover musical subjects with the professionalism one rightly expects from a legitimate academic press.
Update: Los Lobos have been nominated for the Rock and Roll Hall of Fame's Class of 2016. They're also on an extensive tour well into the new year. Tickets are available here.

Latest posts by Rob Patterson
(see all)