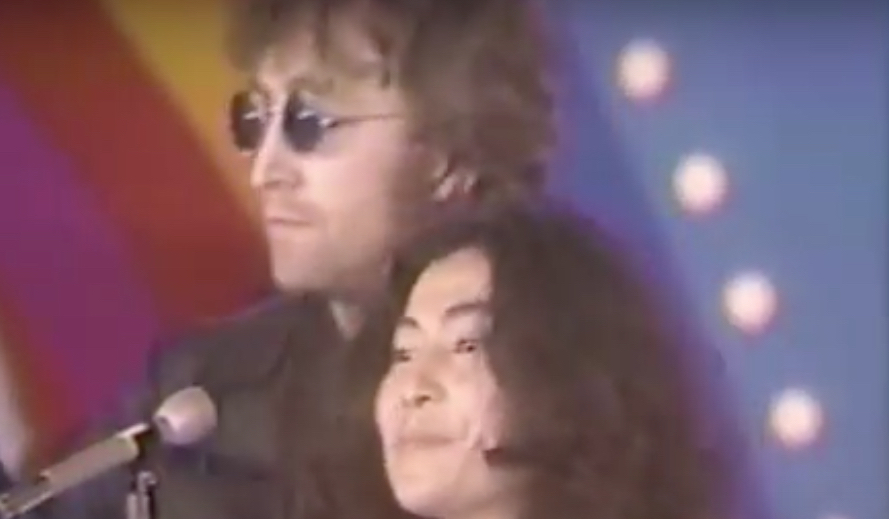 Worldwide TV appearances were a major platform for John Lennon and Yoko Ono's peace campaign and for their political messages. Now living in New York City in the early '70s, they commandeered The Mike Douglas Show (recorded in Philadelphia) for one week as co-hosts in January 1972. They brought along a variety of musical and radical guests, including Chuck Berry, activist Jerry Rubin and Bobby Seale of the Black Panthers.
Lennon and Ono were rumored to be part of a planned disruption of the National Republican Convention during Richard Nixon's reelection campaign, scheduled for August 21-23, with Yippie Party figures Rubin and Abbie Hoffman, but Lennon vehemently denied this on The Dick Cavett Show in May. Their association with political radicals had already led to problems for Lennon, with the government wanting to deport him based on prior marijuana possession charges in the U.K. In fact, John and Yoko had planned on touring with the Elephant's Memory band to support their controversial, politically themed album Sometime In New York City, but this was curtailed due to the FBI's investigations of Lennon and his fear of deportation.
Related: When John and Paul almost went on SNL
On Aug. 31, 1972, Lennon and Ono headlined the One to One concert at Madison Square Garden, at the behest of Geraldo Rivera. The show raised money for the developmentally challenged kids of Willowbrook Institution and took place just over a year after George Harrison had organized the first rock concert for a humanitarian cause, the Concert for Bangladesh, also held at the Garden.

On Sept. 4, just four days later, Lennon and Ono appeared on the Jerry Lewis annual Labor Day Muscular Dystrophy Telethon, broadcast from the Americana Hotel on 7th Avenue in New York City. Lewis introduced John and Yoko as, "…two of the most unusual people in all the world, and I don't mean just in the world of entertainment. They fit no patterns, meet no standards except the standard of excellence. Ladies and Gentlemen, John Lennon and Yoko."
With the backing of Elephant's Memory, they performed "Imagine" and Yoko's political song 'Now or Never," with the sadly prescient lyric, "Are we gonna keep shooting the ones that try to change?" Yoko introduced her song by saying, "John and I love this country very much and we're very happy that we're still here." They closed with a sing-along reggae version of 'Give Peace a Chance," at a time when not many Americans had heard of reggae music. Lennon explained, "This is how they do it in Jamaica!" Contrary to the intended response, it's very possible that the phones stopped ringing while John and Yoko were performing. Lennon praised Lewis as "a great comedian—I wish he never grew up!"
As they leave the stage, Lewis leads the excited crowd in a chant for an encore, "John, Yoko, John, Yoko!" but they'd already exited the building. Lewis realizes that they are not coming back, and says, "I would suspect that John Lennon is probably one of the wisest showmen I've ever met. He knows what he's doing. He did two things tonight. He, one, came here to help, the primary purpose of his visit. And, two, he meant to say something. I think he did both those things. He has split. Let's thank him very much."
Two months later, Nixon won the election. In April 1973 Lennon successfully appealed his deportation ruling. With Ono, he declared a new conceptual country called Nutopia with "No land, no boundaries, no passports, only people,' and 'No laws other than cosmic.'" It was essentially the virtual incarnation of their song "Imagine." In May, the Lennons moved from their Bank Street apartment in Greenwich Village to the Dakota on West 72nd Street by Central Park.
Here is our Classic Video–the John & Yoko telethon appearance
Lewis was born March 16, 1926. He died, at age 91, on August 20, 2017.
Related: Jerry Lewis mourned

Latest posts by Madeline Bocaro
(see all)