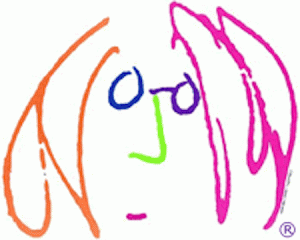 Let's all remember that when John Lennon was a rock'n'roll obsessed teenager he was also attending the Liverpool College of Art. And over the years since then his talents as a visual artist became obvious in his line drawings, sketches and cartoons. His Bag One lithographs are in the permanent collection of New York City's Museum of Modern Art and his drawings graced his three best-selling books: In His Own Write (1964), A Spaniard in the Works (1965) and Skywriting By Word of Mouth (1987).
The Artworks of John Lennon – an exhibition that has traveled worldwide – enables fans and collectors to own fine-art quality limited editions of his work. Each piece is signed by Yoko Ono Lennon and embossed with Lennon's signature and his red chop mark, and comes with a certificate of authenticity. The exhibition will visit seven North American cities next month:
New York, NY: AFA Gallery (10/1-31)
Cincinnati, OH: Roadshow Company (10/2-4)
Denver, CO: Fascination Street Gallery (10/9-11)
Sherman Oaks, CA: Pop Uo Gallery (10/9-11)
San Francisco, CA: San Francisco Art Exchange (10/9; 10/12-31; closed Sundays)
Raleigh, NC: The Mahler Fine Art Gallery (10/13-15)
Toronto, ON: Liss Gallery (10/10; 10/19; 10/20-24)
The works are also shown on an ongoing basis at the AFA Gallery of Las Vegas. Proceeds from sales in each market are donated to local community humanitarian charities.
Meanwhile, back in the city where Lennon found his true home, New York, the 35th Annual John Lennon Tribute will put tickets on sale for this year's show this coming Saturday, October 3rd at 1 PM. Artists slated to perform on December 4th at Symphony Space include Joan Osborne, Martin Sexton, Joseph Arthur, Bettye LaVette, Willie Nile, Chris Smither, Lucy Kaplansky, Richard Shindell, Toshi Reagon, Nicole Atkins, Jonatha Brooke and other. The show benefits Theatre Within, which presents it, as well as other organizations and charitable efforts.

Latest posts by Best Classic Bands Staff
(see all)