On Feb. 26, Led Zeppelin shared a black-and-white image on its social media pages, indicating that there would be an announcement on Tuesday, Feb. 27 at 10 a.m. Eastern. (The band is celebrating its 50th anniversary this year with a variety of releases.)
Turns out the band will release a limited edition 7-inch single, pressed on yellow vinyl, as part of Record Store Day, which this year falls on April 21. The release features two previously unheard mixes produced by Jimmy Page: the "Sunset Sound Mix" of "Rock And Roll" and the "Olympic Studios Mix" of "Friends."
Many fans expecting bigger news expressed disappointment on the band's Facebook post.
Lee S wrote: "Love Zep, but just getting tired of the reissues/remixes." Anthony P added: "I'll probably buy it, but I kind of was expecting more."
Taylor M: "Was expecting a little bigger news than that. Not a tour, but definitely bigger than that." From Joseph D: "Come on guys. Stop doing this to us."
Not all was negative. Stephen N wrote: "I'll take this. Always nice to hear Alt versions of great songs." Sean O added: "Cool but can we have a new album too?"
We'll give Paul J the final word: "When does the tour start?"
Watch a promotional clip for the single
The previously unreleased version of "Rock And Roll" provides an additional peek into the "Sunset Sound Mixes" of Led Zeppelin IV. Only two previous "Sunset Sound Mixes" have been released, the first being the version of "When The Levee Breaks" on the original album and the second the "Stairway To Heaven" mix that debuted on the 2014 deluxe edition. The previously unheard "Olympic Studios Mix" of "Friends" is a stripped-down version, without the orchestration of the final mix, offering a true fly-on-the-wall feel from the band's recording sessions for Led Zeppelin III at Headley Grange.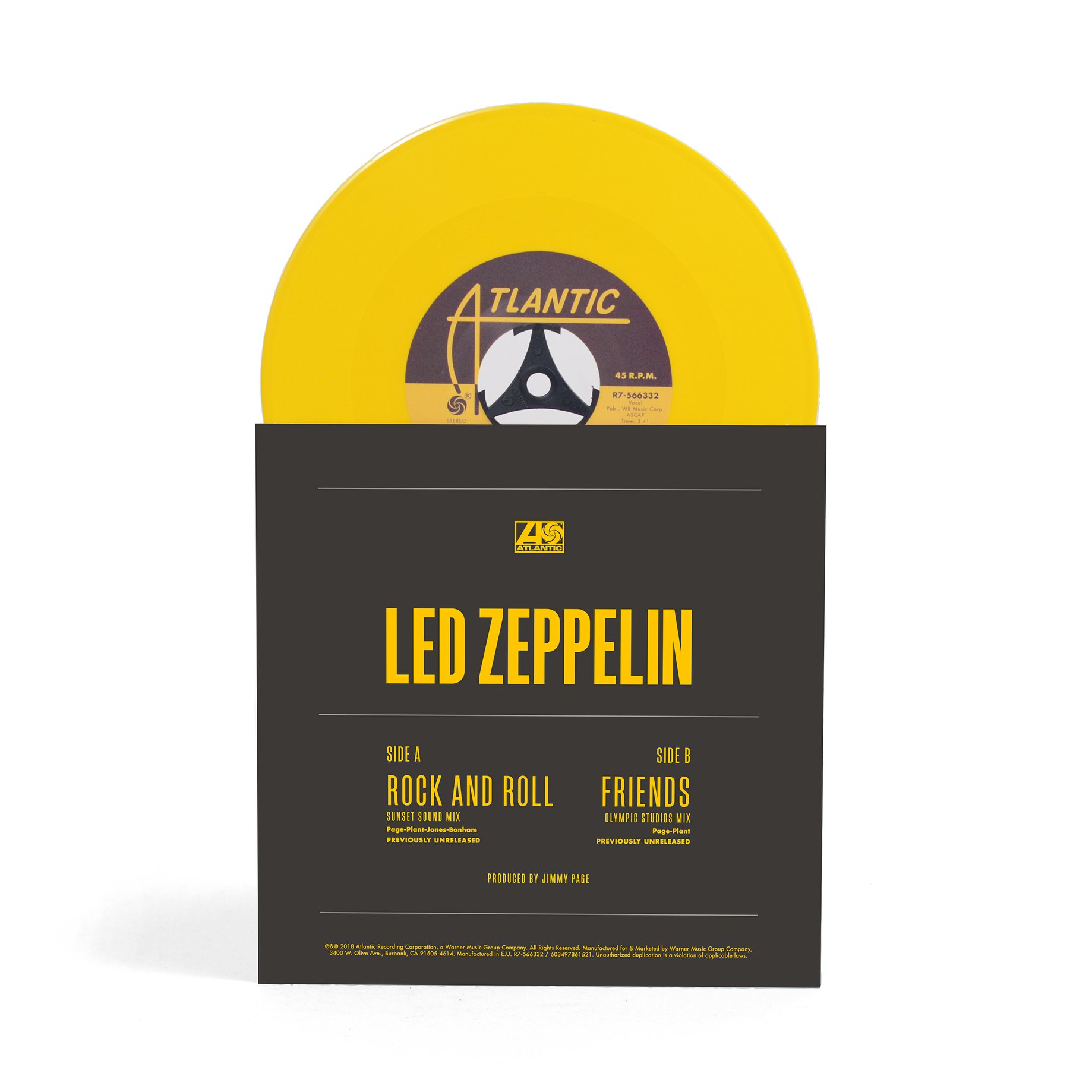 As with most RSD releases, the title will only be available at participating indie music retailers. For collectors, RSD is a national holiday; the 2018 edition is the event's 11th anniversary.
Related: Some of the 100s of other Record Store Day 2018 titles
As in previous years, quantities are limited, in some cases to as few as 1000 copies. These special titles cover virtually all genres and are released in a variety of formats.
There is no guarantee that your local shop will get a particular title. As RSD notes on its website: "It's always a good idea to be BFFs with your neighborhood record store and let them know what you might be looking for. They can't guarantee you will walk out with what you want, but it's a good place to start."
Related: Our inside story of Led Zeppelin's breakthrough with "Whole Lotta Love"
Led Zeppelin was inducted into the Rock & Roll Hall of Fame in 1995 and received a Grammy Lifetime Achievement Award in 2005.

Latest posts by Best Classic Bands Staff
(see all)