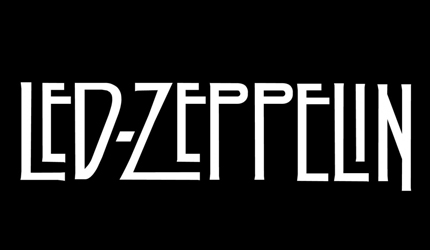 After releasing their first four albums in less than three years, Led Zeppelin took what seemed like forever to release their fifth. In fact, it was less than 17 months. But after the regularity of their previous releases, the gap this time seemed eternal.
For 1973's Houses of the Holy, the band and their management turned to the accomplished English design studio, Hipgnosis, for inspiration. Co-founder Aubrey Powell, inspired by Arthur C. Clarke's 1953 science fiction novel, Childhood's End, selected the remote area in Northern Ireland called Giant's Causeway, a natural series of rock and columns which attracts over one million visitors each year, for the location of a photo shoot.
Siblings Stefan Gates—just five at the time—and his slightly older sister, Samantha, were selected for what proved to be a treacherous assignment. The children were pictured on the cover as they ascended the rocky terrain. Both are unclothed.
There are laws in place that allow the use of photographs of underage, nude models in art, provided the images are not indecent, obscene or pornographic. (The Protection of Children Act is in place to ensure that children are not exploited.)
Houses of the Holy was released on March 28, 1973. The album, featuring such Led Zeppelin favorites as "Over the Hills and Far Away," "Dy'er Maker" and "The Song Remains the Same"—but not, ironically, the song "Houses of the Holy"—was another enormous success, reaching #1 in both the U.K. and U.S.
In 1974, its cover was nominated for a Grammy Award for Best Album Package, an acknowledgment of the creative artwork design.
On April 26, 2019, Michelle W, the administrator of the popular Led Zeppelin–Ultimate Fan Page group on Facebook wrote: "So…apparently Facebook has decided to remove my previous post this morning that included a link to a petition that someone started regarding being blocked/banned for posting anything that included the Houses of the Holy album cover.
"Facebook told me that my post violated their Community Standards resulting in it being removed. I have requested a review. Unfortunately, it doesn't look like they will allow any posting of that album.
"It appears that those who control what goes on Facebook allow the hate crimes, demeaning posts to women and sexually explicit pages yet continue to block/ban an iconic album cover."
Three days later, Michelle wrote: "Facebook continues to remove and ban posts related to Houses of the Holy. So just to test things, I reported Nirvana's album cover. You would think a baby boy's penis would go against their standards…but as you can see, it doesn't.
"I figured if they are going crazy removing all trace of the Houses of the Holy cover for nudity, why not Nirvana? It's interesting how one cover that depicts nudity is not against the standards, but a 46-year-old classic album does. What a double standard! I think I will post a video from Houses of the Holy in protest. LoL."
The next day, Michelle posted: "FINALLY! The joke's on me, apparently. I'm back from my 24-hour ban for posting 'The Ocean' YouTube video on my personal profile. (The Houses of the Holy cover was the thumbnail of the video, which resulted in the ban.) After trying unsuccessfully to appeal it, I had to wait out my ban. I have since scoured this page, over eight years of postings, and removed any trace of the big, bad evil Houses of the Holy album.
"Who would have thought that in 2019, an album cover could cause so much trouble on a social media site that allows much worse."
It took a while, but Facebook's "problem" with the album cover was finally resolved.
For more on the album cover shoot, under difficult weather conditions, we recommend this article.
Related: How Led Zeppelin broke through with "Whole Lotta Love"

Latest posts by Best Classic Bands Staff
(see all)