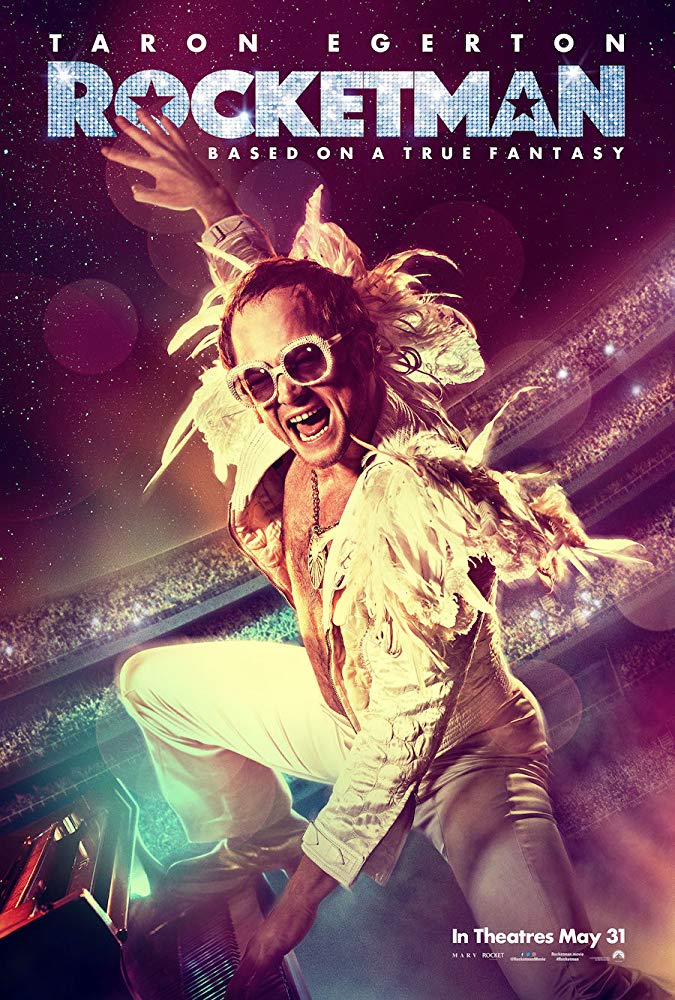 Longtime music industry writer, editor and executive Adam White authored the 2016 book Motown: The Sound of Young America (via Thames and Hudson), with Barney Ales, for years the influential label's #2 to its founder Berry Gordy.
White has since started a blog and he has allowed Best Classic Bands to publish this exclusive excerpt about how Elton John and his longtime manager, John Reid, met and began to work together:
The splashiest music movie of the summer opened in theaters across North America on May 31, 2019, fueled by a kaleidoscope of reviews from the Cannes Film Festival and from its theatrical–what better word, given the subject matter?–opening in the U.K. the previous week. Yes, it's Rocketman, the fantastical account of the rise, fall and rehab of singer/songwriter/superstar Elton John.
A primary character in the film once was, in real life, the Tamla Motown label manager at EMI Records in London, before he became intimately involved–in several senses of the word–with the extraordinary life and times of Reg Dwight, alias Elton John.
Ladies and gentlemen, meet John Reid.
During the summer of 1970, in EMI's modern, multi-story headquarters in leafy Manchester Square, London, Reid, born September 9, 1949, was a 20-year-old Scotsman from Paisley, was the newly appointed label manager for one of the British company's most important business partners, Motown Records.
"I had a corner office on the first floor of Manchester Square," Reid told me one dozen years ago, when interviewed for the liner notes of the 1970 edition of The Complete Motown Singles, "to go with the annual salary of £1,650. That was bloody good. I was three or four years younger than the other label managers, apart from David Croker, who had the office next to mine, running Harvest Records.
"The whole reason I left Scotland when I was 18 was because of Motown, really," said Reid. "I was at college, doing a marine engineering course, and Motown seemed to have exploded in Scotland and the Midlands slightly before anywhere else. It was mainly this passion for Motown that led me into the business."
Reid did not get the job, but when the successful applicant left for another EMI post in 1970, he tried again, and prevailed. It helped that, by then, Reid had the approval of EMI Records' managing director, Ken East, and Motown's European representative, John Marshall. "John was very good with people, very energetic," said Marshall. "He was very young, but you could see he was going places."
One of those places was San Francisco, where "Motown 10/70 Shanghai" was staged as the company's extravagant celebration of its tenth anniversary (during its eleventh year of business) that August, attended by its business partners from around the world. "I had become very friendly with [executive vice president] Barney Ales and his wife Mitzi," Reid remembered. "I'm from Scotland, and Barney said I could only come to the convention if I wore a kilt. It was an amazing event, very lavish."
Rocketman registers Reid's first encounter with Elton John as taking place in Los Angeles, where the singer made his now-legendary American concert debut at The Troubadour Club in August 1970. In fact, the two men were already acquainted. John was a familiar figure at EMI, known as a session musician and an avid record collector. He was also friendly with David Croker, in the Manchester Square office next to Reid's. "[Croker] came in one day and said, 'This is my friend Reg.' He was scrounging Motown American singles. I can't remember what I gave him." John returned the favor. "He said, 'I've made a record,' and gives me a white label of what then became the Elton John album."
The new movie seems unfair to Reid, with a cartoon characterization as calculating, even carnivorous. He was in California when Elton played that life-changing show at the Troubadour–but a few hundred miles north at the Motown convention. "I get this phone call one day: 'Oh, hi, it's Reg.'" Reid was puzzled: "Reg? Reg?" Came the reply, "Elton."
"He said, 'I'm in Los Angeles, I've just played the Troubadour and I've got all these great reviews, and I'm going up to San Francisco. Do you want to get together?' So I said, 'Sure.' I was there for the convention. He came up, we came back [to London], I carried on doing this job."
It was a job Reid loved. "Every Tuesday morning, all the label managers sat around in the boardroom, played their releases, and it was kind of a Juke Box Jury-style thing. They would vote for what records you could release, because there were only so many you could release every week. I would always get my records released…and then I had to go out and plug them. It was an amazing learning curve."
Among Motown's U.K. hits during Reid's tenure were songs from Stevie Wonder, Marvin Gaye, the Temptations and Martha Reeves & the Vandellas.
Plus, of course, the chart-topping "The Tears Of A Clown," lifted from Smokey Robinson and the Miracles' three-year-old Make It Happen album. "You could put out a record one week, it'd be in the charts the next," said Reid. "The speed, that was the excitement."
So was the steady flow of visits to Britain by Motown artists, aware more than ever of their transatlantic appeal. "It was their second home," remarked Reid. "It was easy for them to come here for two or three weeks, promote the record, do some gigs, make some money."
Once, Reid made his way to London's Heathrow Airport to meet Stevie Wonder, who was touching down for a series of U.K. concerts in early 1971. The car borrowed for the trip belonged to John; he wanted to come along. "We get to the airport, out comes Stevie, I say 'hello' and introduce him to Elton. Stevie immediately says, 'Are you the Elton John who has [sings] It's a little bit funny…?'"
[In 1985, the pair were among those who performed on an enormous hit…]
Related: The author's account of Stevie Wonder's opening slot on the Stones' 1972 tour
Reid's relationship with the new star delivered more. "If you think it strange that I am writing liner notes for the Supremes album," mused John on the back of Touch, "then all I can say is I am probably their original British fan." The Supremes' LP with those words (and more) made its Billboard chart debut while the Briton's own 11-17-70 was in the Top 20.
Soon enough, Elton's rapid rise–particularly in America–required Reid to extend his personal relationship with the star into a parallel, professional role. He joined Dick James Music, where Elton John was signed for recording, publishing and management. "I went to work for Dick James on the understanding that I was the day-to-day manager, because I didn't know anything about management. I was young, so I went to see Dick…and said 'Tell me what the job is.' I was being pressured by Elton, pressured by his mother."
Reid quit the Tamla Motown post in mid-1971. "I didn't want to leave, I was having such an amazing time. I was friendly with Sir Joseph Lockwood and all the senior EMI management, and I was terrified of telling them I was leaving. In fact, I was more terrified of telling Barney." For a moment, Reid reversed his decision. "Then Elton's mother talked me back into it." At 22 years old, the former marine propulsion student finally opted for rocket engineering.
Rocketman offers music and drama, distortion and showmanship–not to mention the resequencing of history–but it's highly entertaining. In contrast to the color and excess of the narrative, however, Reid's relationship with Elton is reduced to black and white. He managed the superstar for more than 25 years, but eventually it all ended in separation and litigation. Rocketman, executive-produced by Elton John, was never going to tell that story.
Reid and I talked in London years ago. "When we were recording one of Elton's albums, [producer] Chris Thomas said, 'What we need here is the harmonica played kind of like Stevie Wonder.' And I said, 'Well, I'll get Stevie Wonder.'" And he did.
Read White's complete account — Rocket Engineering, Motown Propulsion — here.

Latest posts by Best Classic Bands Staff
(see all)