To Dead Heads—particularly those who follow the inner workings of the Grateful Dead—John Perry Barlow will always be known first and foremost as the lyricist of choice for Bob Weir, the band's rhythm guitarist and co-lead vocalist. Barlow, who died today (Feb. 7) at age 70, was responsible for the words to such enduring Dead classics as "Cassidy," "The Music Never Stopped," "Looks Like Rain," "Black Throated Wind," "Mexicali Blues," "Hell in a Bucket" and many other songs sung by Weir.
The cause and place of death have not yet been disclosed. A report notes that he died in his sleep.
Barlow's life was multi-faceted, extending well beyond the world of rock music. He was a founding member of the Electronic Frontier Foundation and Freedom of the Press Foundation, serving in those roles as a pioneer in the development of the Internet as it exists today. He was also a Wyoming cattle rancher, writer, political activist and more.
Born Oct. 3, 1947, in Sublette County, Wyo., John Perry Barlow was raised a Mormon. At age 15, while attending the Fountain Valley School in Colorado, he met Weir, launching a lifelong personal and professional relationship. Barlow became introduced to LSD under the tutelage of Timothy Leary and, after graduating college in Connecticut, was admitted to Harvard Law School but decided instead to travel the world and become a writer.
Watch the Grateful Dead perform "The Music Never Stopped" in 1994
In the early '70s, Barlow returned to Wyoming, where he became a rancher even while co-writing songs for the Grateful Dead with Weir. His many contributions to the band's canon found their way to live concerts and recordings until the band's demise in 1995, upon the death of Jerry Garcia–many are still performed today by Dead and Company, the current incarnation. In addition to those songs previously named, Barlow's credit is attached to such Dead staples as "Let it Grow," "Lazy Lightning/Supplication," "I Need a Miracle," "Hell in a Bucket," "Estimated Prophet," "Throwing Stones," "Lost Sailor/Saint of Circumstance" and "My Brother Esau." (Jerry Garcia chose to work with lyricist Robert Hunter.)
Related: Our review of the Dead's Long Strange Trip documentary
In 1986, Barlow joined an early online community called The Well, which led him to founding the Electronic Frontier Foundationn, a nonprofit digital rights group, which issued a statement upon his death: "It is no exaggeration to say that major parts of the Internet we all know and love today exist and thrive because of Barlow's vision and leadership. He always saw the Internet as a fundamental place of freedom, where voices long silenced can find an audience and people can connect with others regardless of physical distance."
Barlow was published in the New York Times, Wired and other publications. He suffered a heart attack in 2015. A benefit concert was held, featuring Weir, Sean Lennon, Lukas Nelson, Jerry Harrison, Les Claypool and others.
Bob Weir tweeted about Barlow's death…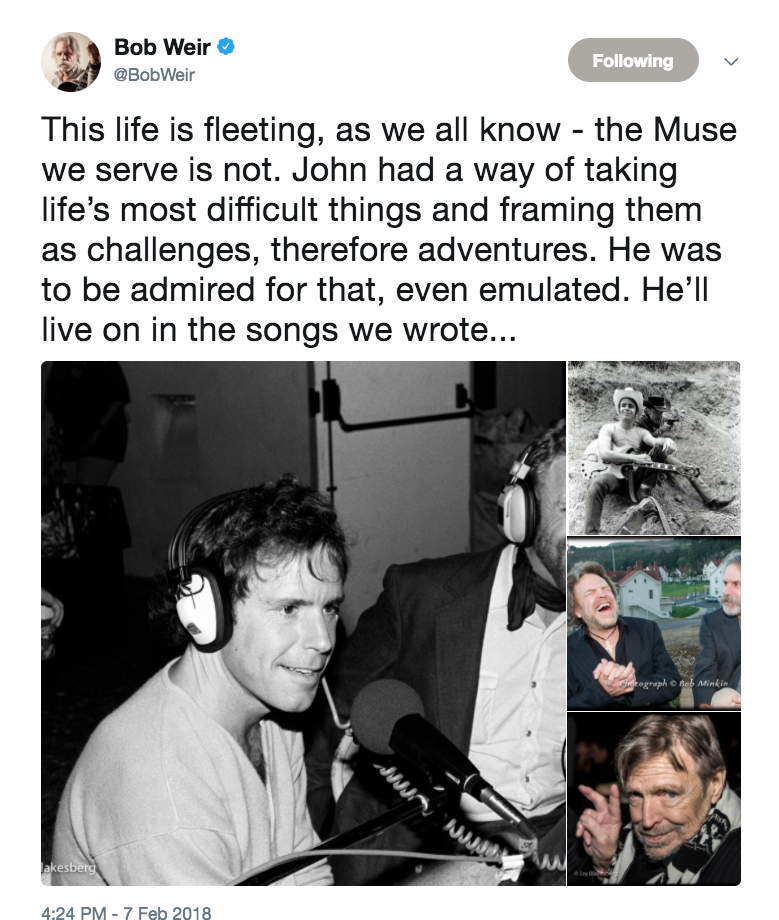 Watch the Grateful Dead perform "Cassidy" in 1980

Latest posts by Jeff Tamarkin
(see all)