Joe Walsh's 'But Seriously, Folks': Behind the Scenes
by Mark Brown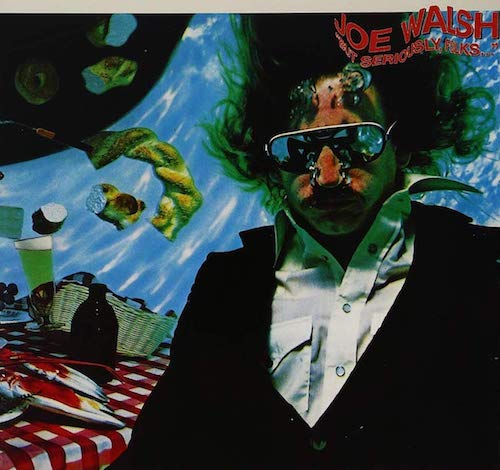 His sound is so unique and recognizable that when you hear the name Joe Walsh, one word is the first to come to mind: Guitarist.
Walsh, however, is a superb singer, showman and songwriter. Few examples of these skills are quite as obvious as But Seriously, Folks…  It's a tour-de-force, released on May 16, 1978. It featured his highest-charting solo single in the perfect "Life's Been Good." That song contains one of the best lines in music: "I can't complain, but sometimes I still do."
Don't let radio (satellite or terrestrial) define the album by that one song. But Seriously, Folks… is 35 minutes of flawless classic rock (longer if you have it on CD, where some silence and "A Flock of Wah-Wahs" was added at the end).
It came at a crossroads in music history. The Eagles had completed Hotel California after long, arduous sessions and had crafted a masterpiece. On this Walsh solo album, he had to juggle studio sessions with live dates for Hotel California. All of Walsh's Eagles bandmates appear on the album, as did Barnstorm alum [drummer] Joe Vitale. The eight succinct songs on But Seriously, Folks…—and his side gig doing "In the City" for the soundtrack of The Warriors—were a truly creative peak for Walsh.
Maybe too creative; months later, the Eagles went in to record The Long Run without a single complete song, actually rerecording "In the City" due to the dearth of new material (and the fact that it's a great song).
Producer Bill Szymczyk, who did all the latter-day, best-selling Eagles albums after producing Walsh's James Gang albums years earlier, agrees that But Seriously, Folks… is Walsh's best work outside the Eagles. When recording the album, he had just won Album of the Year at the Grammys and was on his own career high.
Best Classic Bands: Where were you and Joe in your lives when this album happened after Hotel California?
Bill Szymczyk: In November of '76 I'd opened Bayshore, my studio in Coconut Grove [Florida]. This was one of the first albums done there. The rehearsals we did on the boat. Originally, we were going to do them at my cabin in [the mountains of] North Carolina. But it was January and there was a foot and a half of snow. Joe called me and said, "We gotta do something else. We're not going there." So I said, "How about a boat?" and he said, "Let's do it."
So we rented a 70-foot boat called The Endless Seas and on January 23, 1977, we loaded up a four-track and a set of drums, a couple of guitars, a couple of small consoles. We sailed down to the Florida Keys for a week or 10 days. The idea was basically just to rehearse. Joe got Vitale from Barnstorm. He had recruited [bassist] Willie Weeks, the first time I'd worked with him. I recruited Jay Ferguson for keys, so everybody was getting to know each other.
The song "Theme from Boat Weirdos" was the only song to be released from those rehearsals, correct?
That's the only track actually done on the boat. In Miami we did a couple of overdubs, but that was it.
So is there a "rehearsal" version of the whole album in the vaults?
Oh yeah. It's all on four-track. Amazingly enough, Joe had the songs together. I think he had pretty much all of them. "At the Station" was a Vitale song; he brought that in. We all did "Theme from Boat Weirdos." "Over and Over," "Second Hand Store" and "Indian Summer," [Walsh] had those. As far as "Life's Been Good" he had the beginning and the ending. The middle section we did months later.
Watch Walsh perform "Over and Over" live
This album lists both you and Walsh as producers. He had produced before. What did he rely on you for?
Engineering, for one thing. And to offer my pristine guidance, if you will (laughs). At this point in our relationship, Walsh and I might as well have been brothers. We're in this together. He said, "I'm a producer now." I said, "Yeah." So I did what I normally do and he's the co-producer. (laughs). I'm not gonna argue.
After coming out of the Hotel California sessions, how was the atmosphere in the studio?
Both of us referred to it as "Recess." It was recess from the Eagles. We could go out and play. Coming off of Hotel California, this was just big fun. This was dessert. It wasn't drudgery, it wasn't work, it wasn't doing things over and over and over and over again. It was, "That sounds good! Let's go with it!" The way it should be. And everybody got along incredibly well. The camaraderie was over the top. So much fun.
Related: The rise of Joe Walsh in the '70s
Yet you brought in the rest of the Eagles as guest musicians. How did that work?
They'd come in, sing the background parts. We already had the parts, the song is done, there's nothing to argue about. Here's the part, do the song, thank you very—next!
"Life's Been Good" has three separate riffs. There's the opening riff, there's the descending acoustic guitar, then there's the slightly reggae music during the verses. Tell me about the evolution.
Joe didn't have the lyrics to this. Most of the others were pretty much done. He had the intro, and the verse/chorus. When we recorded it, he had some idea what he was going to do. When we did the boat thing, we went right off the boat smack into the studio the next day, so everyone is fresh. I had them in there for 10 days, tops, and we cut all the tracks. But "Life's Been Good," we just did the first part and the last part; the whole synthesizer part came up much, much later. The reason that was is the Hotel California tour was about to get underway again. Joe just had time to do the tracks. It wasn't until three or four months later that Vitale and Walsh came down to the studio and they did the whole middle part—the synthesizer, the piano and so on and so forth. At that point Walsh pretty much had his lyrics done."
You'd think that would be the first thing you'd work on.
I'll tell you a really interesting story about "Life's Been Good." At the end it was just Walsh, Vitale and myself. Joe was hemming and hawing about, "I don't know if I want this on the album. People aren't going to take it the right way." I had rearranged some of the lines for him and changed the melody line. His melody was really down low. (Sings in a monotone: "Life's been good to me so far"). I said, "No, no, it's got to be exuberant!
I changed that, changed a few other things. After we were all done with it he was still hemming and hawing about putting it on the record. Vitale and I are going, "No, no, no, you have got to put this out." People will understand; it'll be perceived as what it is, which is a very funny, humorous, upbeat track. He says, "Do you want me to give you writing credit on it?" And I did the dumbest thing I've ever done. I said, "I'm only doing my job as a producer to get you where you need to go."
Related: The Eagles live, reviewed
Years later Vitale and I were talking about it and I said, "Do you remember when Joe offered me…" and before I could even get it done Vitale says, "Idiot!" (laughs). At the time you think it's just gonna be an album cut…this won't be a single because it's too silly and whatever. Well, yeah, of course. Little did I know it would be a big single for Joe and it was on the Eagles Live album. It had a life of its own. And dumb-ass me left the writing credit in the can. Idiot! Every time Vitale and me talk about that song, he says, "You fucking idiot."
Related: Our interview with master musician Joe Vitale
What other songs stand out?
I love "Over and Over." I thought that was one of the most incredible things we ever did.
I love "Indian Summer" as well. What a great song and great vocals.
Oh yeah. He was singing pretty good. He'd been in the Eagles for three years. That'll get your ass in gear for singing, you know what I mean? [Don] Henley, [Glenn] Frey and at that point, Randy Meisner! Your harmony vocals are gonna be spot on. His singing got so much better between the time he joined the Eagles and the time we did But Seriously, Folks…
It's a nice, succinct album.
Yeah, really, 35 minutes.
How many days or weeks in the studio did it take to get those 35 minutes?
Not very many. At most, two weeks for tracks, and maybe two to three weeks for overdubs and a week to mix. He was back out on tour with the Eagles so he had to come in, get his stuff done, then go back out.
If you're a new Best Classic Bands reader, we'd be grateful if you would Like our Facebook page and/or bookmark our Home page.
The CD has the bonus hidden track "A Flock of Wah-Wahs," just a bunch of weird vocal sounds. What is that?
It was recorded during an Eagles session. One day during Hotel California it was just Felder, Walsh and me. Felder had a laugh—someone would fuck up and he'd go, "Wah, wah, wah, wah, wah." That was his laugh. We decided that sounded like some kind of a bird. So, we're sitting here in the studio, Walsh, Felder and me, with nothing to do. So, I said, "Let's make a flock of wah-wahs." So, with 24 tracks, just the three of us would make them, some at various speeds, some higher, some lower so they'd all sound different. So we did 24 different birds. Then I mixed it and it became "A Flock of Wah-Wahs."
And another song credit you gave away.
Well, I don't think it was ever really a song… (laughs).
So Joe does "In the City" for The Warriors soundtrack, that they have to take back for The Long Run. He's got "All Night Long" in a formative state for the Urban Cowboy soundtrack a few years later. He's got "Life's Been Good" and all these other great songs. And a year later you were in the studio with the Eagles, desperate for songs for The Long Run. Did someone say, "Hey, we should have saved those songs!"?
No. But Seriously Folks… had already been out. Joe went back out [on tour] with the Eagles. Writing, for him, is tough. When you're busy and out playing gigs, when we got back in the studio for The Long Run… nobody had anything. It was just time to start again.
Watch perform "In the City" live
Were there any leftovers besides the rehearsal tapes?
No. Everything we did, we used. Everything written and recorded was used. "Inner Tube" [existed because] we needed a little more something here. It was written in the studio for just a little interlude. The reason it was "Inner Tube" is that while we were down in the Keys, we told Vitale…um, we were pretty lit sometimes. We had a lot of pot and it was a good time. We told Vitale that you could catch fish if you had a really bright flashlight. Fish would come up if you would shine it at night. So Vitale was out on the boat with a flashlight and a baseball bat, trying to catch fish. He'd yell, "Hey, FISH!" That became the battle cry for the whole album. "Hey, FISH!" On Vitale's solo album a little later there was some "Hey, FISH!" stuff. I've got Polaroid pictures of him in this rain slicker with his flashlight and either a baseball bat or a tennis racket. He was gonna go club him some fish.
"Inner Tube" was a take-off on the word "Interlude"?
Yeah, of course. There's a little interlude there. Let's call it "Inner Tube." And "Theme from Boat Weirdos" was the first of a series. In Vitale's solo album we had "Theme from Cabin Weirdos," recorded at my house in Carolina when it was just a three-room cabin. And then later on when we did a [Walsh] album called You Bought It, You Name It, we did it on the island of Catalina and did "Theme from Island Weirdos."
Your overall impression looking back?
It was a joy to make. It didn't take very long. To this day I still think it's the peak of his solo work. That's about it.

Latest posts by Mark Brown
(see all)