Jim Gordon: From A-List Drummer to Convicted Killer
by Jeff Tamarkin
Jim Gordon has played drums on hundreds of hit records, with artists ranging from the Beach Boys to Tom Petty, George Harrison to Hall & Oates to Linda Ronstadt. But you wouldn't find any gold records hanging in his longtime place of residence: For more than three decades, Gordon was locked up, for the crime of fatally stabbing his own mother. His story is one of the great tragedies of the rock world.
It happened on June 3, 1983. Gordon attacked his mother, Osa Marie Gordon, first with a hammer before grabbing the butcher knife. He later claimed that voices in his head told him to kill her. Sentenced to 16 years to life in prison, he has repeatedly been denied parole; at one hearing he reportedly refused to admit that his mother was even dead. Diagnosed with schizophrenia after his conviction, he remained, according to prison authorities, a threat. For years, he spent his days and nights in the California Medical Facility in Vacaville, Calif.
Listen to Jim Gordon play drums on Nilsson's "Jump Into the Fire"
It didn't start out that way for Jim Gordon, of course. Born on July 14, 1945, and raised in the San Fernando Valley in Los Angeles, Gordon was awarded a music scholarship at age 17 and began his professional drumming career backing the Everly Brothers. His credits quickly mounted: the Beach Boys' Pet Sounds, The Notorious Byrd Brothers, Glen Campbell's Wichita Lineman, Van Dyke Parks' Song Cycle, John Lennon's Imagine, CSN's debut and recordings by Harry Nilsson, Randy Newman, B.B. King, Carly Simon, Alice Cooper, Traffic, the Monkees, Barbra Streisand, Jackson Browne, Merle Haggard, on and on and on.
You can hear him on Ike and Tina Turner's "River Deep, Mountain High," Nancy Sinatra's "These Boots Are Made for Walkin'," Nilsson's "Jump Into the Fire" (that drum solo!), Steely Dan's "Rikki Don't Lose That Number," Gordon Lightfoot's "Sundown" and Mason Williams' "Classical Gas." He was, by any measure, a first-call drummer. Check out his Wikipedia page for a more thorough list—it's fairly amazing.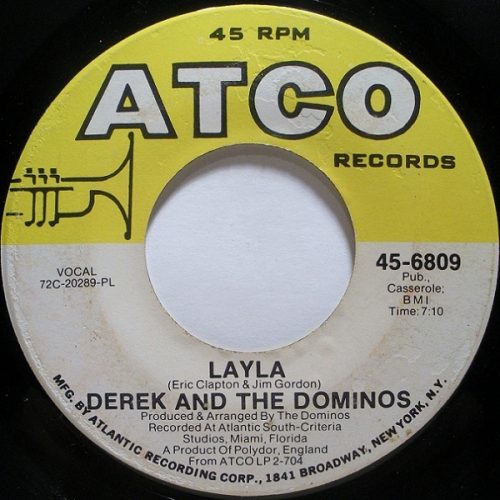 His greatest fame came via his involvement with Eric Clapton, who hired Gordon as a member of Derek and the Dominos, the supergroup put together by the guitar great in 1970, basically purloining the musicians who'd been working with soul-rockers Delaney and Bonnie. Gordon can be heard on the Dominos' mega-popular album Layla and Other Assorted Love Songs and performed with the band in concert during its brief time together. He is credited as the co-author (with Clapton) of the classic title track "Layla" and created the song's familiar piano coda. (The group's members also appear on George Harrison's All Things Must Pass, also from 1970.)
That same busy year of 1970, Gordon toured with Joe Cocker's heralded Mad Dogs & Englishmen troupe and played on Dave Mason's Alone Together album and much more. But it didn't take long for things to unravel for him once that decade kicked in; when he wasn't in the studio or onstage, Gordon's demons got the better of him. While on tour with Cocker, Gordon allegedly beat his then-girlfriend, singer Rita Coolidge, in a hotel.
Watch Gordon and a cast of thousands on the Mad Dogs & Englishmen tour
Although Gordon continued to find work as the '70s rolled on, with Johnny Rivers, Frank Zappa, Chris Hillman (Gordon was a charter member of the Souther-Hillman-Furay supergroup) and others, his erratic behavior was becoming well known among music business regulars. Misdiagnosed by his doctors, who treated him for alcoholism and missed the schizophrenia altogether, Gordon became increasingly violent as his mental illness took hold of him. By the middle of the decade, it had begun to affect his playing and he lost work.
Related: Our feature on Bobby Whitlock of Derek and the Dominos
Prior to his murder of his mother, Gordon reportedly heard her voice in his head, and on that horrible 1983 day he finally let the voices take him to that very dark place. His lawyers tried an insanity defense but the court wouldn't allow it. He was convicted of murder and sentenced in July 1984. As recently as 2018, still diagnosed with schizophrenia, Gordon was denied parole again. He died of natural causes on March 13, 2023, at age 77.
Whatever happened to the man, his contribution to rock music will forever be cherished.
Watch Gordon perform with Derek and the Dominos

Latest posts by Jeff Tamarkin
(see all)