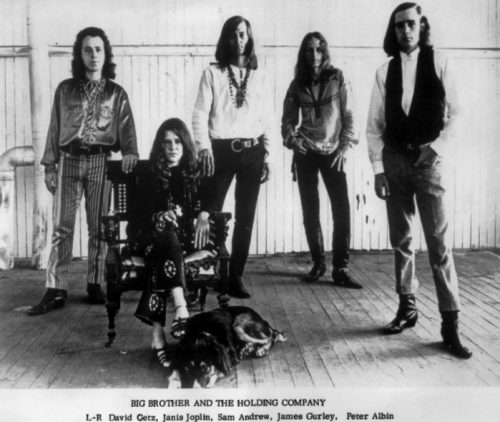 The Texas-born Janis Joplin first appeared with the band that launched her to fame on this day at San Francisco's Avalon Ballroom, quickly gaining attention on the city's burgeoning music scene for her powerful and gravelly blues-belter vocals and flamboyant sartorial style.
In addition to Joplin, the group included the twin guitars of James Gurley and Sam Andrew, bassist Peter Albin and drummer Dave Getz. Janis and the band were not, of course, operating in a vacuum. Beginning in 1965, San Francisco had become a magnet for youths from all over the country looking for an alternative lifestyle, one allowing for more freedoms and generating more excitement than they found at home. Part of the lure was the city's newly hyperactive rock scene. Beside Big Brother, some of the bands starting to make waves were Jefferson Airplane, the Grateful Dead, the Steve Miller Blues Band, Quicksilver Messenger Service and Country Joe and the Fish.
Janis had previously performed as a folk artist, accompanying herself on autoharp, in her home state and in Bay Area clubs during which she also recorded songs with future Jefferson Airplane guitarist Jorma Kaukonen.
Related: Janis and Jorma's 1964 'Typewriter Tape'
Later in '66, Big Brother recorded their debut, self-titled album, released the following year on the independent Mainstream Records label. The album contained one of her signature songs, "Down On Me," but made a minimal impact.
Joplin's forte was the stage, and after Columbia Records head Clive Davis heard her and the band at the Monterey Pop Festival in June 1967 he signed them to the label.
Related: Monterey Pop Festival: 10 Killer Performances
They released a second album, the semi-live Cheap Thrills, in August of the next year. Joplin left the group to pursue a solo career at the end of '68, and died on October 4, 1970. In a little over four years as a performing and recording artist, Joplin became a rock music icon.
Watch a live performance of "Ball and Chain" from 1968

Latest posts by Best Classic Bands Staff
(see all)