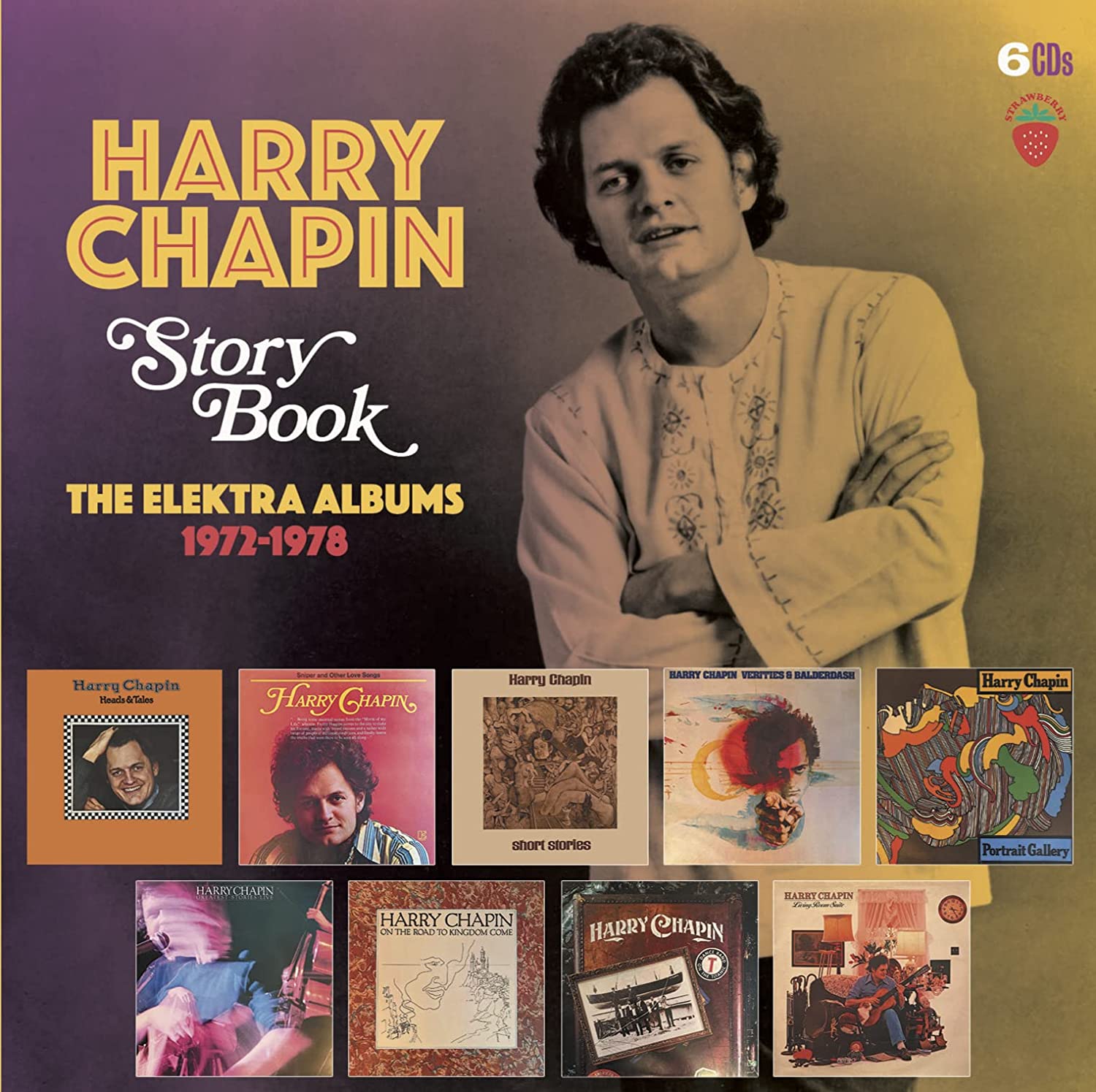 Harry Chapin's 1970s studio and live recordings for the Elektra label are being released as a 6-CD collection, Harry Chapin: Story Book: The Elektra Albums 1972-1978. The box set arrives March 25, 2022 in the U.K. and April 2 in the U.S. via Cherry Red Records' Strawberry imprint.
The set spans the late singer-songwriter's output for the label beginning with 1972's Heads & Tails and '73's Short Stories, both certified Gold in the U.S., through 1974's Verities & Balderdash and 1976's Greatest Stories Live, both of which achieved double Platinum sales.
That era includes Chapin's #1 single, "Cat's in the Cradle," as well as such favorites as "Taxi" and "W.O.L.D." The announcement notes that the recordings have been remastered.
Related: Chapin's inspiration for "Taxi"
The collection features color reproductions of album sleeves, picture sleeve singles, ephemera, trade ads and promotional photographs. It includes a 4,000-word essay, placing Chapin's career in context by Record Collector contributor, Charles Donovan.
Chapin, born in New York on Dec. 7, 1942, was a pioneer of the elaborate story-song, a style whose roots lay in folk and country music. He explored the very limits of the genre, with songs often breaching the ten-minute mark. After working in documentary film-making, Chapin signed with Elektra just before turning 30. He earned immediate success with his first single, "Taxi."
As he grew in popularity, he began using his enlarged platform to campaign for an end to world hunger, founding several charities and increasingly spurning payment for his performances so that the proceeds could go towards his favored causes.
Chapin died tragically in a car accident on July 16, 1981. He was just 38 years old.
The track listing is below the links.
Disc One
Heads & Tails
1 Could You Put Your Light On, Please
2 Greyhound
3 Everybody's Lonely
4 Sometime, Somewhere Wife
5 Empty
6 Taxi
7 Any Old Kind Of Day
8 Dogtown
9 Same Sad Singer
Sniper And Other Love Songs
10 Sunday Morning Sunshine
11 Sniper
12 And The Baby Never Cries
13 Burning Herself
14 Barefoot Boy
15 Better Place To Be
Disc Two
1 Circle
2 Woman Child
3 Winter Song
Short Stories
4 Short Stories
5 WOLD
6 Song For Myself
7 Song Man
8 Changes
9 They Call Her Easy
10 Mr Tanner
11 Mail Order Annie
12 There's A Lot Of Lonely People Tonight
13 Old College Avenue
Verities And Balderdash
14 Cat's In The Cradle
15 I Wanna Learn A love Song
16 Shooting Star
17 30,000 Pounds Of Bananas
18 She Sings Songs Without Words
Disc Three
1 What Made America Famous?
2 Vacancy
3 Halfway To Heaven
4 Six String Orchestra
Portrait Gallery
5 Dreams Go By
6 Tangled Up Puppet
7 Star Tripper
8 Babysitter
9 Someone Keeps Calling My Name
10 The Rock
11 Sandy
12 Dirt Gets Under The Fingernails
13 Bummer
14 Stop Singing These Sad Songs
Greatest Stories Live
15 Dreams Go By
16 WOLD
Disc Four
1 Saturday Morning
2 I Wanna Learn A Love Song
3 Mr Tanner
4 A Better Place To Be 5 Let Time Go Lightly
6 Cat's In The Cradle
7 Taxi
8 Circle
9 30,000 Pounds Of Bananas
10 She Is Always Seventeen
11 Love Is Just Another Word
12 The Shortest Story
On The Road To Kingdom Come
13 On The Road To Kingdom Come
14 The Parade's Still Passing By
Disc Five
1 The Mayor Of Candor Lied
2 Laugh Man
3 Corey's Coming
4 If My Mary Were Here
5 Fall In Love With Him
6 Caroline
7 Roll Down The River
Dance Band On The Titanic
8 Dance Band On The Titanic
9 Why Should People Stay The Same
10 My Old Lady
11 We Grew Up A Little Bit
12 Bluesman
13 Country Dreams
14 I Do It For You, Jane
15 I Wonder What Happened To Him
Disc Six
1 Paint A Picture Of Yourself (Michael)
2 Mismatch
3 Mercenaries
4 Manhood
5 One Light In A Dark Alley (An Imitation Spiritual)
6 There Was Only One Choice
Living Room Suite
7 Dancin' Boy
8 If You Want To Feel
9 Poor Damned Fool
10 I Wonder What Would Happen To This World
11 Jenny
12 It Seems You Only Love Me When It Rains
13 Why Do Little Girls
14 Flowers Are Red
15 Somebody Said

Latest posts by Best Classic Bands Staff
(see all)