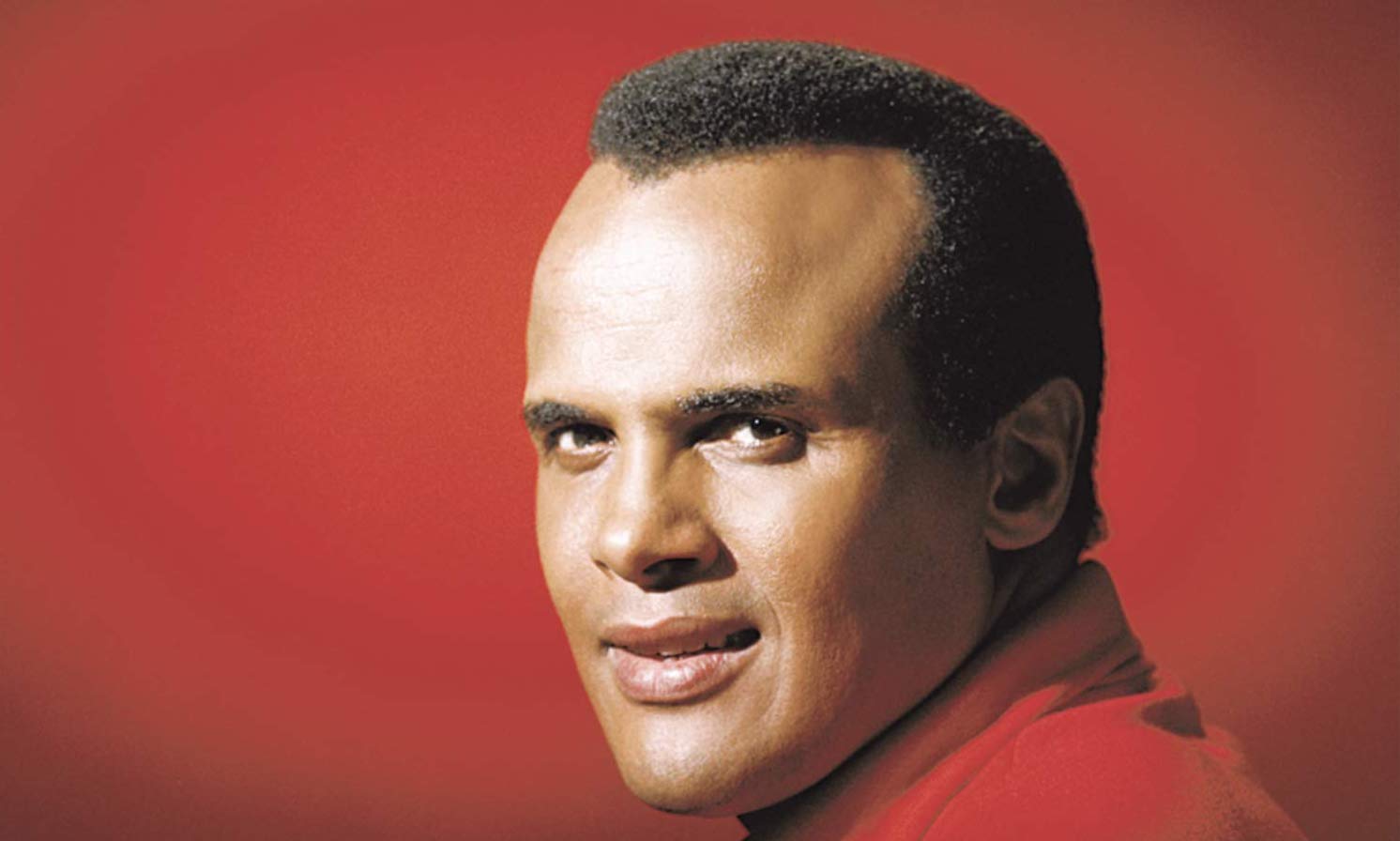 Harry Belafonte, the singer, actor and humanitarian, died today (April 25, 2023). His publicist told The New York Times that his death, at age 96, at his New York City apartment, was due to congestive heart failure. Belafonte became especially vigorous in the fight against apartheid and was instrumental in organizing the vastly successful 1985 all-star recording, "We Are the World," which raised money for famine relief in Ethiopia. Quincy Jones, one of that song's two producers, called Belafonte "the standard bearer for what it meant to be an artist/activist." Many other tributes appear below.
Belafonte was the first Black performer to win an Emmy Award and the first recording artist to sell over a million copies of an album. He got his start in New York theatre, but his sideline as a nightclub singer propelled his mainstream breakout when his 1956 album Calypso popularized the music of his Jamaican heritage and reached number one on the chart. (It was preceded by another chart-topping LP, simply titled Belafonte.) He enjoyed a career as an actor and producer, where he was involved in important early African-American productions including Carmen Jones (1954), in which he starred alongside Dorothy Dandridge, and Lorraine Hansberry's landmark play To Be Young, Gifted, and Black, which he produced.
During the "We Are the World" recording session, while posing for a group photo, the performers good-naturedly regaled Belafonte with an impromptu rendition of his "The Banana Boat Song."
Belafonte was born in Harlem on March 1, 1927, to a seaman and his Jamaican wife, who worked as a domestic. During his childhood, the family was so poor that Belafonte was sent to live in Jamaica, where he moved between relatives' homes for five years. When he returned, he had an unusual accent and dyslexia, which made school difficult. He dropped out, spent a year in the Navy during World War II, and returned to Harlem. One night he attended a performance at the American Negro Theater, and bitten by the acting bug, he enrolled in classes at Actors Studio and Dramatic Workshop of the New School for Social Research. He financed his new passion by singing pop songs at local nightclubs.
In 1952, Belafonte was signed to a recording deal with RCA Records and released his first single, the popular Caribbean classic, "Matilda." The year 1953 was a watershed one for Belafonte, beginning with his Tony Award-winning supporting role in the musical revue John Murray Anderson's Almanac. He made his film debut in a leading role as a school principal in Bright Road opposite Dorothy Dandridge. He and Dandridge re-teamed in Carmen Jones, Otto Preminger's all-Black revamp of the classical opera Carmen. Belafonte's warm, rich voice, soft with the slightest touch of grit, led to melodious, danceable and witty sing-alongs from his beloved Caribbean, including "Jamaica Farewell" and "Banana Boat Song," which opened with the singer's famous field call, "Day-o!"
In the decade ahead, Belafonte began a growing involvement in the Civil Rights movement. He was a close friend of the Rev. Dr. Martin Luther King Jr. and used his successful position to help organize and finance efforts to end segregation in the South, where, as his own form of protest, he refused to tour.
In 1959, Belafonte won an Emmy for his solo TV special, Tonight With Belafonte, and gave the first of his now-legendary concerts at Carnegie Hall. (Two live albums recorded at the venue, 1959's Belafonte at Carnegie Hall and 1960's Belafonte Returns to Carnegie Hall, reached #33 n the Billboard LP chart.)
He received a Grammy Award for the 1960 album Jump Dat Hammer and released the hit albums Jump Up Calypso (1963) and Midnight Special (1962), a collection of American folk songs and spirituals featuring then-unknown Bob Dylan on harmonica. In 1963, he worked alongside Dr. King to participate in voter registration drives, the interstate Freedom Rides that challenged unconstitutional segregation laws, and helped organize the notorious March on Washington where King gave his historic "I Have a Dream" speech.
After dad was assassinated, Harry Belafonte joined me, mom, and my siblings in Memphis. He was one of the only people to make sure that mom and her children were taken care of in the months, days, and years after the assassination. He was there for us even when others had gone.

— Martin Luther King III (@OfficialMLK3) April 25, 2023
Belafonte earned a Grammy in 1965 for the album An Evening with Harry Belafonte and Miriam Makeba and teamed up with other female vocalists in television specials, including Petula Clark (1968) and Lena Horne (1970). He and Sydney Poitier co-starred in the Western Buck and the Preacher (1972), and Belafonte was directed by Poitier in Uptown Saturday Night (1974).
RIP to my dear brother-in-arms, Harry Belafonte. From our time coming up, struggling to make it in NY in the 50's with our brother Sidney Poitier, to our work on "We Are The World" & everything in between, you were the standard bearer for what it meant to be an artist/activist.

— Quincy Jones (@QuincyDJones) April 25, 2023
Harry was fighting the good fight from the beginning. He was so articulate, brilliant and beautiful. He was a wonderful friend and lived a prolific life. May his memory be a blessing. pic.twitter.com/8bUyOqBR13

— Barbra Streisand (@BarbraStreisand) April 25, 2023
Rest in love and power Mr. Belafonte! You will always be remembered. 🙏🏾🖤🙏🏾#HarryBelafonte pic.twitter.com/2HjR7J8Q4d

— Patti LaBelle (@MsPattiPatti) April 25, 2023
Today we lost a titan in the entertainment industry, the legendary Harry Belafonte. A singer, actor, activist, philanthropist, great person and so much more, Harry Belafonte paved the way for so many Black artists in the entertainment industry. At one point he was the highest… pic.twitter.com/fK8C9tlzSR

— Earvin Magic Johnson (@MagicJohnson) April 25, 2023
Another brick in our fabric has risen, Mr. Harry Belafonte; 3-1-1927 – 4-25-2023)🙏was an American singer, activist, and actor. His breakthrough album Calypso (1956) was the first million-selling LP by a single artist. Best known for "The Banana Boat Song". R.I.P.😥Bootsy!!!🏆🫡 pic.twitter.com/zEngkBSb0O

— Bootsy Collins (@Bootsy_Collins) April 25, 2023
From Lenny Kravitz: "Harry Belafonte. Giant. Leader. Motivator. Activist. Freedom fighter. Lover of humankind. Musician. Messenger. Actor. Icon. Artist. Family man. You will forever live in my heart. I was blessed to know you Sir."
One of the greatest honors and joys of my life. What a man. What a loss. #HarryBelafonte pic.twitter.com/6tJESbtrT5

— Stephen Colbert (@StephenAtHome) April 25, 2023
With #HarryBelafonte's death, another light for a kinder, gentler America just went out. What a man. What a life! He has my deepest admiration. pic.twitter.com/qxQrAqswEt

— Oliver Stone (@TheOliverStone) April 25, 2023
Our thoughts are with the family and friends of legendary entertainer and activist Harry Belafonte. From his dedicated contributions to civil rights, to his unparalleled legacy in movies and music, we will always be grateful for his unforgettable work. https://t.co/qjOp0OCOjy pic.twitter.com/WGVuOgqKV2

— TCM (@tcm) April 25, 2023
May Harry Belafonte, the lionhearted civil rights hero, rest in peace. He inspired generations around the whole world in the struggle for non-violent resistance justice and change. We need his example now more than ever. pic.twitter.com/oBTBBvx3ra

— Christiane Amanpour (@amanpour) April 25, 2023
Harry Belafonte was a barrier-breaking legend who used his platform to lift others up. He lived a good life – transforming the arts while also standing up for civil rights. And he did it all with his signature smile and style. Michelle and I send our love to his wife, kids, and… pic.twitter.com/g77XCr9U5b

— Barack Obama (@BarackObama) April 25, 2023
Harry Belafonte spent 96 years breaking down barriers, bridging divides, and standing up for what he believed. His art and activism changed America and the world forever. I'll always be honored to have known him. pic.twitter.com/xQuOhdk2MH

— Bill Clinton (@BillClinton) April 25, 2023
Our thoughts are with the family and friends of legendary civil rights leader and entertainer Harry Belafonte. pic.twitter.com/3lXWQ5mdyR

— The Carter Center (@CarterCenter) April 25, 2023
Belafonte was named a UNICEF goodwill ambassador in 1987, and was honored with a Kennedy Center Lifetime Achievement Award in 1989. He was given the National Medal of Freedom in 1994, and went on to work on behalf of children's causes in Senegal, Rwanda and Kenya, and traveled to South Africa on behalf of an HIV/AIDS awareness campaign. After successfully beating prostate cancer in 1996, he added research and education about that disease to his full roster of advocacy pursuits.
In 2001, Belafonte was featured in a documentary about Fidel Castro and earned some press for his outspoken opposition to the George W. Bush administration and the handling of the September 11th attacks. He earned some backlash the following year for characterizing African-American administration officials Colin Powell and Condoleezza Rice as slaves who turned their backs on their people for the privilege to serve a master in "the house." After having upheld a steady performing schedule of 70 to 80 shows a year, Belafonte announced his retirement from live performing in 2003.
Related: Musicians we've lost in 2023

Latest posts by Best Classic Bands Staff
(see all)