Guns N' Roses' 'Use Your Illusion' (Super Deluxe): A Big Statement Gets Bigger
by Jeff Burger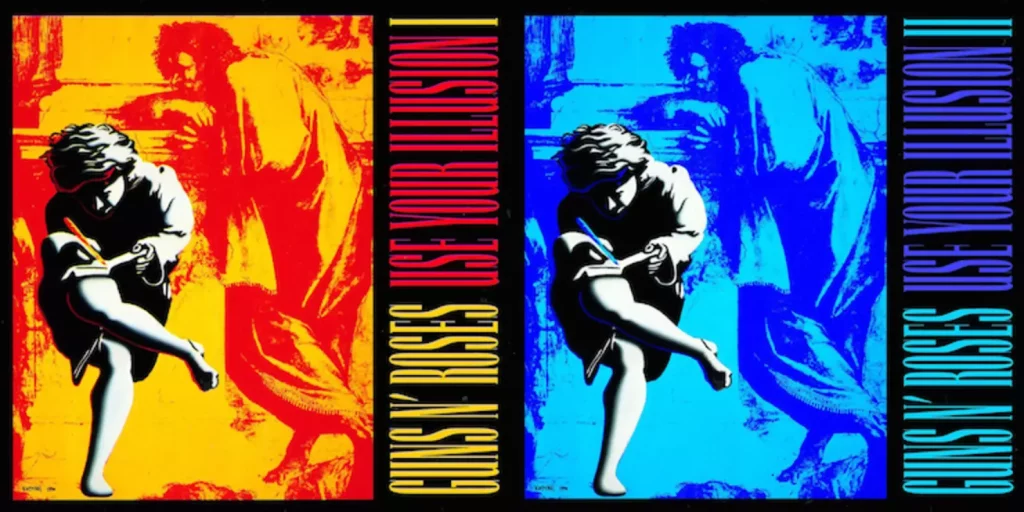 Guns N' Roses released Use Your Illusion I and II, their third and fourth albums, simultaneously, on Sept. 17, 1991. They're not the only act to have employed this two-at-once approach, which is ostensibly designed to offer alternatives to fans who might be put off by the price of a double LP. Bruce Springsteen, Tom Waits, Elvis Costello and others have tried the same thing. But nobody has achieved quite as much success with this gambit as the Los Angeles–based Guns N' Roses, most of whose fans turned out to have no interest in choosing one of the records over the other.
Within about three weeks of their release, the albums occupied the top two positions on Billboard's Hot 100 list. They stayed on the chart for more than two years and have together sold more than 35 million copies—enough to keep the band well-supplied with royalties during the 17 years that passed before their next record of original material.
Use Your Illusion I and Use Your Illusion II—which between them offer 30 tracks and more than two-and-a-half hours of bluesy hard rock—make a big statement, but it pales alongside a new "super deluxe" edition, which features an enormous amount of content (and an enormous price to match). The set, released Nov. 11, 2022, includes seven CDs, with a playing time of nearly seven-and-a-half hours, plus a Blu-ray disc, a hardcover book and enough posters, lithographs, photos and other collectibles to decorate a good-sized room.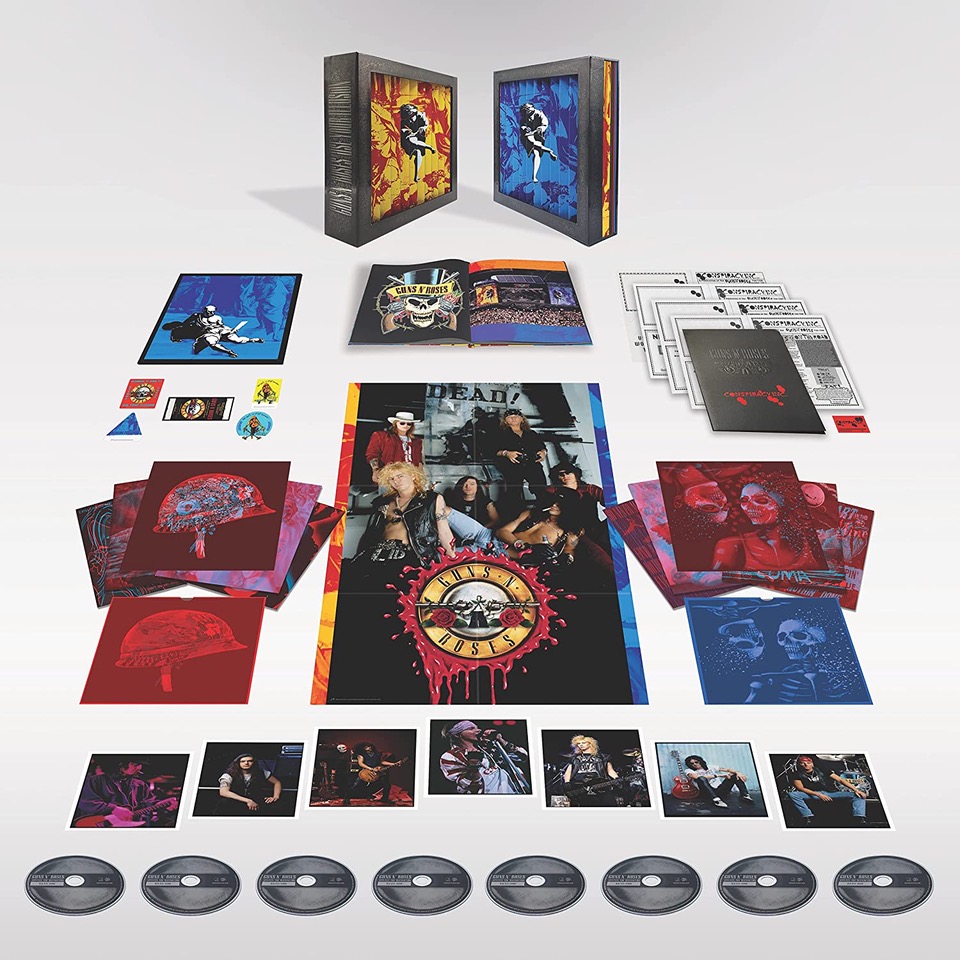 The CDs include remastered versions of the two original albums, plus a pair of full-length concert recordings, one from New York's Ritz Theatre in May 1991 and one from Las Vegas' Thomas & Mack Center the following January. The Big Apple show is also featured on the Blu-ray, which is not widescreen but does offer pristine high-definition surround sound.
Two caveats before we discuss the good stuff. First, like the original albums, this "super deluxe" release is rather bloated and uneven, and all but the most fanatical fans are bound to want to skip some tracks because they're musically below par, misogynistic or both. Guns N' Roses' worst moments, such as heavy-handed rockers like "Pretty Tied Up" and "Right Next Door to Hell," can sound like outtakes from the Sex Pistols.
Also, particularly given how much this package does include, it's surprising that it embraces no studio outtakes and omits some Paris, London and Rio de Janeiro concert material that's on new two-CD "deluxe" editions of Use Your Illusion I and II. If you want everything, in other words, you must pony up for both "deluxe" and "super deluxe" releases, which means you'll be paying twice for the remastered original albums.
That said, there's a lot to like—and a fair amount to love—in the big box. The studio version of the anthemic nine-minute "November Rain" has been newly augmented by an orchestra and sounds better than ever, and the original albums also offer such highlights as the ballad "Don't You Cry," and the guitar-driven "Civil War" and "Estranged."
Related: When Angus Young joined GNR at Coachella
If you're a fan, though, you probably already have the 1991 LPs and will be more interested in the 47 concert tracks, all but four of which are previously unreleased. They include strong versions of such numbers as "November Rain"; Bob Dylan's "Knockin' on Heaven's Door"; "Sweet Child o' Mine," which singer Axl Rose wrote for his future (and now ex-) wife, Erin Everly; and the ballad "Patience," which opens in this live rendition with a snippet from Rod Stewart's "I Was Only Joking." The concerts also sprinkle in truncated covers of such numbers as Alice Cooper's "Only Women Bleed," the Rolling Stones' "Wild Horses," the Eagles' "Hotel California," Jimi Hendrix's "Voodoo Child (Slight Return)," and "Sail Away Sweet Sister," from Queen, a group Rose has called his favorite.
In his best moments, Rose sings up a storm and is a compelling stage presence. And the rest of the band is on fire, particularly lead guitarist Slash, whose frequently stunning work here marks him as one of hard rock's best guitarists.
Related: Listings for 100s of classic rock tours
Latest posts by Jeff Burger
(see all)