The Motor City was treated to one of America's mightiest rocking metal machines in full overdrive on Thursday night (6/24) as the reunited Guns N' Roses rolled their Not In This Lifetime tour out onto the road in the most anticipated classic rock event of the summer concert season. More than 40,000 fans enjoyed a virtual Paradise City at Detroit's Ford Field over a two-and-a-half-hour, 24-song set that underscored the renewed musical alliance of singer Axl Rose, guitarist Slash and bassist Duff McKagan within Gn'R 2016 as a force to be reckoned with.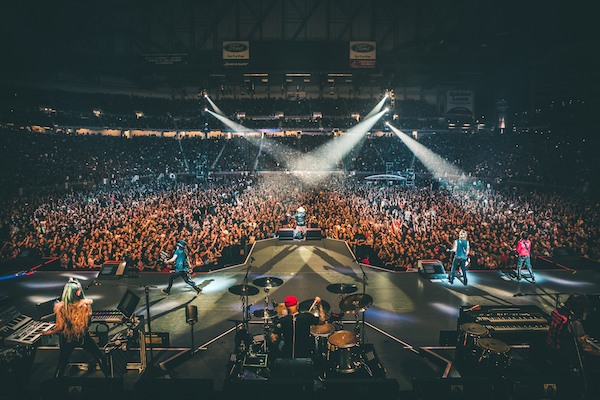 Detroit News: "Not only did the reunited Guns N' Roses tear through a… barn burner of a set to kick off its 'Not in This Lifetime' tour in front of a hot crowd of 41,000 rock and roll fans at Ford Field on Thursday, but the group opened the concert by showing up on stage two minutes prior to its advertised start time."
Detroit Free Press: "Gn'R made good on the moment, conjuring the loose, tattooed, swaggering power of the band's golden years without loitering in nostalgia and with just enough tattered edges to keep it all real. Thursday was a chance to reassert a brand of rock'n'roll whose alpha spot in music culture has given way to newer sounds and trends. And the trio at the heart of the action — now all in their 50s — proved up to the task."
Detroit News: "A confetti-strewn, flame-filled 'Paradise City' wrapped it all up with a bang, one last round of seasoned energy and attitude. Guns N' Roses may be older now, a little chunkier in the middle. The onstage camaraderie may or may not be forced, on a reunion tour that's dangling multimillion-dollar paydays. But for most of Thursday night, it was as if Axl, Slash and Duff had stepped right off a tour bus from 1993."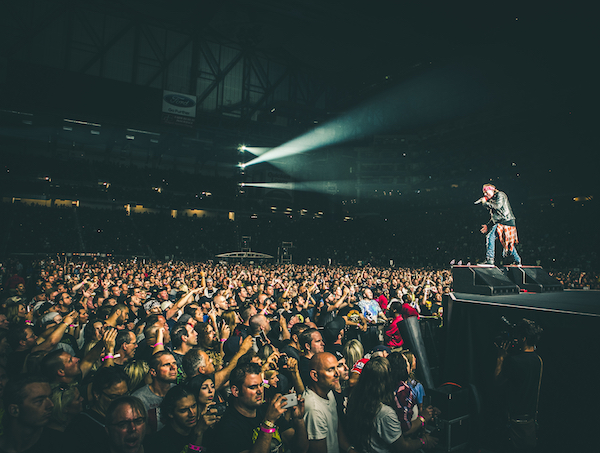 Best Classic Bands will continue to update and expand this story.
Don't miss a post! Sign up for Best Classic Bands' Newsletter; form is on every page.
Set List:
It's So Easy
Mr. Brownstone
Chinese Democracy
Welcome to the Jungle
Double Talkin' Jive
Estranged
Live and Let Die (Wings)
Rocket Queen
You Could Be Mine
You Can't Put Your Arms Around A Memory (Johnny Thunders)
Raw Power  (Iggy and The Stooges)
This I Love
Civil War
Coma
Band intros into Slash solo – Speak Softly Love (Love Theme from the Godfather/Andy Williams)
Sweet Child O' Mine
Better
Out Ta Get Me
Jam (Wish You Were Here/Pink Floyd)
November Rain
Knockin' on Heaven's Door  (Bob Dylan)
Nightrain
Encore:
Don't Cry
The Seeker  (The Who)
Paradise City

Latest posts by Best Classic Bands Staff
(see all)