The Guess Who's 'American Woman' Album: Distant Roads Are Calling
by Russell Hall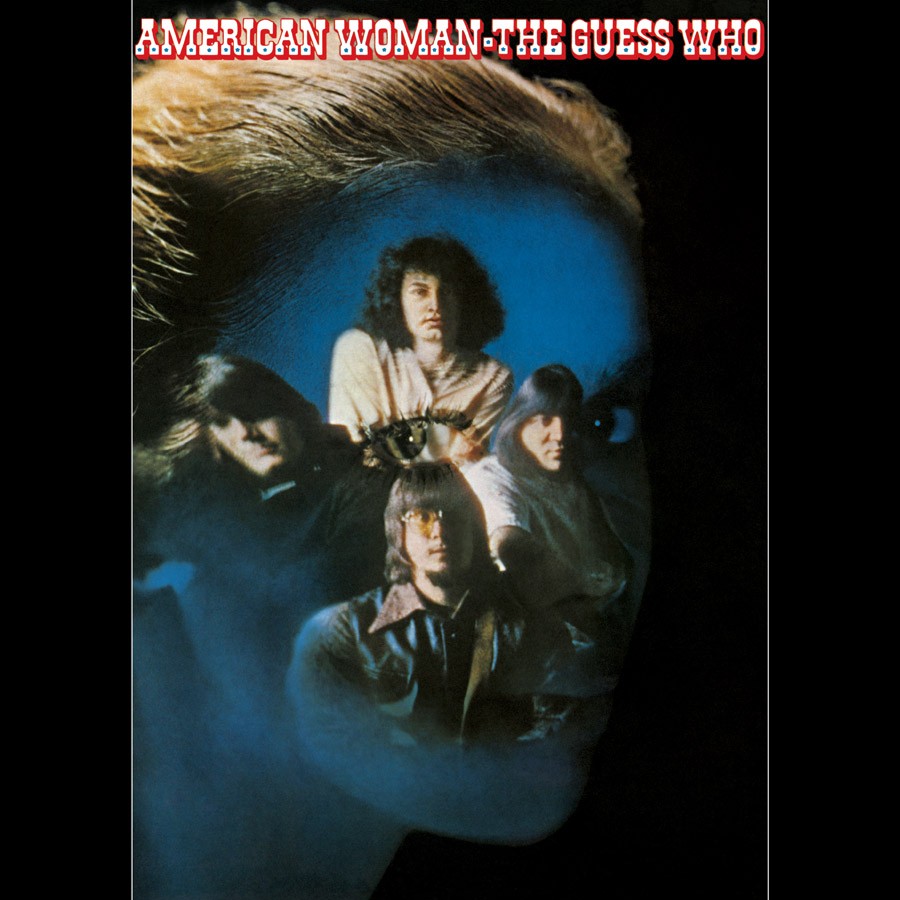 By early 1970, the Guess Who had established themselves as a true force on Top 40 radio—with "These Eyes," "Laughing," and "Undun" solidifying the Canadian band's reputation as masters of the three-minute pop song. The group aspired to something more, however, and with the American Woman album, they achieved it. Sporting a heavier musical vibe and tackling weightier themes, the record helped carve a niche for the band among its harder rocking peers. Guitarist Randy Bachman and frontman Burton Cummings wrote nearly all the material for the album. Jim Kale (bass, backing vocals) and Garry Peterson (drums, backing vocals, percussion) filled out the band's lineup.
"We always wanted to have a harder sound," explained Bachman, speaking with this author for a 2001 feature that appeared in Performing Songwriter. "We fought like mad not to have 'These Eyes' released as our first single, because we didn't want to be viewed as a ballad band. But when 'These Eyes' became a million-seller, the record company asked us to write another song like that one.
"When 'Laughing' came out, we were very fortunate that radio programmers flipped it over and started playing 'Undun,' which was the B-side. That song helped bridge a gap for us, and put us into a new arena."
The first single from American Woman was "No Time," a re-recorded version of a track featured on the band's previous album, Canned Wheat. Released before the new album was completed, the song peaked at #5 on the charts, ramping up expectations for the forthcoming LP.
When American Woman hit record stores in January 1970, however, it was the title track that created the biggest stir. Structured around a heavy guitar riff worked up by Bachman during a concert jam, and featuring a menacing vocal from Cummings, the song homed in on what the band viewed as the social and political havoc wreaked by the Nixon administration.
Listen to the five-minute version of the title track
"A lot of people thought 'American Woman' was addressing the woman on the street," explains Bachman, "but it wasn't at all. The band had witnessed all the desolation going on in America, where there were hardly any young men in any of the towns we went to. They had all been drafted. We would see 18-year-old guys at the airports, with their buzz cuts and their uniforms, with their fathers telling them how proud they were, and their mothers and sisters in tears. It was heartbreaking. So instead of singing 'Uncle Sam, stay away from me,' or 'Richard Nixon, stay away from me,' it was 'American woman.' RCA actually released a piece of promotion that showed a New York alley filled with litter, and at the back of the alley was the Statue of Liberty, holding up the torch. Fortunately, by the time radio and the government understood that the song was an anti-war song, it had already reached #1," which it did on May 9, 1970. Both the album and single, cut down to 3:50, were certified Gold by the RIAA on May 22.
Related: The top radio hits of 1970
Following the explosive one-two punch of the title track and "No Time," American Woman settles into an eclectic mix that showcases the growing maturation of Bachman and Cummings as songwriters. "Talisman" features Cummings singing the words to a poem he had written two years earlier, as Bachman provides classical-style accompaniment on acoustic guitar. "969" finds Bachman rocking out on a blues instrumental spiced by a jazzy break played on the flute. With the exception of the title song, however, it's the inventive "combination" track, "No Sugar Tonight/New Mother Nature," that shines most brightly. A melding of two distinct tunes into a "round," of sorts, the composition resulted from a bit of serendipity.
"Burton and I often brought pieces of songs to one another," observes Bachman. "We would write great half-songs, which is what most co-writers do. Or maybe you write a third, and your partner writes a third, and then you work on the last third together. In this instance, I brought Burton what I thought was a really weird song. It was in F#, which is a really strange key for the guitar. I played it for him, and he was like, 'Hey that's a complete song.' Then Burton told me he had a song written in F#, which was also weird, to have a piano-based song in that key."
Bachman continues: "Somehow, at that point, I got the idea that we should play both songs together. I started singing 'No Sugar Tonight,' and as I finished each line, Burton would answer me. It was just one of those magical things. We decided to do one of the songs, and then do the other, and then overlap them. The idea was that it would be like the Beatles' 'A Day in the Life,' where you have two different parts, in different tempos."
Related: Bachman talked to us about the Guess Who's early days
Decades after it first hit record stores, American Woman remains an essential cog in the classic rock lexicon. "No Time," "No Sugar Tonight/New Mother Nature," and the title track continue to occupy prime spots on countless playlists for classic rock radio. Moreover, in 1999, Lenny Kravitz topped the charts with an inventive reworking of "American Woman," bringing a fresh perspective to the Guess Who's place in rock history.
True, in the wake of the record's release, Bachman broke away from the Guess Who, going on to find success with Bachman-Turner Overdrive.
Related: Our interview with Bachman on BTO
Still, American Woman stands as a testament to what a great songwriting partnership can yield.
Watch a performance of "No Sugar Tonight/New Mother Nature" at the 2001 Juno Awards
"We knew if both of us liked something, it was better than if one of us liked it," recalls Bachman. "I would play something for him, and maybe not see a reaction, and then I would play something else and would see a reaction. And the same applied for him, with me. We would put those positive reactions together, and we knew we had something. We would look for that glint in one another's eyes."
Watch the Guess Who performing the title track on The Midnight Special in 1974
In recent years, Bachman and Cummings reunited for several concerts. When they tour again, tickets will be available here.

Latest posts by Russell Hall
(see all)