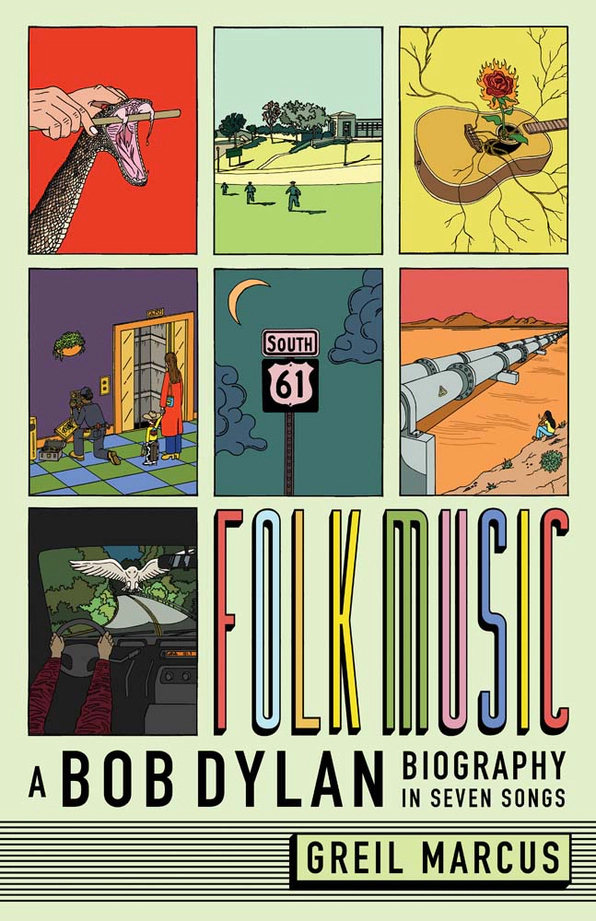 Greil Marcus, who has astutely chronicled Bob Dylan's career in numerous books and columns, has written a new title on one of his favorite subjects. Folk Music: A Bob Dylan Biography in Seven Songs, arrived October 11, 2022, via Yale University Press.
From the original announcement: "Across seven decades, Bob Dylan has been the first singer of American song. As an artist, he has opened up the territory where Tony Bennett's 'Once Upon a Time' can be sung as if it is as much a folk song as his own 'Blowin' in the Wind,' as recited by a fictional Malcolm X. As a writer and performer, he has rewritten the songbook until the traditional and credited sources that might have been printed on the title pages fell away, and it is only a matter of who we are listening to.
"Here Marcus tells Dylan's story through seven of his most transformative songs. Marcus's point of departure is Dylan's ability to 'see myself in others.' The motor of his music is empathy: as at the beginning of his career in New York he spoke of writing a song about Emmett Till in the first person, nearly sixty years later he circled the globe as John F. Kennedy arguing with infinity as he waited between life and death.
"Like Dylan's songs, this book is a work of implicit patriotism and creative skepticism. It illuminates Dylan's continuing presence in cultures, especially where such capacious imaginative identification with the other is in short supply. This is not only a deeply felt telling of the life and times of Bob Dylan, but a rich history of American folk songs and the new life they were given as Dylan sat down to write his own."
In an interview with fellow author Michael Goldberg published on Oct. 1, Marcus says, Dylan "writes songs that nobody else could write. He did that in the early sixties, he's still doing it today. Were [he] to die tomorrow and make no more records and sing no more songs, his legacy would continue and people would continue to sing his songs and record them but they would lose one, two, three dimensions. They would be tributes, they would be footnotes, they would not be capable of bringing something new into the world, which is what he does. Bob Dylan, in 2020, when he was 79, puts out 'Murder Most Foul,' which is not like anything anyone has ever heard from him before in any way, and it becomes—and who knows how Billboard calculates these things these days because it was never released as an object until it became part of the Rough and Rowdy Ways album, but it wasn't released as a single—but it became the number one single in the country, simply by the number of hits it got on his website and then all the other places where it immediately popped up."
Though the seven songs aren't specifically identified, in can be gleaned from the publisher's blurb and the cover art that they range from 1962's "Blowin' in the Wind" and 1965's "Highway 61 Revisited" through 1992's "Jim Jones" and 2020's "Murder Most Foul."
Marcus's previously published work includes Mystery Train: Images of America in Rock 'n' Roll Music, Dead Elvis: A Chronicle of a Cultural Obsession, The History of Rock 'n' Roll in Ten Songs, and Bob Dylan by Greil Marcus: Writings 1968 – 2010.
Marcus's books beat Dylan's own new title to the marketplace by three weeks. Dylan is authoring The Philosophy of Modern Song via Simon & Schuster. It's his first new book since 2004 and arrives on Nov. 1.
Dylan's "Rough and Rowdy Ways" tour continues its run. Tickets are available here and here.

Latest posts by Best Classic Bands Staff
(see all)