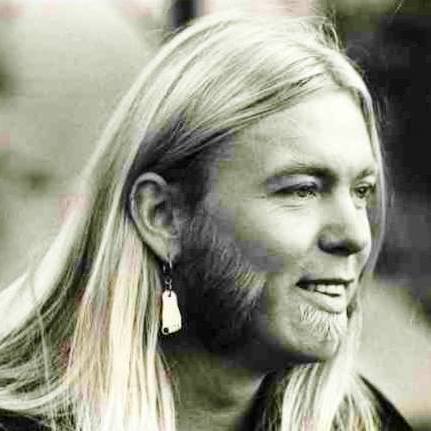 Gregg Allman was laid to rest on June 3, 2017, in Macon, Ga., a city of great historical importance to the Allman Brothers Band. The musician's private afternoon service was attended by approximately 100 family members and friends, including former United States President Jimmy Carter; singer Cher, who was married to Gregg Allman briefly in the '70s; and members of the Allman Brothers Band, including Derek Trucks, Jaimoe and Dickey Betts, as well as other musicians.
Thousands of fans lined the streets of Macon—which houses the Allman Brothers Museum, better known as the Big House, where the band lived and rehearsed from 1970-73—to watch the funeral procession to Rose Hill Cemetery, where Allman was buried near his brother Duane. The guitarist, Gregg's older brother, died in a 1971 motorcycle accident; ABB bassist Berry Oakley, who perished the same way a year later, is also buried at Rose Hill.
At the service, Rolling Stone reported, eulogies were given by Gregg Allman's children Devon, Layla and Delilah Island, his niece (and Duane Allman's daughter) Galadrielle, lifelong friend Chank Middleton and Gregg's manager, Michael Lehmen.
President Carter said, in a statement, "Rosalynn [his wife] and I were deeply saddened when we learned that Gregg Allman had passed. Gregg and the Allman Brothers Band were very helpful to me in my 1976 presidential campaign. Gregg Allman was better known than I was at that time. Gregg Allman was there when I needed him and Rosalynn and I have always been grateful to him."
As requested by Gregg prior to his passing, attendees were dressed casually—many in jeans—rather than in suits and standard funeral attire.
Allman was survived by his wife, Shannon Allman, his children, Michael, Devon, Elijah Blue, Delilah Island Kurtom and Layla Brooklyn Allman; and three grandchildren.
His final album, Southern Blood, produced by Don Was, was released later that fall.
Watch video footage from the Gregg Allman funeral procession
Many of the musicians who attended the funeral gathered later that day at the Big House to play music in honor of Allman, who died May 27 at age 69 in Savannah, Ga., from liver cancer.
Allman's ex-wife Cher tweeted a picture from the Big House at around 11 p.m. local time…
Just Got back from THE BIG HOUSE🌺
Duane was ripping off a solo in the back yard.Reminded me of watching Dickie.This Wknd Tears & Laughter🎭 pic.twitter.com/Ke0ZOFbzdJ

— Cher (@cher) June 4, 2017
Today I was privileged to have been invited to Macon, GA to say farewell to our gentle soul bro, Gregg Allman. Bye for now dear friend. RIP

— Peter Frampton (@peterframpton) June 3, 2017
Related: Our Album Rewind of Allman's solo debut

Latest posts by Best Classic Bands Staff
(see all)