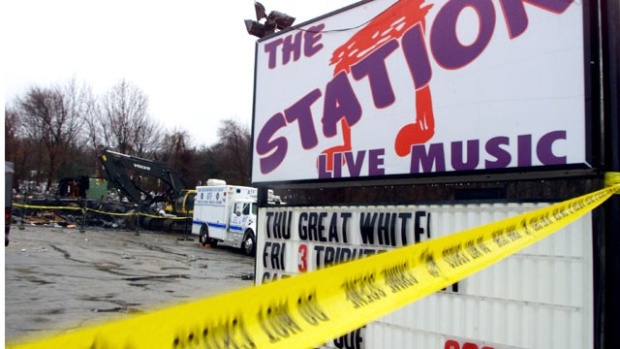 When The Station nightclub in Warwick, RI caught fire on February 20, 2003, 100 people died, and more than twice as many were injured. Even the 132 patrons who were able to escape the conflagration later suffered post-traumatic stress disorder. Few if any of those present at or connected with the incident were left unscathed.
It stands as the fourth deadliest nightclub fire in America, and the most loss of life and injuries sustained in a rock music tragedy. The fire and its aftermath consumed the nation's media and public in the days to follow.
The fire started soon after Jack Russell's Great White took the stage. Tour manager Daniel Biechele set off pyrotechnic explosions that caused flammable insulation materials above the stage's drum riser to catch flame.
The club was over capacity on this day, with 462 people in a space only licensed for 404. The fire took a little over five minutes to spread throughout the club. The rush to the main exit created a bottleneck that prevented people from getting out. At a backstage exit a security guard reportedly stopped fans, saying it was only for the band.
Great White guitarist Ty Longley, and the show's MC, WHJY DJ Mike "The Doctor" Gonsalves, were among those who perished. In the criminal trials that followed, Biechele was charged with 100 counts of manslaughter and pled guilty. He was given a 15-year sentence. One of the club's owners was also sentenced to the same 15-year prison term as Biechele.
As of 2008, a variety of parties and entities paid out $175 million in settlements. Emotions remain raw among those affected by the fire. The Station Fire Memorial Fund continues to raise money to establish a full memorial on the site of the tragedy. In 2013, Russell wanted to headline a 10th anniversary memorial benefit concert. The fund declined to take any contributions from it. And fans shied away too; only 30 people attended. The Station remains a painful reminder of the importance of fire safety for public gathering places.
If there is any positive to come from this tragedy, it's that the public has a much heightened awareness of their surroundings and exits when in an unfamiliar venue.
Related: Musicians react to 2017's Las Vegas concert massacre

Latest posts by Best Classic Bands Staff
(see all)